When franchises fail: Saying goodbye to the not-so-Amazing Spider-Man
What lessons can Sony learn from its aborted attempt to reboot the web-slinger? Where to even begin...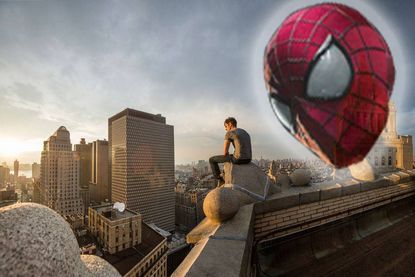 (Image credit: Illustrated | Sony Pictures, Wikimedia Commons, krishh/iStock)
Late Monday night, Marvel Studios and Sony announced an unprecedented partnership designed to bring Spider-Man into Marvel's cinematic universe. That brings the web-slinger back into The Avengers, where he belongs — but it also means the end of the Andrew Garfield-led Amazing Spider-Man series (and no, Garfield won't be reprising the title role).
The Amazing Spider-Man is dead, doomed to live on as a bizarre, half-forgotten curiosity in Spider-Man lore, sandwiched between Sam Raimi's original Spider-Man trilogy and Spider-Man's triumphant return to the Marvel stable. When it comes to superhero blockbusters, two movies is not a franchise; it's a failure.
It's an ignoble end for The Amazing Spider-Man, which began with lofty goals and a pair of ideal leads in Andrew Garfield and Emma Stone. Before The Amazing Spider-Man premiered, director Marc Webb said that he planned to unveil a mystery involving Peter Parker's parents over "a few movies." The Amazing Spider-Man 2 teased a slew of popular villains that were supposed to appear in future installments, including Doctor Octopus, Vulture, and Kraven the Hunter. In 2013, Sony revealed an ambitious slate that included The Amazing Spider-Man 3 and The Amazing Spider-Man 4, as well as spin-offs centered on Venom and the Sinister Six.
Subscribe to The Week
Escape your echo chamber. Get the facts behind the news, plus analysis from multiple perspectives.
SUBSCRIBE & SAVE
Sign up for The Week's Free Newsletters
From our morning news briefing to a weekly Good News Newsletter, get the best of The Week delivered directly to your inbox.
From our morning news briefing to a weekly Good News Newsletter, get the best of The Week delivered directly to your inbox.
What happened? Per Variety, The Amazing Spider-Man was the victim of a box-office climate in which two relatively lucrative movies, grossing nearly $1.5 billion combined worldwide, weren't deemed successful enough. Before its release, Sony's Amy Pascal had reportedly told insiders she needed The Amazing Spider-Man 2 to gross $1 billion alone. When it grossed a paltry $708 million instead — notably below "lesser" heroes like Captain America and the Guardians of the Galaxy — it was clear that Sony could take Spidey further if it teamed up with Marvel.
Today, most critics and Spider-fans aren't even bothering to wave goodbye to the Amazing Spider-Man as they look to a (presumably) brighter future. And it's hard to drum up much affection or sympathy for the Amazing Spider-Man franchise, which came much too soon after Raimi's Spider-Man trilogy, and lacked the courage to do anything truly interesting with the character.
But before we put The Amazing Spider-Man into the ground, it at least deserves an autopsy. Whatever the cynical motives behind the near-instant reboot, nearly everyone agrees that The Amazing Spider-Man got two things right: Andrew Garfield and Emma Stone. Though he's in his early 30s, Garfield possesses the look, the style, and the boyishness that a young Peter Parker requires. And with apologies to Kirsten Dunst and Bryce Dallas Howard, Emma Stone's Gwen Stacy is easily the most compelling heroine to appear in a Spider-Man movie: smart, capable, and endlessly charismatic. (If only that radioactive spider had bitten her instead.) If The Amazing Spider-Man series is remembered for anything, it will be Stone's performance.
Unfortunately, that's where the list of nice things to say about The Amazing Spider-Man ends. The big storytelling innovation — the mystery of Peter Parker's parents — was a non-starter, anchoring the entire series with a question that no one cared enough to see answered. Webb's great directorial innovation — a series of video game-esque action sequences, viewed from Spider-Man's first-person perspective — were goofy-looking with 3D glasses and insufferably dull without them. The movie burned time on a watered-down version of the origin story everybody already knew anyway. The supporting case was bland, the villain was forgettable, and the movie ends with Spider-Man smirkingly breaking a promise to his girlfriend's dying dad. It was not, as the title practically begged critics to pun, "amazing."
But rocky as the launch was, The Amazing Spider-Man was officially off the ground, ready to tell the defining Spider-Man story to a new generation of moviegoers. With origins and reintroductions out of the way, there was no reason The Amazing Spider-Man 2 couldn't shake off the pop-cultural hangover from Raimi's movies and forge its own trail. But The Amazing Spider-Man was also Sony's only real shot at a multi-billion-dollar superhero, which took the series into its least welcome permutation yet: a desperate attempt to launch a multi-platform cinematic universe before convincing audiences that The Amazing Spider-Man was interesting on its own merits.
The Amazing Spider-Man 2 doubles down on all the missteps of the original while adding a few of its own. The mystery of Peter Parker's parents plays an even greater role. The CGI is goofier and the direction is more frenetic. The supporting cast is still bland, and the main villains, Electro and the Green Goblin, are memorable only for how ineptly their stories are told. As if that wasn't enough, The Amazing Spider-Man 2 packs in several other villains, and hints at many more. ("If we're already planning a Sinister Six movie, we need at least six of them," said someone, apparently.) It drags on for nearly two and a half hours, and culminates with a version of a legendary comic-book moment that comes with the unfortunate side effect of killing off the movie's most interesting character.
With so many flaws, why eulogize The Amazing Spider-Man at all? There are still plenty of lessons to be learned here. We now have a textbook example of how not to reboot a superhero franchise, and if Sony and Marvel are wise, they'll take virtually all those lessons to heart as they chart Spider-Man's next course. Here's an easy one: We can safely assume that the new Spider-Man will be introduced without the traditional "bit by a radioactive spider" origin story. Marvel is much too savvy to waste time — an increasingly rare commodity in this crowded cinematic universe — on a story everyone in the audience already knows.
There's a bigger lesson here: Whatever this new Spider-Man turns out to be, he can't look anything like the Spider-Mans we've seen before. Introducing him alongside heroes like Iron Man, Captain America, and Thor, who can provide a nice contrast, is a major step. (Just look at what it did for the Hulk.) The last thing the world needs is another cookie-cutter superhero movie. But a thoughtful, original story — those are always in demand.

Continue reading for free
We hope you're enjoying The Week's refreshingly open-minded journalism.
Subscribed to The Week? Register your account with the same email as your subscription.