It's the politics, stupid: Why Greece's Eurozone saga has little to do with the economy
The latest stopgap agreement is fuzzy for a reason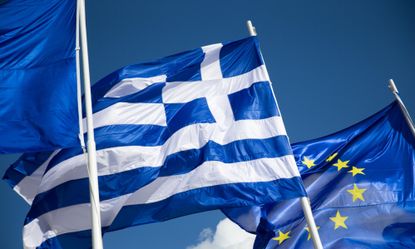 (Image credit: (Michael Kappeler/dpa/Corbis))
Sign up to our 10 Things You Need to Know Today newsletter
A free daily digest of the biggest news stories of the day - and the best features from our website
Thank you for signing up to TheWeek. You will receive a verification email shortly.
There was a problem. Please refresh the page and try again.
Commentators can't seem to agree on the real winner of the newest deal to keep Greece solvent — Greece, Germany, or the Eurozone. But this ambiguity is purposeful, showing how the crisis has gone beyond the realm of economics into the political.
The latest deal — struck on Friday and further hammered out earlier this week — gives Greece four months before it must return to the negotiating table with Eurozone authorities to determine whether the latter will extend the former any further assistance. In the meantime, Greece can pick and choose its own reform package, pursuant to Eurozone approval, but it's also backtracking on a lot of promises made to the Greek people.
The language laying out the new deal is pretty vague. As Paul Krugman put it, Greece, Germany, and the Eurozone could all plausibly wind up disagreeing on just what they've agreed to.
Subscribe to The Week
Escape your echo chamber. Get the facts behind the news, plus analysis from multiple perspectives.
SUBSCRIBE & SAVE
Sign up for The Week's Free Newsletters
From our morning news briefing to a weekly Good News Newsletter, get the best of The Week delivered directly to your inbox.
From our morning news briefing to a weekly Good News Newsletter, get the best of The Week delivered directly to your inbox.
And that's probably a feature, not a bug.
Greece is already deeply indebted to the Eurozone. But one of the big "there is no spoon" secrets of economics is that debt is never paid off. The U.S. is still paying off its World War I debt, and Britain is still paying off a bailout from 1720. As the economics blogger Steve Randy Waldman put it, "Debt is serviced, not repaid."
How debt is serviced is the key question. Greece's real problem is its ability to function as a whole — to service debt, to provide public services, to aid people in poverty, and to do everything else governments do — without running out of money. So it needs the Eurozone to keep the money spigot open, and to keep letting it take on debt. And thanks to previous negotiations, Greece's debt service obligations are already so lenient that it could keep them up in perpetuity with little trouble.
The issue has been convincing the Eurozone (and mainly Germany) to offer more of that debt in the first place. So far, they've only been willing to in exchange for massive austerity. Keeping the money spigot open, then, has not been an economic or technocratic question, but an explicitly political one. Greece wants a specific behavior from the Eurozone, and the Eurozone wants a specific behavior from Greece in return.
That's where this whole business descended into tragedy — or, more accurately, farce. The austerity drove Greece into a Great Depression–style economic catastrophe, which wrecked its ability to do all those functions governments are supposed to do. So it needed even more money from the Eurozone, which meant even more austerity. And down the rabbit hole they went.
Which is why Greece simply abandoning the euro became a real possibility once the left-wing party Syriza won the latest round of Greek elections. In the short-term, the switch would invite further economic upheaval, but it was simply becoming harder to see how it could be much worse than what Greece was already enduring.
So if all of this is happening because of perceived political necessity, can Greece, Germany and the Eurozone extract themselves from the demands they've placed on each other?
What Syriza wants is simple. As much money from the Eurozone as possible with as few austerity requirements as possible. And if the Germans were smart, they'd realize this sort of perpetual no-strings-attached money shuffling is the only functioning future the Eurozone has, and agree to it.
But this is what Germany keeps referring to as a "permanent bailout." What Germany and the rest of the Eurozone want is to preserve the quid-pro-quo: austerity in return for the money. Or at least the appearance of that quid-pro-quo; enough austerity to save face and prevent revolts by their internal stakeholders.
That's all a game of inches. Everybody gives what they think they can and hopes its enough to meet in the middle. But the vagueness of the agreement is evidence that the headline political actors on all sides don't know how to do that. They're throwing language at the wall and hoping the as-yet-to-be determined technical nitty-gritty changes implied by that language will somehow work out.
Greece's biggest win is the disappearance of the hard target of a 3 percent primary budget surplus (before spending on debt service is factored in) for 2015, and a 4.5 percent primary surplus for 2016. Now the Eurozone "will, for the 2015 primary surplus target, take the economic circumstances in 2015 into account." And as Matt Yglesias laid out, Greece also won some wiggle room in terms of further privatization and a few other issues. What Greece had to give up was Syriza's commitment to raise the minimum wage and to roll back changes to collective bargaining rights, among other things, which have now been either postponed or left in a muddle. Greece also agreed to fix its notoriously leaky tax collection system.
Basically, Syriza is hoping technical fixes to its tax system can bring in enough revenue that it can maintain some budget surplus while still keeping some semblance of its promises to the Greek people to restore aid. Germany and the Eurozone are hoping whatever Greece does do to keep its budget surplus is a real enough pound of flesh to keep their side happy. And everyone is hoping the new decision by the European Central Bank (ECB) to finally start monetary stimulus could finally give the Greek economy an outside boost.
It had all better work. Because authorities at the ECB and the International Monetary Fund are already tapping their feet, waiting for Greece to detail its reforms. And then there's the four-month deadline, at which point all the players will reconvene.
Then we'll find out if Greece, Germany, and the Eurozone can still agree to disagree on what they agreed to.
Continue reading for free
We hope you're enjoying The Week's refreshingly open-minded journalism.
Subscribed to The Week? Register your account with the same email as your subscription.
Sign up to our 10 Things You Need to Know Today newsletter
A free daily digest of the biggest news stories of the day - and the best features from our website
Jeff Spross was the economics and business correspondent at TheWeek.com. He was previously a reporter at ThinkProgress.