From ISIS to Fifty Shades: Freedom and its discontents
It may seem bafflingly incomprehensible why anyone would willingly relinquish their freedom. Look a little closer.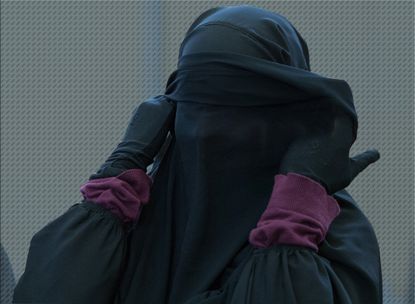 (Image credit: (Illustration by Lauren Hansen | Image courtesy Federico Gambarini/dpa/Corbis))
Sign up to our 10 Things You Need to Know Today newsletter
A free daily digest of the biggest news stories of the day - and the best features from our website
Thank you for signing up to TheWeek. You will receive a verification email shortly.
There was a problem. Please refresh the page and try again.
Let's have a show of hands: Among my female readers, how many of you are tempted to abandon your family, your career, and your largely liberated life in the liberal West in order to submit yourself unconditionally to the radically patriarchal brutality of life in the Islamic State?
No one?
I figured.
Subscribe to The Week
Escape your echo chamber. Get the facts behind the news, plus analysis from multiple perspectives.
SUBSCRIBE & SAVE
Sign up for The Week's Free Newsletters
From our morning news briefing to a weekly Good News Newsletter, get the best of The Week delivered directly to your inbox.
From our morning news briefing to a weekly Good News Newsletter, get the best of The Week delivered directly to your inbox.
And yet, as news reports have detailed, some women have made precisely this choice — leaving their homes and their freedom in the West to become wives (sometimes one of several wives) to jihadists seeking to establish an apocalyptic caliphate in the Mesopotamian desert.
It's hard for Americans to wrap their minds around such a choice. We can understand and sympathize with the plight of someone who is born in a place with draconian strictures on women's freedom, is raised to believe in the goodness and truth of these rules, and so persists in affirming and abiding by them. But someone raised in the West opting for ISIS is something different. It's a choice against choice, a decision to knowingly submit oneself to an authority (a husband, a political-religious leader) who will henceforth severely constrict one's freedom to make decisions about how to live.
As Mark Lilla reminds us in his fascinating and deep review of Michel Houellebecq's controversial new French novel Soumission (which will be published in English as Submission in September), Europeans have a long history of worrying that "the single-minded pursuit of freedom — freedom from tradition and authority, freedom to pursue one's own ends — must inevitably lead to disaster." This persistent anxiety leads the culturally Catholic and spiritually secular characters in Houellebecq's novel, which is set less than a decade in the future, to accept the Islamic rule of France, politically, culturally, and religiously. Presumably like those in our own world who choose to embrace the Islamic State, these disenchanted fictional characters suspect that "freedom is just another word for wretchedness" and find appealing Islam's promise to "shape better human beings, not freer ones."
Underlying this disturbing plotline, Lilla notes, is a dark cultural pessimism. Two centuries ago, at the time of the Enlightenment and French Revolution, "Europeans made a wager on history: that the more they extended human freedom, the happier they would be." But Houellebecq believes that this "wager has been lost." The result? Europe "is adrift and susceptible to a much older temptation, to submit to those claiming to speak for God."
The suggestion that freedom (understood as individual liberation from constraint) might not be an unalloyed good or even compatible, at bottom, with personal happiness is something that Americans, in particular, find difficult to imagine. The kind of anxiety and ambivalence about freedom that has permeated European culture for the past two centuries and that animates Houellebecq's novel is much weaker on this side of the Atlantic.
Which isn't to say that this anxiety and ambivalence isn't present at all. It's there to some extent in all of the monotheistic traditions. Yes, all of them permit a degree of individual choice — especially in the liberal-minded versions that have historically flourished and thrived in the United States — but the more stringent forms drastically limit its range, placing choice within constraints set by divine and natural law, revealed scripture, and prophetic injunctions. Americans who take these constraints seriously — Orthodox Jews, some evangelical Protestants, strictly observant Catholics, the Amish, pious Mormons, devout Muslims — define freedom as obedience to revealed truths and permit personal choice only within the parameters it establishes and demarcates.
Some forms of political conservatism view freedom with suspicion, too. Not, for the most part, the ideological variety that animates the so-called "conservative movement," which has thoroughly made its peace with individualism. I mean the faction that currently makes its home at The American Conservative and includes writers who pine for now-vanished social, cultural, and religious authority to give guidance, unity, clarity, order, and purpose to life.
This is where we'd expect to find suspicion of unfettered individual freedom — in traditionalistic forms of piety and reactionary styles of politics.
But what if the anxiety and ambivalence is even more widespread?
Consider this remarkable fact: Fifty Shades of Grey, a trashy three-part novel about a woman who willingly submits to extreme sexual domination by a kinky billionaire, has sold over 100 million copies, most of them to the sexually liberated women of the Western world, while the first of three films based on the trilogy has grossed, to date, more than half a billion dollars worldwide.
Does that indicate that millions of liberated women are potential recruits to ISIS? Of course not. But it does seem to demonstrate that these liberated women find something alluring and seductive, if only in fantasy, about the idea of choosing to relinquish, if only for a time and within precisely (even contractually) defined limits, their hard-won freedom, autonomy, and choice.
Then there's the anxious restlessness of the American people that observers have noted since the time of Tocqueville. As we become freer, it seems, we also become more agitated — and more inclined to believe in the sundry preachers, therapists, gurus, and self-help charlatans who pursue their own fortunes by offering, for a modest fee, to help atomized individuals find their way in a world otherwise lacking signposts or guardrails.
Americans may be less likely than Europeans to openly express their worries about the fate of happiness in an individualistic age. But that doesn't mean we have no such worries. The same wager that Michel Houellebecq suspects Europe has lost haunts us, too — just below the surface of our freedom-intoxicated lives.
Continue reading for free
We hope you're enjoying The Week's refreshingly open-minded journalism.
Subscribed to The Week? Register your account with the same email as your subscription.
Sign up to our 10 Things You Need to Know Today newsletter
A free daily digest of the biggest news stories of the day - and the best features from our website
Damon Linker is a senior correspondent at TheWeek.com. He is also a former contributing editor at The New Republic and the author of The Theocons and The Religious Test.