Why South by Southwest is a huge, exploitative scam
The annual festival is entirely dependent on unpaid work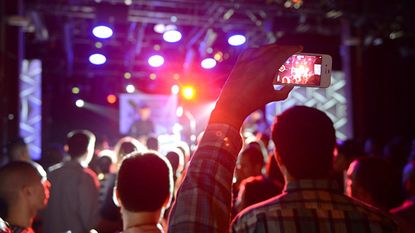 (Image credit: (Sasha Haagensen/Getty Images for Ketel One))
The city of Austin is often the only part of Texas that makes sense to solid-blue progressives. It's a connection that is embodied by the South by Southwest festival currently underway, the annual event to which lovers of music and human inventiveness like to flock.
It is thus with regret and a sense of intra-tribal disloyalty that I come not to praise the festival but to — well, probably not bury it, because SXSW is a cultural juggernaut and I am not. But I come to call on my fellow lovers of music and human inventiveness, and most especially my fellow liberals, to stop with all the praise. Because the for-profit, privately held entity that is South by Southwest annually turns a handsome profit from nearly immeasurable amounts of unpaid labor.
In this, SXSW — which started as an itty-bitty thing before becoming a corporate behemoth —is hardly alone. The American cultural scene and labor market writ large are chock-a-block with people profiting from unpaid labor. It's just that, traditionally, progressives are supposed to oppose that sort of thing. Not pay anywhere from $650 to $1,745 to attend.
Subscribe to The Week
Escape your echo chamber. Get the facts behind the news, plus analysis from multiple perspectives.
SUBSCRIBE & SAVE
Sign up for The Week's Free Newsletters
From our morning news briefing to a weekly Good News Newsletter, get the best of The Week delivered directly to your inbox.
From our morning news briefing to a weekly Good News Newsletter, get the best of The Week delivered directly to your inbox.
South by Southwest happily touts the financial benefits it brings to Austin ("in 2013, SXSW was responsible for injecting more than $218.2 million into the Austin economy"), but is rather more shy about revealing its own profit margin ("as a privately held company we do not make our financial statements public").
However, between ticket sales, merch ($75 "interactive sunglasses," anyone?), and colossal corporate sponsorships, it seems safe to assume that the margin isn't slim — and all that bank is made on the backs of thousands of artists and volunteers who are in every meaningful sense unpaid. Volunteers get festival passes; artists get to choose between a tiny honorarium, or festival passes. Neither goes very far at the grocery store.
How is this different, you might ask, from unpaid internships at accounting firms or on Wall Street? How is it different from writers or artists working for "exposure"? I'll tell you how it's different: It's not. It's the same horrible, terrible, no good, very bad thing. And it's wrong. Because profiting from someone else's unpaid labor is always wrong.
Ok, there's one difference. At consulting firms and international banks, unpaid interns exchange time, energy, and shoe leather for that elusive quality: "experience." In the case of SXSW (and any other creative outlet at which someone gets a check, but it's not the same someone who produced the art) the people at the top are actually selling someone else's stuff. They convince people who toil untold hours making something meaningful to fork it over — and then turn around and sell it. At accounting firms, the mission isn't actually dependent on the immoral exchange of labor for bubkes; at SXSW, that's all there is. Take away everybody who gives their labor to SXSW for free, and there is no SXSW.
When someone questions the ethics of these arrangements, they're often told that unpaid laborers "know what they were signing up for!" Or, "that's how the system works!" As if systems exist outside human history and experience and cannot be created, amended, or eradicated by human hands. As if the transparency of a raw deal makes that deal okay.
As regards SXSW's volunteers (and legions of unpaid interns everywhere), there exists the real possibility that the deal is not only not-okay, it's also not-legal. At least that's what the Labor Department, a New York federal judge, and Ross Eisenbrey, attorney and vice president of the Economic Policy Institute, think.
Speaking to Salon last year, Eisenbrey said, "I can't see how what they're doing is legal. They've opened themselves up to a class-action lawsuit."
But let's be clear: Legal ramifications aside, what South by Southwest is doing is wrong. It was wrong in the past, it is wrong today, and it will be wrong next year. Wrong, wrong, wrong. Because, and I'll say it again, it is wrong to profit from someone else's unpaid labor. Always.
Liberals like to take Walmart and McDonald's to task for their labor practices, and we're right to do so. Workers everywhere deserve fair recompense — a living wage, common decency, respect.
Yet we seem oddly okay with the notion that creative work doesn't deserve similar consideration, that for-profit entities which literally could not exist without the creativity they sell often pay literally nothing for it.
One woman's cri de coeur is unlikely to upset SXSW's juggernaut-apple cart — but I'd ask my fellow liberals to consider this: If you attend South by Southwest, you're paying a lot of money to watch someone else get ripped off.
That doesn't seem very progressive to me.

Continue reading for free
We hope you're enjoying The Week's refreshingly open-minded journalism.
Subscribed to The Week? Register your account with the same email as your subscription.