The best book about New York you've never heard of
Revisiting Jan Morris' Manhattan '45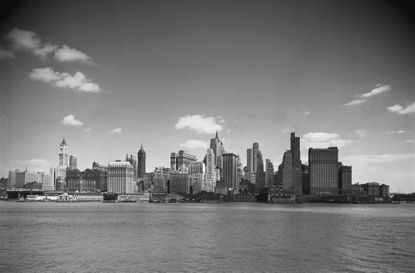 (Image credit: (CORBIS))
Sign up to our 10 Things You Need to Know Today newsletter
A free daily digest of the biggest news stories of the day - and the best features from our website
Thank you for signing up to TheWeek. You will receive a verification email shortly.
There was a problem. Please refresh the page and try again.
The sad truth of living in New York is that you invariably arrived too late. Whether you were born here or landed the summer after graduation, it's hard to escape the suspicion that the eras preceding yours were more glorious, the stuff of revolution and legend, containing deep within them, like a coveted secret, the true essence of the city. The version that you and your neighbors and colleagues know so well is clearly some inferior copy, a pale afterglow of the original burst of heat and light that gave birth to the greatest city on Earth. This anxiety is especially acute for those of us who have the dubious fortune of belonging squarely to the Bloomberg era, which saw the city become safer and cleaner and more efficient, but turned Manhattan, the city's crown jewel, into a cross between a lucrative investment vehicle for unsavory foreign oligarchs and an enormous outdoor mall for tourists. It is hard to believe that we are living in the heyday of anything, except perhaps that of the frozen yogurt shop and the ATM.
It is a strange consolation, then, to confirm that our worst fears are true, that we missed our chance of playing a small role in epochal greatness — a consolation because almost everyone else did, too. It turns out that Manhattan reached its peak long ago, at a very specific moment in time: the jubilant months that coincided with the end of World War II in 1945. It has all gone downhill ever since.
This is the premise of Manhattan '45 by Jan Morris, the British travel writer and historian who is perhaps most famous these days for her seminal memoir on being a transsexual (she was born James Morris). But if New York's decline is a drag, Manhattan '45 is anything but, celebrating a once-in-a-civilization moment with all the golden effervescence of an overflowing bottle of champagne. Originally published in the mid-1980s, it is something of a forgotten classic of city lore — or a minor one at least, a perky sidekick to the likes of Up in the Old Hotel.
Subscribe to The Week
Escape your echo chamber. Get the facts behind the news, plus analysis from multiple perspectives.
SUBSCRIBE & SAVE
Sign up for The Week's Free Newsletters
From our morning news briefing to a weekly Good News Newsletter, get the best of The Week delivered directly to your inbox.
From our morning news briefing to a weekly Good News Newsletter, get the best of The Week delivered directly to your inbox.
While it is rigorously researched, Manhattan '45 is not an in-depth work of history. If Robert Caro devoted more than 1,000 pages to Robert Moses, the master builder of modern New York, Morris gives him about three. If Luc Sante exposed the city's seedy underbelly, Morris is more than happy to skip pleasantly on its gleaming surface. Her book is a breezy survey, an attempt to capture the anything-is-possible spirit of a city that was simply unmatched on the global stage. The capitals of Europe were in smoking ruins, the Asian megalopolises that would later challenge New York's supremacy were still decades away from emerging, and Manhattan stood alone as the hope of a new world. As Morris writes in her sweeping prologue:
In many ways, the future had already arrived in New York. This may come as news to regular riders of the city's decrepit subway system, but there was a time when New York was the center of the technological universe. (The development of the atom bomb was not called the Manhattan Project for nothing.) Some of these innovations come across as quaint, such as the office mail chutes, 800 feet long, that were iced so that the letters flying through them wouldn't burst into flames. Or the Noise-Meter at City Hall that reported, with eager precision, that General Eisenhower's victory speech that year induced applause "equivalent to 3,000 peals of thunder at the same time." Or the city's wealth of nylon stockings, sanitary towels, decaffeinated coffee, clipped suspenders, Scotch tape, self-sealing envelopes — these everyday conveniences were simply unavailable elsewhere, or at best were rarities. They were the flying cars of their day, a vision of how much easier and better life could be.
Other technological achievements of that age, such as the city's skyscrapers, continue to impress even the most jaded observers. Here is Morris on Manhattan's pride, the Empire State Building:
The people were special, too, from top to bottom. There was Mayor Fiorello La Guardia, nicknamed the Little Flower, who cracked down on organized crime, on "political riff-raff, chisellers, racketeers, [and] tinhorns," as he put it, while exhibiting a popular touch that made him a beloved figure, once reading Dick Tracy comics over the radio during a newspaper truck driver strike so that children wouldn't be denied their daily pleasure. There was Moses, who mastered New York's bureaucratic machinery to remake the city, earning a reputation for Machiavellian authoritarianism that led him to quip, "If the end doesn't justify the means, what does?" There were the police, mostly Irish, brought to life on the page through Morris' impeccable eye for detail:
The citizenry was unlike any other in America. Half were foreign-born or second-generation immigrants. Contrary to the popular notion of an American identity that transcends race and ethnicity, most identified themselves by clan: Italian, Irish, Jewish, Chinese, Polish. One-fifth were black, a population that, in keeping with the general thrust of American history, were denied some of the fruits of the post-war bounty. But Harlem was still a zoot suit-wearing cultural force, running on the last fumes of the Harlem Renaissance, and 1945 was arguably a high point compared to what would befall the neighborhood in subsequent decades. And of course, a select few Manhattanites were unfathomably wealthy, living large on Fifth Avenue's Millionaires' Row and dining in the city's absurdly opulent hotels, one of which, the Waldorf-Astoria, boasted a private railroad line that linked up to Grand Central Terminal.
Speaking of, 1945 also coincided with the height of the American railway, the awesome power of which was embodied by Manhattan's two titans, Pennsylvania Station and Grand Central Terminal. "No railroads in Europe or Asia could match the great American systems," we read in disbelief, "when it came to customer service." This passage of the book — replete with red-capped porters, dining cars with white tablecloths, billowing clouds of steam, and conductors calling, "All a-board!" — will leave an especially bitter taste to anyone has stumbled through the dimly lit warren of Kafka-esque confusion that is Penn Station today. (The old, soaring, gorgeous Penn Station was razed in the 1960s, possibly the greatest urban-planning tragedy in history.) This part of the book will also produce awe: Behold the Twentieth Century Limited, the shining cylinder of glass, steel, and chrome that could speed to Chicago in a mere 16 hours. Its passengers boarded the train via a gray and red carpet in Grand Central, on a platform so long and luxurious that it was known as "the quay."
Those who had to stay behind in New York did not lack for entertainment. There were scores of cinemas, nightclubs, and burlesque shows. The drink of choice was the martini, and while Manhattan was not yet a culinary Mecca, restaurants like La Pavillon were opening people's minds and broadening their palates. There were dance halls where you could rent a partner for 10 cents a dance. The stretch of 52nd Street between Fifth and Sixth Avenues was known as Swing Street, for here was a slew of jazz clubs, housed in brownstones, where you could watch living legends like Charlie Parker, Dizzy Gillespie, Art Tatum, and Billie Holiday. "[F]or many young New Yorkers, they offered the best night of all," Morris writes, "you paid no entrance fee, you were charged no fancy Broadway prices, and over a single beer you could spend half the night listening to some of the best popular music in the world played live before your eyes." Fancy as its prices may have been, Broadway was perfecting a uniquely American theater genre, the musical, that channeled the frothy optimism of the times. As the lyrics to Leonard Bernstein's "Lucky to Be Me," from On the Town, went:
During the day, New Yorkers participated in an economy that was far more diverse than the one we know now, and far less polarized between the masters of the universe and those who serve them. Manhattan was then a manufacturing hub: 70 percent of all women's clothing in America was made right on the island. It was also a seaport, where goods and people were disgorged at its bustling docks and disseminated across the country via truck and train. The city's zeal for advertising led one designer to suggest turning the top of the Empire State Building into a big bottle of Coca Cola. Its department stores — Macy's, Gimbel's, Ohrbach's — were so sumptuous that to shop there was like entering a dream, particularly for visitors from impoverished Europe. The news industry was based in Manhattan, as it is today, but back then the most prestigious outlet wasn't The New York Times or The New Yorker, but the now-defunct Life magazine, which of all the rags in town best reflected the city itself: "shiny, efficient, punchy, and assured." And of course there was Wall Street, though back then the vibe was less finance bro and more patrician chic; think walnut desks and chandeliers and roaring fireplaces.
But almost everyone, to some degree, felt that they were successful, simply by virtue of living in New York. "To be a citizen of Manhattan was an achievement in itself," Morris writes, "it had taken guts and enterprise, if not on your own part, at least on your forebears'. The pressures of the place, its competition, its pace, its hazards, even the fun of it, demanded special qualities of its people, and gave them a particular affinity one with another. They were all an elite!"
Oh yes, things were better back then. But the spirit of '45 has not totally disappeared, thanks in part to those, like Morris, who are willing to remember and are receptive to its magic. As she concludes in her buoyant, beautifully written book, speaking from her vantage point several decades later:
Continue reading for free
We hope you're enjoying The Week's refreshingly open-minded journalism.
Subscribed to The Week? Register your account with the same email as your subscription.
Sign up to our 10 Things You Need to Know Today newsletter
A free daily digest of the biggest news stories of the day - and the best features from our website
Ryu Spaeth is deputy editor at TheWeek.com. Follow him on Twitter.