The world's most dangerous stealth trend
It's hiding in plain sight: No one's foreign policy is working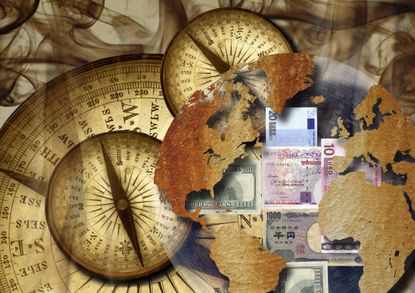 (Image credit: (Richard Morrell/Corbis))
There's at least one echo from our geopolitical past that we really ought to pay attention to today. It's highly unusual. It has received little attention. But it could well be the world's most dangerous trend.
To make sense of it, a quick primer in international relations theory is helpful. (Sorry.) Among the rival schools of thought dominating "IR theory," one key controversy involves which structure of nation-states is the most inherently stable. Not good or peaceful, mind you; just stable. One camp claims it's a so-called "unipolar" structure — a world dominated by a single superpower or "hegemon." Another group says, no, it's a "bipolar" world that builds in the most predictability, resiliency, and control — think the Cold War.
Logically speaking, the third option is what's known as a "multipolar" world — a world with not one or two hegemonic or great powers, but many such powers or zero such powers. Now, it probably makes intuitive sense to you that most theorists do not believe "multipolarity" to be the most stable system. (A few do believe that a global confederation of liberal democracies would eventually become supremely orderly. But that's a long way off at best, and, at worst, a foolish, perilous utopia.)
Subscribe to The Week
Escape your echo chamber. Get the facts behind the news, plus analysis from multiple perspectives.
SUBSCRIBE & SAVE
Sign up for The Week's Free Newsletters
From our morning news briefing to a weekly Good News Newsletter, get the best of The Week delivered directly to your inbox.
From our morning news briefing to a weekly Good News Newsletter, get the best of The Week delivered directly to your inbox.
Now, consider why it's so easy to think that a multipolar world would be a basket case. What makes such a world possible? Perhaps a unipolar or bipolar structure has just collapsed; or resources become extremely evenly distributed; or globalization and complex interdependency level out relative advantages.
But a multipolar world can also come to be when nobody's foreign policy is working. And that may be happening today.
In such a multipolar world, countries with grand strategies find them hard or impossible to implement. Countries without them find themselves unable to seize the initiative: adrift, reactive, and unable to think steps ahead. Even relatively powerful countries struggle to contain the ambitions of relatively weak countries. And even relatively "revisionist" countries — which are typically weaker, but more ambitious and determined than established powers — find it hard to rack up advantages without taking on even larger risks, costs, and uncertainty. It isn't great power that dominates such a world — it's weakness and incompetence.
Picture, if you will, that we are living in this kind of strategically dysfunctional world right now — despite whatever hope you may see in the fledgling Iran nuclear deal. We all know how rough the past decade plus has been on the U.S. And we grasp how far Europe has fallen from its global perch. The British have been coming to terms with their diminished status for years. Although France is the most potent country on the Continent, with the most future potential, right now it is also the one most to blame for the Libya debacle. Before that misadventure, France was frustrated and overruled on Iraq; afterward, it has been forced to grump along on the sidelines of the Iran negotiations. For Europe, it's all downhill from there. Germany, for instance, has its hands full preventing monetary mutiny and financial collapse, straining all the while to stay cozy with a more than prickly Russia.
Russia itself has choked on Ukraine and tanked its currency out of obstinate pride. It does not know how to balance or neutralize Iranian and Saudi influence along its weak, Islamized southern border. It is barely hanging on to its geopolitical toehold in Syria.
China, meanwhile, has such terrible structural problems that its maritime expansionism looks like a provocation but little more. It is pushing Japan, South Korea, and Vietnam farther away than ever. North Korea forms a dilemma beyond any solving. Even China's Nicaraguan canal, allegedly an independent businessman's project, is primed to sink into conflict and expense. Its panicked acquisition of arable African land draws China deep into Africa's deadly instability.
To top it off, Iran is losing even as it gains. Its growing hegemony over the Mideast comes at a terrible price — an open-ended struggle with a chaotic mix of regional and foreign forces, backed by major powers, in a part of the world with fuzzy natural boundaries and vested global interests.
Who is left? Who can durably prevail? You can be forgiven for not having a ready answer to that question.
A similarly profound kind of uncertainty loomed over the world in 1913 and 1938 — with the exception of the United States. Now, we've been dragged into it too.
General strategic failure the world over has historically meant major war. That's one lesson we'd best be prepared to heed.

Continue reading for free
We hope you're enjoying The Week's refreshingly open-minded journalism.
Subscribed to The Week? Register your account with the same email as your subscription.