Summer film guide: All the movies you should see in May
Your monthly guide to the most intriguing movies hitting theaters, from Avengers: Age of Ultron to Aloha.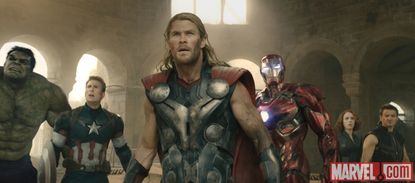 (Image credit: Marvel.com)
May 1
Avengers: Age of Ultron
What it is: Marvel's latest, biggest superhero blockbuster pits The Avengers against Ultron, a robot that decides to save the Earth by killing all the people on it.
Subscribe to The Week
Escape your echo chamber. Get the facts behind the news, plus analysis from multiple perspectives.
SUBSCRIBE & SAVE
Sign up for The Week's Free Newsletters
From our morning news briefing to a weekly Good News Newsletter, get the best of The Week delivered directly to your inbox.
From our morning news briefing to a weekly Good News Newsletter, get the best of The Week delivered directly to your inbox.
Why you should care: Yes, Hollywood is overly infatuated with superheroes — but the Avengers sequel is pretty clearly a cut above its competitors. Even three years after the original Avengers, there's a giddy thrill to seeing characters like Iron Man, Captain America, and Thor — each of whom anchor their own separate blockbuster franchises — working together on the big screen. Writer/director Joss Whedon has a natural flair for this material, which draws equally on his snappy dialogue and knack for deep character dynamics. And the sinister Ultron — played by James Spader, in an unexpected but savvy bit of casting — is one of the most compelling villains in the Marvel universe. If you're not entirely burned out on superhero movies, this is probably the one to see this year.
What else is coming out: Far from the Madding Crowd, a British period romance based on the Thomas Hardy novel of the same name; Ride, a passion project for writer/director/star Helen Hunt about a mother and son who spend a summer surfing; Welcome to Me, a dramedy about a woman with borderline personality disorder (Kristen Wiig) who wins the lottery and uses the money to buy herself a talk show.
May 8
Maggie
What it is: When an aging father (Arnold Schwarzenegger) discovers that his daughter (Abigail Breslin) has been infected by a zombie virus, he devotes himself to easing the pain of her remaining weeks.
Why you should care: Arnold Schwarzenegger, zombies, a summer release date — on paper, everything about Maggie screams dumb summer blockbuster. But Maggie, which premiered at the Tribeca Film Festival, is much more atypical than it first appears. Maggie challenges Schwarzenegger — so often cast as an over-the-top action figure — to expand his range as a grieving, desperate father, opposite Breslin as a teenager dealing with the reality of what's basically a terminal illness. It's an intimate, haunting, and fresh perspective on the well-worn zombie genre.
What else is coming out: Hot Pursuit, an action-comedy about a cop (Reese Witherspoon) attempting to bring a notorious drug dealer's wife (Sofia Vergara) into custody; The D Train, a comedy about a guy (Jack Black) who attempts to convince a onetime cool kid (James Marsden) to attend their high school reunion; 5 Flights Up, a drama about a married Brooklyn couple (Diane Keaton and Morgan Freeman) whose attempt to move leads to unforeseen complications.
May 15
Mad Max: Fury Road
What it is: A long-dormant revival of the post-apocalyptic action franchise, with Tom Hardy replacing original star Mel Gibson in the title role as "Mad" Max Rockatansky, a lone-wolf survivor trying to cross a dangerous desert unscathed.
Why you should care: It's been 30 years since the release of the last Mad Max movie, but Fury Road looks like the rare installment that could actually do justice to the original franchise. It starts with George Miller, the creative mind behind the original Mad Max trilogy, who returns to helm Fury Road. Tom Hardy is an inspired replacement for Gibson, leading an able cast that also includes Charlize Theron and Nicholas Hoult. The film's trailers have been eye-poppingly tense, and the unapologetic embrace of an R rating makes Fury Road the rare big-budget blockbuster pitched directly at adult audiences.
What else is coming out: Pitch Perfect 2, the sequel to the hit indie comedy about a competitive a cappella group; Slow West, a well-received western following a teenage immigrant (Kodi Smit-McPhee) and his mysterious companion (Michael Fassbender) across Colorado; Every Secret Thing, a grim crime drama about a detective (Elizabeth Banks) investigating a missing children case; The Connection, a middling French crime drama about a police magistrate (Jean Dujardin) attempting to dismantle the country's booming drug trade in the 1970s; Good Kill, a drama about a U.S. drone pilot (Ethan Hawke) who grows increasingly troubled with his work.
May 22
Tomorrowland
What it is: A teenage girl (Britt Robertson) teams up with her mysterious, reclusive neighbor (George Clooney) in a sci-fi adventure to a fantastical alternate world.
Why you should care: At a time when many summer popcorn flicks get spoiled by an endless deluge of set reports, interviews, and trailers, Tomorrowland is something of a rarity: a blockbuster that has actually managed to keep many of its secrets under wraps. With a screenplay cowritten by Lost guru Damon Lindelof and Incredibles writer/director Brad Bird, Tomorrowland looks like a fun, family-friendly blend of action, mystery, and sci-fi.
What else is coming out: Poltergeist, a creepy-looking (if unnecessary) horror remake about a suburban family (Sam Rockwell, Rosemarie DeWitt) battling vengeful spirits; When Marnie Was There, a characteristically gorgeous animated movie from Japan's legendary Studio Ghibli; Aloft, a soggy drama about a mother (Jennifer Connelly) and son (Cillian Murphy) who reunite 20 years after she abandoned him.
May 29
Aloha
What it is: Director Cameron Crowe's latest ensemble piece stars Bradley Cooper as a defense contractor who starts a new life in Hawaii, leading to complicated interactions with both an ex-girlfriend (Rachel McAdams) and a possible new love (Emma Stone).
Why you should care: Director Cameron Crowe's filmography is uneven at best — and more recent projects like We Bought a Zoo and Elizabethtown don't exactly inspire confidence — but there are hopeful signs that Aloha could mark the end of his long cold streak. Cooper, McAdams, and Stone lead a stacked cast that also includes John Krasinski, Danny McBride, Alec Baldwin, and Bill Murray. Hollywood is increasingly short on movies that grapple with the complexity of adult life, and Aloha's Jerry Maguire-esque take on a man's attempt to make up for his mistakes and reinvent himself should be a welcome change of pace in the middle of the crowded summer blockbuster season.
What else is coming out: San Andreas, a disaster movie about a helicopter pilot (Dwayne Johnson) seeking out the survivors of a massive California earthquake; Results, a comedy about a pair of personal trainers (Cobie Smulders and Guy Pearce) whose lives are upended by a wealthy new client (Kevin Corrigan).

Continue reading for free
We hope you're enjoying The Week's refreshingly open-minded journalism.
Subscribed to The Week? Register your account with the same email as your subscription.