17 'bon' figures of speech from Louisiana French
How's it plucking?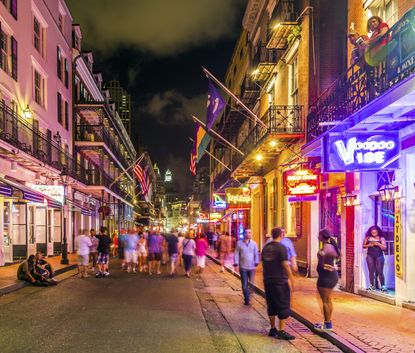 (Image credit: iStock)
French has been spoken in North America since long before the pilgrims arrived. In Louisiana, where French colonists settled and ran things in French well into the 19th century, people still speak French, or Cajun, so named for the Acadians (Les cadiens -> Cajuns) who settled there in the 1700s after being expelled from French Canada by the British. Peppered with its own unique flavor of life on the bayou, it's a long way from the French of France. Here are 17 figures of speech in Louisiana French from Tonnerre mes chiens!, by Cajun scholar Amanda LaFleur.
1. Gombo de babines
Babine is lower lip, and when you stick it out to pout and sulk and commiserate with others about some setback you've all endured, you are making "pout gumbo," or a pity party.
Subscribe to The Week
Escape your echo chamber. Get the facts behind the news, plus analysis from multiple perspectives.
SUBSCRIBE & SAVE
Sign up for The Week's Free Newsletters
From our morning news briefing to a weekly Good News Newsletter, get the best of The Week delivered directly to your inbox.
From our morning news briefing to a weekly Good News Newsletter, get the best of The Week delivered directly to your inbox.
2. Faire son boudin
The lower lip can also look like a blood sausage when you pout, or "make your boudin."
3. Comment ça plume?
How's it plucking? A good way to ask "how's it going" in a rural culture where easy chicken-plucking makes for easy living.
4. Faire chaudère ensemble
"To make chaudière together." To get married. A chaudière is a traditional heavy cast iron pot for Louisiana cooking and a symbol of home life.
5. Passer quelqu'un à la bastringue
To beat someone up. Literally, "to pass someone through the 'triangle.'" In Louisiana French, the bastringue is a metal percussion instrument, beaten vigorously with the rhythm.
6. Vin à vingt batailles au gallon
Strong wine, "20 fights to the gallon."
7. Tonnerre mes chiens!
A minced version of tonnerre m'ecrase, "may thunder strike me down!" Calling on the heavens to do their worst goes a bit too far in this heavily Catholic culture, so a lighter, nonsense version (a la "gosh darn it!") takes its place: "Thunder my dogs!"
8. Va pérer à Lacassine!
Get out of here! Literally "go fart in Lacassine," a remote town in Jefferson Davis Parish.
9. Tourner en eau de boudin
"Turn into boudin water," meaning "become insignificant." When you boil a boudin sausage, you eat the sausage and throw the water out.
10. Il y a un cabri dans le maïs
"There's a goat in the corn" — in other words, you've got a wedgie.
11. Dépender d'Andouilles
"Person who unhangs the Andouilles." Someone who does easy work, i.e., taking the sausages down from where they hang (as opposed to making them).
12. Le jeu en vaut pas la chandelle
"The game isn't worth the candle," meaning it's not worth it. This expression was originally said of a card game where stakes don't even merit the cost of lighting.
13. Baille a couru sa course
"The bay has run its race." This is "French Louisiana's most common expression of resignation to a situation."
14. Laid comme un bouki
"Ugly as a hyena." The Wolof word bouki came to Louisiana from Africa along with folk tales of bouki and lapin, who became known as brer fox and brer rabbit.
15. Balai du ciel
"Broom of the sky," or a northwesterly wind that returns everything to calm.
16. Le sirop et biscuits cassent pas égal
"The syrup and the biscuits don't break even." If you have a little more syrup than biscuit, you'll take a little more biscuit to make things even, but then you're bound to end up with more biscuit than syrup, and then you'll have to take a little more syrup, and it will go on and on like this. This situation is a metaphor for what happens when you try to take vengeance, especially in the context of a family feud. It never makes things even.
17. Dormer comme un caïman
"Sleep like an alligator." Sleep like a log? How boring. This is gator country.

Continue reading for free
We hope you're enjoying The Week's refreshingly open-minded journalism.
Subscribed to The Week? Register your account with the same email as your subscription.