Why slapping GM with a massive criminal fine won't improve auto safety
The feds are taking out the knives. That won't help anyone.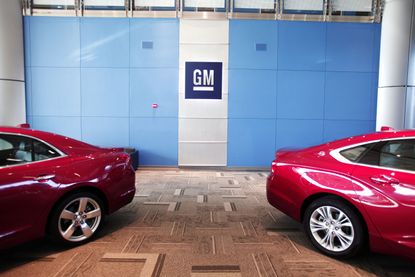 (Image credit: Bill Pugliano/Getty Images)
General Motors' joyride with the feds might finally be coming to a screeching halt.
The New York Times reported last week that the Justice Department is gearing up to slap a record, billion-dollar-plus fine on the company for criminal wrongdoing in connection with the Chevy Cobalt's defective ignition switch. The defect has been linked to at least 104 deaths. But if similarly massive fines against Toyota for its suddenly accelerating cars are any indication, GM's penalty might prove to be less of a bonanza for GM drivers and victims than for the Justice Department itself.
GM launched its Chevy Cobalt — along with six other models — in 2005 with an ignition switch that some of its engineers knew at the time didn't meet the company's torque or tightness specifications. An accidental bump would push the key into the "accessory" or "off" position, shutting down the engine of the moving vehicle and disabling the airbags if it crashed. But these engineers didn't think this would pose a big safety issue because the car could still be maneuvered out of harm's way and hence did not alert others at GM.
Subscribe to The Week
Escape your echo chamber. Get the facts behind the news, plus analysis from multiple perspectives.
SUBSCRIBE & SAVE
Sign up for The Week's Free Newsletters
From our morning news briefing to a weekly Good News Newsletter, get the best of The Week delivered directly to your inbox.
From our morning news briefing to a weekly Good News Newsletter, get the best of The Week delivered directly to your inbox.
It wasn't until last year — five years after bankruptcy — that company higher ups, at least per GM's story, got to the bottom of things and reported the connection between the faulty switch and the crashes involving non-deploying airbags, and recalled some 2.6 million vehicles. What took so long? GM missed the connection in part for the same reason that NHTSA (National Highway Traffic Safety Administration), which also conducted several investigations into the crashes, missed it: The accident rate of these cars was no greater than peer vehicles so they attributed the crashes to driver error and not any malfunction in the car.
By the time GM figured things out, it had already obtained a liability shield from the federal government as part of a massive bailout, protecting the auto giant from lawsuits involving personal injury/wrongful death and diminution of value claims. (The latter, which assess loss of value experienced by individual owners because of diminished resale value of the overall class of cars, are usually the biggest exposure for automakers in such situations, according to University of Richmond's George Hoffer). GM has established a fund to pay families and victims for the personal injury and wrongful death, but it is using this shield against diminution of value claims.
In the Cobalt's case, at least some GM engineers knew about the problem a long time ago. Compare that to Toyota, where the link between any engine or software malfunction and Toyota's suddenly accelerating cars was never conclusively established.
Still, because Toyota did not enjoy a liability shield, it coughed up an undisclosed (but surely massive) amount last year to settle all the injury and death claims against it after it became clear that an Oklahoma jury was getting ready to award hefty punitive damages to one victim. In addition, it paid $1.6 billion for economic losses to Toyota owners.
But the real kicker was the further $1.2 billion that Toyota handed over to the Justice Department in criminal penalties, the first automaker ever forced to do so. Why did DoJ impose these penalties when no one could find any clear evidence of any malfunction? Because it rummaged through Toyota's internal communications and found that its engineers had theorized that a "sticky pedal" might be the culprit, but this wasn't immediately disclosed to the feds.
Now DoJ is getting ready to impose even bigger fines against GM. It is possible that, unlike in Toyota's case, investigators have found hard evidence of an elaborate cover-up on GM's part. Maybe GM's top executives knew about the connection between the defective switch and the crashes earlier than they have let on. Maybe they thought it would be cheaper to pay victims than delay the launch of the vehicles pending the installation of new ignitions. If that turns out to be the case, the company should be prosecuted in court and should lose its liability shield. Or it is possible that the feds are going after GM on grounds as frivolous as they used to shake down Toyota.
Time will tell, but one thing is almost certain: Either way, the penalties will do little good to anyone besides federal bureaucrats.
In Toyota's case, the Justice Department put the entire $1.2 billion it collected from the carmaker in criminal fines — along with the$1.7 billion it received in the Bernie Madoff case — into its notorious civil asset forfeiture fund, an all-purpose slush fund where the department also parks assets seized during illicit drug raids from people never accused of a crime.
Although Toyota's victims had the option of filing copious amounts of paperwork to collect additional damages for economic losses relating to accelerating vehicles, it is unclear how many of them actually did so. (My queries to DoJ went unanswered.) What is clear is that the forfeiture program's operating expenses not related to any kind of victim payoff experienced a $1.3 billion boost in 2014 — as per page 8 of this report.
GM's payout will no doubt go into the same fund, and be likewise used for DoJ's expenses, raising all kinds of troubling questions about the perverse incentives this creates for the Justice Department to criminalize future investigations.
Some consumer activists argue that what matters is not where the money goes, but that GM is forced to pay it so that in the future it makes instant and full disclosure about vehicle defects rather than endanger the driving public by dragging its feet. Maybe. But every dollar that GM pays the feds is one less dollar that is has to invest in improving vehicular safety at competitive prices.
The Obama administration should never have bailed GM out. And if it did, it should never have handed it the liability shield. But letting unaccountable bureaucrats shake down the company in the name of accountability now might do more harm than good to drivers.

Continue reading for free
We hope you're enjoying The Week's refreshingly open-minded journalism.
Subscribed to The Week? Register your account with the same email as your subscription.