Game of Thrones recap: Winter is here
A brutal massacre raises the stakes for the rest of the series — and raises intriguing questions about the HBO drama's endgame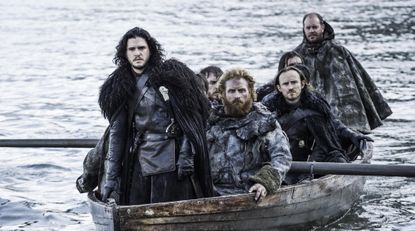 (Image credit: Helen Sloan/HBO)
In her first real meeting with Tyrion Lannister, Daenerys Targaryen outlines her full, grandiose scheme to alter the fundamental state of power in Westeros. "Lannister, Targaryen, Baratheon, Stark, Tyrell. They're all just spokes in a wheel," she says. "I'm not going to stop the wheel. I'm going to break the wheel."
It's an undeniably rousing speech, and one that heralds what could be an optimistic, life-affirming ending for the series. Crucially, Daenerys doesn't leave her own family's name off the list. She's going to upend the entire system — even the part that allowed her ancestors to establish a political dynasty and create the iron throne. Is that realistic? Varys believes she can do it. Tyrion wants to believe she can do it. I want to believe she can do it.
But as usual, as quickly as Game of Thrones unrolls a beautiful rug for its audience, it pulls that rug right out from under us. Sure, Daenerys is great — but you know who seems like they're in an even better position to break the wheel? That legion of blue-eyed, sword-wielding White Walkers marching south to kill everybody.
Subscribe to The Week
Escape your echo chamber. Get the facts behind the news, plus analysis from multiple perspectives.
SUBSCRIBE & SAVE
Sign up for The Week's Free Newsletters
From our morning news briefing to a weekly Good News Newsletter, get the best of The Week delivered directly to your inbox.
From our morning news briefing to a weekly Good News Newsletter, get the best of The Week delivered directly to your inbox.
We're deep into Game of Thrones' fifth season, but the engine driving the show's ultimate conflict is only now becoming clear: order vs. chaos. The various families that have carved up Westeros will soon be forced to confront the far greater danger posed by the otherworldly, inhuman White Walker army that could obliterate everything in its path. After a Game of Thrones episode like "Hardhome," who cares who sits on the iron throne? Memento mori. Winter is coming, and all these self-important idiots will be dead soon anyway.
Of course, careful viewers have seen this coming since the very beginning. In Game of Thrones' pilot — before we met anyone named Stark or Lannister or Targaryen — we met a White Walker, slaughtering a few hapless members of the Night's Watch. From time to time, the series has made sure to remind viewers that the greatest danger to Westeros hails from beyond the wall: an army led by a White Walker on an undead horse, or a baby sacrificed to earn what passes for their mercy.
As often as we've seen the White Walkers, it's been just as easy to ignore them. Game of Thrones has always pushed so many other, more immediate threats to the forefront: rival armies, enemies and traitors, sadistic torturers, terrible weddings. But after this week's "Hardhome," it's going to be very hard for both the characters and the TV show's loyal viewers to forget about the White Walkers again.
The episode's stunner of a battle scene begins when Jon Snow and Tormund Giantsbane travel to Hardhome in an attempt to convince the rest of the wildlings to ally with the Night's Watch against the greater threat on the horizon. Given the centuries of warfare between the two sides, it's no shock that the offer is greeted with plenty of skepticism. The final tally is murky: Some wildlings consent to going with Jon and Tormund, while others resolve to dig in at Hardhome and survive on their own.
The brilliance of "Hardhome" is how quickly all of those impassioned, entrenched positions become irrelevant. As the terms of the wildlings' relocation are hashed out, a winter storm sets in — and suddenly, an army of reanimated corpses descends upon the encampment. In one blow, the stakes of this conflict become clear, and there's no more time for debate: whatever you believe, your choices are fight or run or die. (Of course, fighting or running will probably lead to death anyway.)
Credit to HBO for upping Game of Thrones' budget; we've come a long way from the first season, when the writers needed to devise clever tricks to disguise the fact that they had no money for large-scale battle scenes. "Hardhome" doesn't feature the deliberate pacing of "Blackwater" and "The Watchers on the Wall" — Game of Thrones' two previous bars for large-scale action scenes, both directed by Neil Marshall. But with "Hardhome," director Miguel Sapochnik is smart enough to realize that he's not filming a battle; he's filming a massacre. With the frenzy and the chaos all around them, the humans score one meager victory, when Jon Snow kills a single White Walker with his Valyrian sword.
What about the hundreds of reanimated corpses killed in the fray? The most haunting moment in "Hardhome" comes when it becomes clear that each of those hard-fought undead casualties is essentially meaningless. As Jon Snow and his allies sail away in retreat, a White Walker taunts him from the shore by reviving the corpses of hundreds of human casualties — Night's Watch and wildling alike — and drafting them into his soulless army. A death isn't just a loss for the humans; it's an asset for the White Walkers, whose army gains a new soldier for each person it fells.
With the White Walkers so close to invading Westeros, where can Game of Thrones go from here? There's a part of me that wonders if the various discrepancies of scale will eventually become a problem for the series. After the sheer horror of the Hardhome massacre — and the grim, far-reaching implications it has for the rest of the series — it's hard not to look at something like Arya's impending assassination of a single usurer and say, "Who cares?" Personally, I'd be disappointed if the endgame for Game of Thrones was CGI zombies vs. CGI dragons, with our roster of complicated, human protagonists sitting on the sidelines.
Then again, Game of Thrones has always thrived by unfolding its epic narrative on a human scale. As Varys once said, a very small man can cast a very large shadow. At the time, he was talking about Tyrion — whose influence continues to sprawl far beyond the reach of any ordinary man — but he could just as easily have been talking about Jon Snow, or Daenerys Targaryen, or even Arya Stark. "Hardhome" gave us a terrifying glimpse at the battle on the horizon — but now that we've seen the full power of the enemy, Game of Thrones can start showing us who might be prepared to defeat it.
Read more Game of Thrones recaps:
* Game of Thrones recap: Why can't we be friends?
* Game of Thrones recap: 'Unbowed, Unbent, Unbroken'
* Game of Thrones recap: 'Kill the Boy'
* Game of Thrones recap: In the mood for love
* Game of Thrones recap: Goin' to the chapel
* Game of Thrones recap: 'The House of Black and White'

Continue reading for free
We hope you're enjoying The Week's refreshingly open-minded journalism.
Subscribed to The Week? Register your account with the same email as your subscription.