Why Alexander Hamilton is the perfect candidate to share a dollar bill with a woman
Hamilton helped build modern America — for both good and ill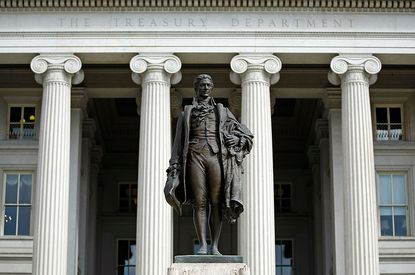 (Image credit: Illustrated Chip Somodevilla/Getty Images)
Treasury Secretary Jacob Lew confirmed this week that, come 2020, his department will make some history: The U.S. $10 bill will feature a woman. Martha Washington was featured on a silver-backed paper note in the 1800s, and Pocahontas made a less-prominent appearance on a $20 in the same time period. But that's the only other times it's happened.
A campaign has been underway for some time to put a woman on the $20 bill, replacing Andrew Jackson. But the $10 bill wound up being the next in line for a scheduled update. So it's actually Alexander Hamilton, the country's first secretary of the Treasury, who will get the boot. Or, more accurately, a slight shove: According to the New York Times, Hamilton's portrait will remain on the $10 bill in some form.
Lew has not decided who the woman will be. Some obvious contenders include abolitionist Harriet Tubman, First Lady Eleanor Roosevelt, segregation opponent Rosa Parks, and Sacagawea, the Shoshone guide who aided the Lewis and Clarke expedition.
Subscribe to The Week
Escape your echo chamber. Get the facts behind the news, plus analysis from multiple perspectives.
SUBSCRIBE & SAVE
Sign up for The Week's Free Newsletters
From our morning news briefing to a weekly Good News Newsletter, get the best of The Week delivered directly to your inbox.
From our morning news briefing to a weekly Good News Newsletter, get the best of The Week delivered directly to your inbox.
That it's Hamilton who will get the symbolic demotion has touched off a bit of grumbling — including from Ron Chernow, whose magisterial 2004 biography did much to resuscitate Hamilton's reputation in recent years. So this seems a good opportunity to review Hamilton's unique and remarkable (for both good and ill) place in U.S. history. If he is to share the $10 bill with a woman, it really ought to be the start of a trend: change U.S. law so that every bill of U.S. currency is required to have two historical figures on it, at least one of them a woman, and at least one of them non-white. (And yes, boot Andrew Jackson entirely.)
In a way, Hamilton is the perfect figure to kick off such a shift. Uniquely among the Founders, he was born a poor and illegitimate child in the West Indies. His early work at a local newspaper inspired his employers and friends to get the money together to ship him to the U.S. mainland to advance his education, and from there he became an accomplished combatant in the Revolutionary War, and General George Washington's right-hand man. Hamilton masterminded the Federalist Papers in defense of the Constitution, and championed the conception of the federal government as a strong central authority with expansive powers. As the first secretary of the Treasury, he consolidated the states' war debt and established the first national bank.
More than any other Founder, Hamilton saw and helped usher in the modern economic world: "A strong union bound by a federal government and the rule of law; a country unapologetic about its pursuit of profit and the banks to finance it; a place where cities, not farms, are the central organizing structure," as Dennis Berman, another defender of Hamilton's $10 portrait, wrote in The Wall Street Journal.
But there is also the obvious dark side: The Industrial Revolution and the rise of cities tore up the old agrarian order, ushering in their own forms of mass exploitation, and forcing the low-grade civil war otherwise known as the early 20th-century labor movement. Hamilton's financialized world is inextricable from the insane levels of economic inequality that first culminated with the Great Depression, and which plague us again today. And it ushered in our modern fascination with Galtian "job creators," and great individualist achievers in economics and industry. (Hamilton himself, while certainly no monarchist, was tempted by the "Great Man" theory of society: His early models for the government suggested the president and senators serve for life, pursuant to good behavior.)
It is one of the great ironies of modern capitalism that its defenders get its great strength entirely backward. Rather than the mythos of a world-moving, individualistic elite, capitalism's true contribution to humanity is its capacity to organize cooperation between millions of unknown, everyday human beings.
Berman complained that Lew's announced alteration to the $10 bill "openly elevates identity over accomplishment." But identity is precisely why the countless contributions to the American story, economic and otherwise, by anyone not white and male go largely unheralded in our collective historical memory.
To correct these imbalances, however modestly, through the monumental Hamilton is thus in some ways poetic justice.
That's because Hamilton also helped build our most potent tool for creating a better social fabric: a strong central government, answerable to the people (or at least capable of being answerable to the people), with the power to guide the economy in a humane direction, and with the clout to ensure our economic bounty is justly distributed. If our goal remains a kind of hybrid of Jefferson and Hamilton's visions — a society of independent yeoman citizens, just in a modern information-society context — then we must acknowledge that Hamilton helped give us the means to achieve it, even if he also helped unleash the economic forces that still threaten us with oligarchy.
"We are indisputably the heirs to Hamilton's America," Chernow wrote. "To repudiate his legacy is, in many ways, to repudiate the modern world." This is true. But it is also true that our modern world needs to be repudiated as often as it needs to be embraced.
In this sense, there is no Founder better suited to being the first to share the currency with a woman.
Update: A previous version of this article incorrectly stated this will be the first time a woman will appear on U.S. paper currency.

Continue reading for free
We hope you're enjoying The Week's refreshingly open-minded journalism.
Subscribed to The Week? Register your account with the same email as your subscription.