The radical idea Taylor Swift should push if she really wants to help everyday artists
Chastising Apple is good. Overhauling the copyright system is better.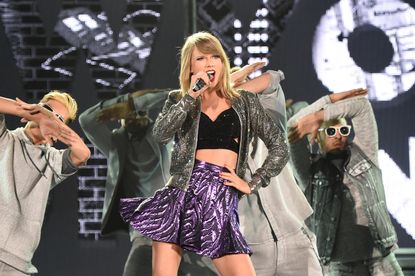 (Image credit: Jun Sato/Getty Images for TS)
Sign up to our 10 Things You Need to Know Today newsletter
A free daily digest of the biggest news stories of the day - and the best features from our website
Thank you for signing up to TheWeek. You will receive a verification email shortly.
There was a problem. Please refresh the page and try again.
This week began with the revelation that Taylor Swift is more powerful than Apple.
The computer behemoth recently unveiled Apple Music, a streaming service to compete with the likes of Spotify. It offered a free three-month trial to attract customers, and it turned out artists would not receive royalties for any plays their music got during that period. Swift, who has criticized free music-streaming services before, was not impressed. "We don't ask you for free iPhones," Swift said. "Please don't ask us to provide you with our music for no compensation."
It took less than 24 hours for Apple to announce it would pay full royalty rates for those three months after all.
Subscribe to The Week
Escape your echo chamber. Get the facts behind the news, plus analysis from multiple perspectives.
SUBSCRIBE & SAVE
Sign up for The Week's Free Newsletters
From our morning news briefing to a weekly Good News Newsletter, get the best of The Week delivered directly to your inbox.
From our morning news briefing to a weekly Good News Newsletter, get the best of The Week delivered directly to your inbox.
So did Swift strike a blow for the countless artists less famous than herself? Sort of. It certainly helps them that those royalties will now be flowing. But if Swift really wants to help the common musician, her stance needs to get considerably more unorthodox.
Back in 2003, economist Dean Baker — who heads up the Center for Economic and Policy Research in Washington, D.C. — proposed what he called the "Artistic Freedom Voucher," or AFV for short. The government would provide every adult taxpayer a $100 voucher, which they could then send to an artist of their choice, or divvy up to multiple recipients. (Baker suggested doing it as a tax credit.) Any artist that chose to participate in the AVF system would, in exchange, give up their copyright protection for a certain time. (Baker suggested five years.) Participation by both artists and the people sending the vouchers would be voluntary.
Baker figured the AFV system would create a big enough pool of money to provide around 500,000 artists a modest, middle-of-the-road annual income. It would also save Americans tens of billions annually, depending on the participation in the system, due to more artistic material becoming freely available.
Baker's original purpose was to create an alternative to the U.S. copyright system. It's hundreds of years old, and it's only getting more bloated and sclerotic. Copyrights on everything from music to software to animated characters can last for decades upon decades, shutting out creative innovations and entrepreneurs. They also give "patent troll" companies a tool to extract revenues without doing anything useful for society.
But the AFV idea, or something similar, could also address two interlocking problems that Taylor Swift and musicians and artists everywhere are grappling with.
The first is the middle-man problem. These days, thanks to digital technology and the internet, it's easier for bands to create and record their music, tour, and get it out to the world on their own. But any kind of real support for publicity and the like still requires a record label. And as a result, record labels often effectively control the artists' music. Back in 2003, Baker estimated that, of the $245 billion that Americans paid each year for any sort of copyrighted material, less than $20 billion made it back to the artists themselves.
Twelve years later, the numbers have changed, but the relationship remains the same: Record labels currently nab about 73 percent of payouts from Spotify's premium service, for example.
The AFV system would allow fans to cut out the middle-men and compensate the artists directly. They could still give their voucher to a participating record label if they wanted to — if, say, they felt it did a good job supporting a particular musical community or genre. But they wouldn't have to.
The second problem is more philosophical, even existential. The entire economy of the music industry was made possible by a one-off historical and technological fluke that's now slowly dissolving. For most of human history, artists made their money through live performances: The technology to make recordings didn't even exist until the late 1800s. After that, recordings still had to be imprinted on a physical medium, and the economies of scale needed to create and distribute those physical objects are largely what made the record industry possible. (It's called the record industry, after all.)
Now digital technology and the internet has blown up that paradigm, too. The inherent costs involved in recording a single performance and pushing it out to millions of people — costs which then justify the price tag — are getting pushed close to zero by advancing technology. We may well be entering a future where the traditional act of economic exchange — buying and selling goods and services — simply isn't able to capture the income necessary to support all the genuinely socially valuable work done by artists, rich and poor alike.
If you want to get really big picture for a moment, there are all sorts of socially valuable labors — from the arts to parenting to community work — that are just intrinsically difficult for the job market and traditional economic exchanges to compensate or support. So we ought to be thinking about new and different avenues to get that income to those people.
Fundamentally reforming our approach to copyright law would be a good, concrete way to start thinking about that. The power to create copyrights is listed in the Constitution as one of the legislature's powers. As Baker notes, "It's quite specifically to serve a public purpose."
Which raises the question: Is copyright law as currently conceived still the best way to serve that purpose? "And even if it was the best way when they wrote the Constitution," Baker continued, "Is it the best way today?"
Taylor Swift, the future of American music may well hinge on your answer.
Continue reading for free
We hope you're enjoying The Week's refreshingly open-minded journalism.
Subscribed to The Week? Register your account with the same email as your subscription.
Sign up to our 10 Things You Need to Know Today newsletter
A free daily digest of the biggest news stories of the day - and the best features from our website
Jeff Spross was the economics and business correspondent at TheWeek.com. He was previously a reporter at ThinkProgress.