Why liberals should cut Nikki Haley some slack on the Confederate flag
Yes, Haley for years did nothing about the flag on South Carolina's capitol grounds. But progress is progress.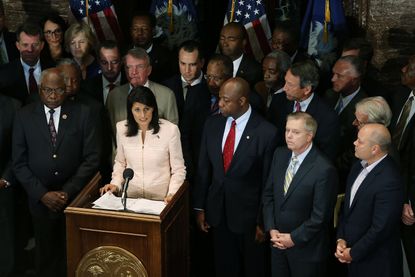 (Image credit: Joe Raedle/Getty Images)
We progressives have something of a tradition: We issue a clarion call for change; someone across the aisle answers the call; we denounce that someone for Doing It Wrong. Tradition!
In the wake of last week's racially motivated terrorist attack on Charleston's Emanuel AME Church, voices immediately rose up demanding the removal of the Confederate flag from South Carolina's capitol grounds. Rather more quickly than any of us may have anticipated, a significant number of conservative politicians adopted the idea — not least, South Carolina Gov. Nikki Haley.
"It's time to move the flag from the capitol grounds," Haley said on Monday, standing alongside several state leaders, including Republican Sens. Lindsey Graham and Tim Scott. Ultimately, the decision rests with South Carolina's state legislature, but several legislators have indicated that the tide has already shifted.
Subscribe to The Week
Escape your echo chamber. Get the facts behind the news, plus analysis from multiple perspectives.
SUBSCRIBE & SAVE
Sign up for The Week's Free Newsletters
From our morning news briefing to a weekly Good News Newsletter, get the best of The Week delivered directly to your inbox.
From our morning news briefing to a weekly Good News Newsletter, get the best of The Week delivered directly to your inbox.
Almost instantaneously, however, people on the left started to remind America that Haley has had years in which to denounce the flag, but has singularly failed to do so. It has likewise been furiously recalled that just eight months ago, the governor suggested the flag was really no big deal, because "I have not had one conversation with a single CEO about the Confederate flag."
Similarly, when Walmart announced (also on Monday) that it would no longer sell Confederate flag-themed merchandise, many on the liberal side moved from "Whoa if true" to "PR stunt!" in the blink of any eye — rinse/repeat for each subsequent revelation.
I don't argue with the points being made: The Confederate flag — a flag of treason wholly dedicated to the perpetuation of chattel slavery — should certainly have been removed by now from any government land on which it flies, and every dollar earned from it is one dollar too many.
But unlike Joan Walsh and The Wonkette, et al, I'm not willing to dismiss these decisions — and not because I think that Haley, Walmart, or any of the other businesses or politicians now distancing themselves from the flag are profiles in courage. I'm not willing to dismiss these decisions, because it's in my best interest not to.
As author Kathryn Schulz makes abundantly clear in Being Wrong, admitting error is a phenomenally difficult thing for most people to do, not least because it has so little upside. Admitting error is often akin to admitting defeat, and humans are generally not very gracious in victory. In politics, especially, the words "I was wrong" are likely to be heard (and dismissed) as a flip-flop.
Yet people change their minds all the time, for all kinds of reasons. Rarely are our motives entirely pure, but what these various officials and CEOs held in their hearts at the moment of decision is frankly far less important than the decision's consequence — in 20 years, the impact of the removal of the Confederate flag from polite American society will remain; what the CEO of Amazon was thinking at the time won't matter.
Moreover, all of society is improved when we allow each other a margin of error. When we give credit to leaders who get on the right side of history, we encourage them and others (and ourselves) to continue to be introspective, honest, and open to change. We make it easier for the next person to make the leap.
Finally, when we acknowledge changes of heart by people with whom we seldom agree, it becomes easier to engage them on other issues — such as, in the case of Haley and Walmart, gun legislation and sales. One day after the attack on Emanuel AME and two days before she called to lower the flag, Haley expertly dodged a Today Show question about new gun laws.
Giving people credit for doing one thing right doesn't mean we become supporters of everything they've still got wrong. It doesn't mean we have to vote for them or shop in their stores. It does, however, create a broader space for human mutability, and open the door, at least a crack, to further dialogue.
The danger will be in resting there. We must acknowledge these strides, and then keep striding forward. Lowering the Confederate flag won't end institutional racism, income disparity, or the police brutality that mark the daily reality of black Americans. It will be a very important step, but it can only ever be that: a step.
Yet I believe that we're capable of holding more than one idea in our minds at the same time. We can thank politicians and business leaders who've chosen right over wrong in this case, even as we continue to push them on gun control, even as we continue the fight for racial justice. The Confederate flag is much more than a flag; we can ensure that its removal also means a great deal more.

Continue reading for free
We hope you're enjoying The Week's refreshingly open-minded journalism.
Subscribed to The Week? Register your account with the same email as your subscription.