Why poor whites should rally behind Black Lives Matter
White dropouts are getting hammered by the police, too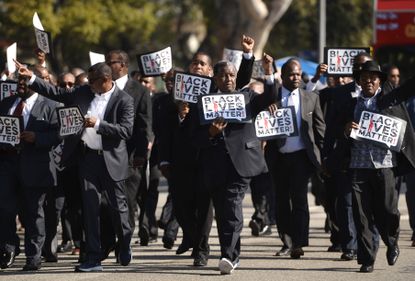 (Image credit: ROBYN BECK/AFP/Getty Images)
Sunday marked the one-year anniversary of Michael Brown's death, an unarmed black 18-year-old killed by Darren Wilson, a white police officer. After a day of calm remembrances, the night turned violent as police shot another black 18-year-old, one Tyrone Harris, this time after he reportedly fired a pistol at a police car at close range. (He is still alive, though in critical condition.) It's yet another sad reminder of the fact that despite some reform inspired by the Black Lives Matter movement, the issue of police brutality is still very much alive, however justified this particular shooting seems at the moment.
Another reminder came last week, when new details emerged about the police shooting of an unarmed white 19-year-old, Zachary Hammond, in Seneca, South Carolina. The police allege that they had set up an undercover drug buy, and shot Hammond to death when he tried to run over one of the officers with his car. However, a private autopsy showed that the bullets had entered Hammond's body from the back — and it wouldn't be the first time the police had turned a simple drug bust into a shooting death with incompetent swaggering.
In media reports, Hammond's family, along with some conservatives, expressed resentment that their son's death had not gotten the same media reaction that black victims like Michael Brown, Samuel DuBose, and Sandra Bland did. It's an understandable reaction, but a mistaken one. Instead of getting angry at the relative lack of media coverage, Hammond supporters should lend their voices to movement for police reform — because whites, particularly poor ones, stand to benefit a great deal from the Black Lives Matter agenda.
Subscribe to The Week
Escape your echo chamber. Get the facts behind the news, plus analysis from multiple perspectives.
SUBSCRIBE & SAVE
Sign up for The Week's Free Newsletters
From our morning news briefing to a weekly Good News Newsletter, get the best of The Week delivered directly to your inbox.
From our morning news briefing to a weekly Good News Newsletter, get the best of The Week delivered directly to your inbox.
The argument of Black Lives Matter is that the criminal justice system disproportionately brutalizes blacks. This is very obviously correct. If you look at arrests, charging, sentencing, incarceration, or police shootings, at every level blacks are victimized at a rate greater than their share of the population, sometimes vastly so.
However, that clearly does not imply that blacks make up literally 100 percent of people unjustly hassled or murdered by the cops. On the contrary, whites also get a large share of the abuse, simply because they are a large demographic majority.
Take police shootings, for example, the subject of an ongoing monitoring project by The Washington Post. Of the 585 people killed by police so far this year, 147 (or 25 percent) were black. That's almost twice the 13 percent black share of the population. But that still leaves 291 (50 percent) who were white!
It's a safe bet that most of those people were poor. Consider this study I've referenced before of a cohort of men born from 1975-79. It measures, as of 2009, the lifetime risk of incarceration for the three major racial groups by their educational attainment ("DO" stands for high school dropouts). Since statistics on the criminal justice system are generally pretty poor (especially on police shootings) it's a decent rough proxy for a class- and race-controlled measure of general oppression by the criminal justice system.
The eye-popping result here is obviously the risk for black high school dropouts: an incomprehensible 68 percent lifetime risk of imprisonment. But white high school dropouts have the second-greatest risk in this cohort, at 28 percent. That's higher than black high school graduates and over four times greater than blacks with some college experience.
Those proportions have probably changed in later cohorts or in general population terms, but it's simply undeniable that poor whites really do get hammered by the criminal justice system. Not as badly as poor blacks, but still pretty badly.
And that raises the question of just what people are trying to accomplish by pointing out the relative lack of attention given to white victims like Hammond. His parents are surely concerned with a measure of justice. But it's hard to escape the impression that the "All Lives Matter" people would not care a fig if his death couldn't be used as a derailing tactic against black protesters — that in days past, this would have been one more drug dealer shot by a heroic policeman, end of story.
But if such people are really committed to justice for white victims of police brutality as well as black, they have a simple path available: ally with the movement! About all the Black Lives Matter agenda — body cameras, police and prosecutorial reform, economic justice, etc — would help whites too. A professional and humane police force would be a universal benefit.

Continue reading for free
We hope you're enjoying The Week's refreshingly open-minded journalism.
Subscribed to The Week? Register your account with the same email as your subscription.