Fistbumps and germ-zapping robots: Inside the quest to make hospitals more hygienic
Hospital-acquired infections kill 80,000 Americans every year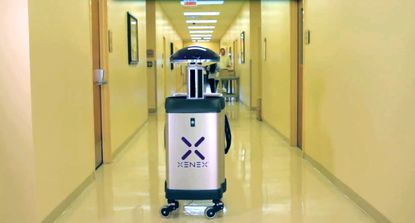 (Image credit: Xenex)
Sign up to our 10 Things You Need to Know Today newsletter
A free daily digest of the biggest news stories of the day - and the best features from our website
Thank you for signing up to TheWeek. You will receive a verification email shortly.
There was a problem. Please refresh the page and try again.
Germaphobes, prepare yourself for an unsettling statistic: Healthcare workers only follow recommended hand hygiene procedures 40 percent of the time. In intensive care units, the compliance rate is even lower: 26 percent. That means there's a pretty good chance your doctor did not wash her hands properly before consulting with you.
This is a huge problem. Hospital-acquired infections kill 80,000 Americans every year, and bacteria are becoming ever more resistant to antibiotics. Hospitals are trying to improve hand hygiene, but some institutions are taking a new approach, tackling the problem with technology. Here are four intriguing examples:
1. Killing bacteria with purple light
Subscribe to The Week
Escape your echo chamber. Get the facts behind the news, plus analysis from multiple perspectives.
SUBSCRIBE & SAVE
Sign up for The Week's Free Newsletters
From our morning news briefing to a weekly Good News Newsletter, get the best of The Week delivered directly to your inbox.
From our morning news briefing to a weekly Good News Newsletter, get the best of The Week delivered directly to your inbox.
A new light fixture developed at the University of Strathclyde Glasgow called Indigo-Clean uses colored light to eliminate germs. As its name might suggest, the fixture emits a visible indigo hue at a specific wavelength that is harmless to humans but deadly to bacteria. The wavelength gets absorbed into the bacteria's molecules, creating a chemical reaction that causes the micro-organism to self-destruct. "This is the equivalent of light-generated bleach," says Cliff Yahnke of Kenall Manufacturing, which produces the fixtures. The light is meant to be left on continuously in areas like the operating room or the emergency department waiting area. "The waiting area is one of the filthiest areas in a hospital," Yahnke says. "Ninety percent of admissions come in through this area. Would it make sense to put something there?" During one trial at Froedtert Hospital in Wisconsin, installing the Indigo-Clean light in a waiting room showed a 40 percent reduction in bacteria. The Indigo-Clean technology is now being tested in a handful of medical settings.
2. A germ-zapping robot
The future of clean hospitals may come in the form of a robot that looks a whole lot like R2-D2. Like the Indigo-Clean, the Xenex robot also uses light to kill bacteria, but unlike the Indigo-Clean, it's not safe for use around humans because it employs harmful UV light. When a room is evacuated and the robot switched on, pulses of UV light attack the DNA of micro-organisms. One study showed that when the UV light is used in combination with a manual clean, as opposed to a manual clean alone, 20 percent more bacteria are killed. The robot can disinfect up to 60 rooms per day.
3. Smart badges
Would more people would wash their hands if they knew they were being observed? That's the assumption behind an electronic badge from Biovigil that clips to a doctor's shirt and uses a simple stoplight color system to tell the doctor (and their patients) whether or not his hands or clean. The badge tracks the doctor as he enters and exits a patient's room, prompting him to sanitize his hands after each visit. The doctor then holds his hand in front of the sensor which glows green if the hand is clean. "It instantly changes the accountability and behavior, because no one is going to be running around with a red badge," Brent Nibarger, chief client officer at Biovigil Hygiene Technologies, told Wired. It's a controversial method, but one that could be highly effective. When workers at one hospital on Long Island were told they were being filmed at work, hand-washing rates went from 10 percent to 88 percent, reports to The New York Times.
4. Fistbumps
Even after a good scrub, 80 percent of people still have some disease-causing germs left on their hands. So what if we did away with handshakes in hospital settings altogether? "In a hospital you shouldn't be really touching at all," says Dr. David Whitworth, a senior lecturer at Aberystwyth University. "That's the best way to minimize any transmission of potentially pathogenic organisms." But patients often expect a warm, comforting handshake from their doctors, especially if they're feeling vulnerable. One good alternative may be the fist bump. One study found open handshakes transfer 20 times more bacteria between people than a closed fist bump. "For the sake of improving public health we encourage further adoption of the fist bump as a simple, free, and more hygienic alternative to the handshake," Whitworth says.