How Pope Francis is perpetuating the Catholic Church's radical anti-abortion position
The pope's recent declaration on the subject in no way addresses an injustice that lies at the heart of the church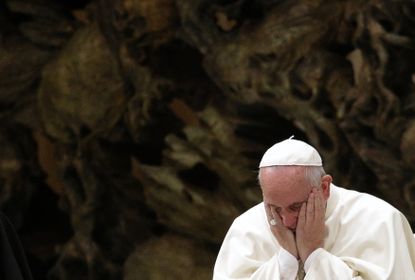 (Image credit: REUTERS/Max Rossi )
Another week, another flood of stories about Liberal Pope Francis.
This week they focused on the Vatican's declaration that during the Jubilee year that runs from Dec. 8, 2015, to Nov. 20, 2016, the pope will be empowering priests around the world to grant absolution for the sin of abortion. In what has become a recurring pattern, the media has greeted this announcement with barely contained excitement. Oh, there goes the reformist pope yet again, opening wide the doors of the church to the modern world, offering a healing message of mercy instead of a harsh hand of judgment and rebuke!
Informed commentators have noted that the comparatively conservative Pope John Paul II did the same thing during a Jubilee year of his own pontificate. But with Francis, every expression of empathy, however miniscule, gets interpreted as a sign that the church is moving in a new, more progressive direction.
Subscribe to The Week
Escape your echo chamber. Get the facts behind the news, plus analysis from multiple perspectives.
SUBSCRIBE & SAVE
Sign up for The Week's Free Newsletters
From our morning news briefing to a weekly Good News Newsletter, get the best of The Week delivered directly to your inbox.
From our morning news briefing to a weekly Good News Newsletter, get the best of The Week delivered directly to your inbox.
In this case, at least, such hopes are woefully misplaced. The fact is that the church's position on abortion is breathtakingly, stunningly radical — more radical, even, than the mainstream pro-life movement. Viewed in the context of this radicalism, Francis' proposal of temporary pastoral leniency is hardly something worth applauding. On the contrary, it's an act so small that it deserves to be denounced as a woefully inadequate response to a fundamental injustice at the heart of the church.
No one would be surprised to learn that the Vatican considers abortion to be an act of murder. In the words of the Catechism of the Catholic Church, "since the first century the Church has affirmed the moral evil of every procured abortion. This teaching has not changed and remains unchangeable." (Par. 2271) When fair-minded lay Catholics (like Ross Douthat of The New York Times) argue about abortion as a matter of public policy, they see no conflict between upholding this moral teaching and proposing that those who procure abortions be legally punished with less severity than those who engage in other forms of lethal violence. That's because these commentators recognize that abortion differs from all other kinds of murder: In no other form of homicide does the victim reside within the body of the perpetrator.
That's an example of applying a stringent moral principle with care, generosity, and compassion.
But then why does the Catholic Church officially lean in the opposite direction, treating abortion as worse than other forms of homicide and deserving of more severe punishment?
According to the church, if I commit adultery, my priest can hear my confession and absolve my sin. If I murder my wife, my priest can hear my confession and absolve my sin. Heck, if I engage in an act of genocide, my priest can hear my confession and absolve my sin.
But if my wife procures an abortion, she incurs an automatic (latae sententiae) excommunication, meaning she instantly falls out of communion with the Catholic Church. That precludes her from partaking in the sacraments, including the sacrament of reconciliation, which is the means by which a priest can hear a confession and absolve sins.
That makes abortion worse than every other form of murder, including mass murder.
And there we have the necessary moral context for judging the pope's recent announcement. What he's done is declare that during the upcoming Jubilee year, women who've had abortions and been automatically excommunicated will be allowed to partake in the sacrament of reconciliation and thereby have their sin forgiven, which would permit the automatic excommunication to be reversed.
That sounds nice. But of course beginning on Nov. 21, 2016, abortion will once again revert to its current status as an ultra-super-bad sin that instantly and irredeemably (except in cases where a bishop grants an exception) expels the perpetrator from the church.
Abortion isn't the only sin placed into this category of "reserved sins," but it's one of only a very few. Nine, in fact. There's apostasy (the repudiation of church); heresy (doubting or denying Catholic doctrine); schism (refusing to submit to the pope); disposing of the consecrated host (the Eucharist) or using it for a sacrilegious purpose; physically attacking the pope; consecrating a bishop without authorization from the Vatican; violating the seal of confession (when a priest divulges the sins of a specific person to someone else); and absolving an accomplice in sexual sin (when a priest offers to hear a confession of someone with whom he has violated his vow of celibacy).
And abortion — the woman who procures it, as well as the person or people who perform, pay for, and otherwise facilitate it.
That's it.
Note that aside from abortion, these special sins that bring automatic excommunication all have to do either with regulating the behavior of clergy (priests, specifically) or involve an assault on the foundations of the faith (attacks on its fundamental dogmas, doctrines, and institutional offices, symbols, and structures).
Of all the extra-ecclesiastical sins, crimes, and acts of cruelty and intentional evil that the members of the human race have devised and enacted down through the millennia, only abortion rises to the status of a sin so grave that it leads to instantaneous expulsion from the church — an expulsion that can only be reversed when a local bishop makes a one-off exception or the Bishop of Rome declares a special time-limited period of absolution.
An outside observer (and maybe a Catholic layperson or two) might see this as yet another example of how a church run exclusively by celibate bachelors just so happens to end up treating women as at once purer and requiring a greater degree of paternalistic oversight than men.
If Pope Francis really wants to be a reformer, if he truly wishes to infuse the church with the spirit of justice and mercy, he will go beyond the all too modest gesture announced this week and set in motion a process of revising and de-radicalizing the Canon Law so that it begins to treat abortion as merely another form of murder.

Continue reading for free
We hope you're enjoying The Week's refreshingly open-minded journalism.
Subscribed to The Week? Register your account with the same email as your subscription.