Fear the Walking Dead episode 4 recap: Life during wartime
The Walking Dead spin-off has finally found its unique take on life in the post-apocalypse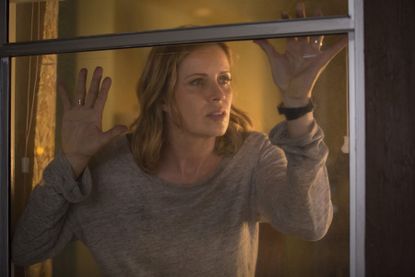 (Image credit: Justina Mintz/AMC)
Sign up to our 10 Things You Need to Know Today newsletter
A free daily digest of the biggest news stories of the day - and the best features from our website
Thank you for signing up to TheWeek. You will receive a verification email shortly.
There was a problem. Please refresh the page and try again.
It took until halfway through its freshman season, but Fear the Walking Dead has finally managed to justify its existence. Until now, the series has been an intriguing curiosity — a new story, set in the Walking Dead universe, that seemed content to make all the same mistakes The Walking Dead did.
But despite the complete lack of zombies — a first for this young series — "Not Fade Away" was easily the most chilling episode of Fear the Walking Dead yet. By the end of the episode, it's clear that the real threat isn't the zombies, which have been easily contained; it's the U.S. military, which is keeping our small group of Los Angeles survivors totally ignorant of the true danger on the horizon.
"Not Fade Away" opens with a striking montage, set to Lou Reed's "Perfect Day," that introduces us to the new world order. It's been nine days since the military rolled in, and the survivors have achieved varying degrees of normalcy; Madison is repainting the family room, Travis waves at neighbors on his morning jog, and Chris is documenting his rapidly changing life in a video diary.
Subscribe to The Week
Escape your echo chamber. Get the facts behind the news, plus analysis from multiple perspectives.
SUBSCRIBE & SAVE
Sign up for The Week's Free Newsletters
From our morning news briefing to a weekly Good News Newsletter, get the best of The Week delivered directly to your inbox.
From our morning news briefing to a weekly Good News Newsletter, get the best of The Week delivered directly to your inbox.
From the military's perspective, the goal is to keep the survivors in a carefully calibrated fantasy of calm and routine. "The tide has most definitely turned," insists Moyers, the military commander in charge of the safe zone, as he boasts about having established a disease-free zone, with a perimeter that stretches for six miles.
Given the desperation of the situation, some survivors might be eager to buy into this fantasy — but Fear is smart enough to recognize that the facade of normalcy only works on those who are so terrified that they will themselves into believing it. Travis, who ended last week's episode by assuring his family that things were about to get better, is the biggest sucker of the group; as his son Chris puts it, he's so blindly trusting of the military that he'd throw the soldiers a parade if they'd let him. In one of the key scenes of the episode, Travis stops just short of admitting that his bizarrely Pollyanna-ish outlook on the zombie apocalypse is a concentrated effort to make his family feel better. "'It is gonna be okay.' That's what you say. That's all you have to say," he advises a neighbor, who can't bring himself to face his family. When the neighbor asks if his family will know he's lying, Travis ignores the question.
But whatever Travis' noble intentions might be, his family isn't buying it. Alicia grieves her newly lost innocence, tracking down a happy picture she drew as a child and giving herself a memorial tattoo for her (almost certainly dead) boyfriend. Chris grows increasingly obsessed with a flashing light from a faraway window, convinced it's a sign that the military is lying about the total dearth of nearby survivors. And Nick pretends he's successfully kicked his drug habit, while stealing the morphine drip of an old man who desperately needs it. (Seriously, Fear, anytime you want to kill off Nick is fine with me.)
The biggest story in "Not Fade Away" belongs, unsurprisingly, to Madison, who has quickly established herself as Fear's most interesting and capable protagonist. Madison spends "Not Fade Away" teetering between skepticism and paranoia — and by the end of the episode, it's clear that both feelings are entirely justified.
Madison violates the strict military quarantine to investigate the light Chris saw in the faraway house, but she doesn't need to go that far to see how bad things really are. After cutting through the fence separating the safe zone from the rest of Los Angeles, she stumbles directly into a nightmare. The streets are full of corpses — some zombies, and some human, apparently gunned down by the military. Madison manages to evade the military patrol and get back safely, but the threat of being caught outside the fence could hardly be more harrowing; later that night, Travis sees a burst of gunfire — presumably fired by the soldiers — from the faraway house that was seeking help.
With zombies outside the fence, and a strict, 1984-style regime on the inside, how can any person survive? Daniel Salazar, a Salvadorian refugee who survived one horrifically brutal government regime, has the simplest answer: Don't trust anyone. He tells Madison about a formative event of his childhood, when he stumbled upon the corpses of people the government had assured his father were alive and well.
"My father told me not to have hatred in my heart," recalls Daniel. "He said, 'Men do these things not because of you. They do evil because of fear.' And at that moment, I realized my father is a fool for believing there was a difference. If it happens, it will happen quickly, and you must be prepared." Daniel's words turn out to be more prescient than even he realizes. Late in the night, a military escort arrives to haul away his injured wife Griselda and Madison's strung-out son Nick, who have both been deemed health risks.
In the two episodes that remain, I hope Fear finds a way to make the military seem a little less monolithic and sinister. The Walking Dead has never really managed to make its villains seem like anything more than cartoonish mustache-twirlers, and Moyers — whose utter indifference to human life seems to paint him as the season's big bad — falls right into that unfortunate tradition. Fear gives us a slightly more sympathetic figure in Adams, an aw-shucks soldier who starts hooking up with Ofelia Salazar almost immediately after meeting her. It's not really clear if Ofelia is actually into Adams, or if she just wants a reliable inside man for the medicine he can smuggle away for her, or if it's a combination of both. Whatever the answer, it's in these uneasy questions of what it takes to survive that Fear has truly begun to thrive.
Read more Fear the Walking Dead recaps:
Continue reading for free
We hope you're enjoying The Week's refreshingly open-minded journalism.
Subscribed to The Week? Register your account with the same email as your subscription.
Sign up to our 10 Things You Need to Know Today newsletter
A free daily digest of the biggest news stories of the day - and the best features from our website
Scott Meslow is the entertainment editor for TheWeek.com. He has written about film and television at publications including The Atlantic, POLITICO Magazine, and Vulture.