Why balanced budgets are killing the Democratic Party
Canada's Liberal Party just showed them a better way to think about spending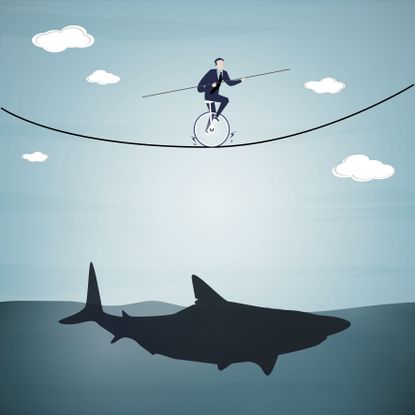 (Image credit: iStock)
Sign up to our 10 Things You Need to Know Today newsletter
A free daily digest of the biggest news stories of the day - and the best features from our website
Thank you for signing up to TheWeek. You will receive a verification email shortly.
There was a problem. Please refresh the page and try again.
Across the developed world, the cultural hegemony of the balanced budget has been one of the largest political obstacles for left-leaning parties. From the Netherlands to the U.K. to the U.S., the political and media elite have made "new laws shall not increase the budget deficit" a political commandment. As parties which generally support maintaining or increasing government spending, it's put them in a political bind — and a totally unnecessary one.
However, one recent center-left party has bucked the trend. Canada's Liberals ran on an explicit platform of more borrowing and spending to take advantage of low interest rates — and they won big. It's a good lesson for the Democrats and the U.S. as a whole, as we scramble around for revenue sources.
The recent budget deal which John Boehner is currently shepherding through the House before quitting his job is an excellent example. This would increase spending by $80 billion over two years, divided evenly between military and non-military uses, plus an additional $32 billion into a Pentagon slush fund, and raise the debt ceiling. It would be "paid for" by a cut in Medicare spending on the provider side, a small tightening on eligibility requirements for Social Security Disability Insurance, and selling oil out of the strategic petroleum reserve.
Subscribe to The Week
Escape your echo chamber. Get the facts behind the news, plus analysis from multiple perspectives.
SUBSCRIBE & SAVE
Sign up for The Week's Free Newsletters
From our morning news briefing to a weekly Good News Newsletter, get the best of The Week delivered directly to your inbox.
From our morning news briefing to a weekly Good News Newsletter, get the best of The Week delivered directly to your inbox.
All in all, given that Republicans control both the House and Senate, and have long been trying to cut down Medicare, Medicaid, and Social Security (particularly SSDI), this is probably about as reasonable a compromise as Democrats could expect. The cut to SSDI is bad, but given that it's a $150 billion program that Republicans could have slashed by 20 percent at the end of 2016, it's a fairly minor change. Basically things will continue as they are, and both sides hope they will be in a better negotiating position come 2017.
But let's look again at one of the goofy revenue ideas here: selling some of the strategic petroleum reserve. This idea is completely insane for three reasons. First, the petroleum reserve is (supposedly) an important piece of national security, something to be maintained just in case of a disruption in the oil market. Selling it off just to raise a bit of temporary cash is lame and irresponsible. Second, oil prices are extremely low at the moment, meaning we won't even get a good deal.
But finally and most important, United States debt is selling at rock-bottom rates. Earlier this month the Treasury held an auction where 3-month bonds went for zero (precisely 0.00) percent for the first time ever. That's only slightly below where they've been for most of the past seven years — often dipping below the rate of inflation. Selling off the petroleum reserve is dumb, doing it when people were literally paying the government to borrow their money is stark lunacy.
This is a consequence of the liquidity trap, where desired savings exceeds desired investment in a depressed economy. With more people wanting to save than borrow, institutions with extremely low credit risks are offered rock-bottom interest rates — and United States bonds are as safe an investment as they come. This implies that more borrowing and spending will increase overall output, create jobs, and maybe even pay for itself over the long term by avoiding damage to productive capacity.
The upshot here is that the deficit is too low. Until full employment is reached (we'll know when we start seeing inflation), austerity is actively harmful. With millions of Americans still out of work, and lots of decaying infrastructure and new investments needed (water systems, for example), it is a mistake to offset new spending with cuts elsewhere. Just borrow the money! Wall Street is begging for it on bended knee.
But left-leaning parties, from the Democrats to Britain's Labour Party, have twisted themselves into knots trying to avoid this logic, instead aiming for hairsplitting about how conservative austerity is too much and they would still reduce the deficit, only by a smaller amount.
Canada's Liberals show that it's possible to win by ditching this cringing posture. There were certainly some other factors in their victory (Conservative Party Islam-baiting being a big one), but it's still a proof of concept. And despite widespread despair on the left about ordinary people being natural deficit scolds, I think it's fairly easy to grasp.
Heck, it even makes sense on the grounds of a highly misleading analogy between a government and a household. Regular people go into debt all the time — to buy a house or car, for example — and when rates are below zero in inflation-adjusted terms, it's a good time to get any necessary borrowing locked in while the money is cheap.
There's all sorts of stuff to fix or upgrade around America — all that's missing is the political will.
Continue reading for free
We hope you're enjoying The Week's refreshingly open-minded journalism.
Subscribed to The Week? Register your account with the same email as your subscription.
Sign up to our 10 Things You Need to Know Today newsletter
A free daily digest of the biggest news stories of the day - and the best features from our website
Ryan Cooper is a national correspondent at TheWeek.com. His work has appeared in the Washington Monthly, The New Republic, and the Washington Post.