Why Dodd-Frank should have been stupider
Five banks were just told their "living wills" were too weak — but almost no one knows how to read them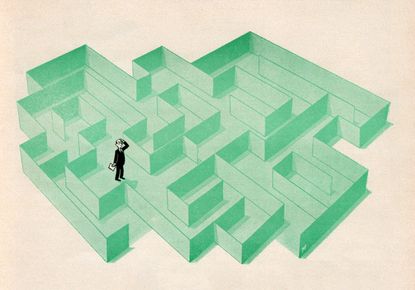 Federal regulators sent some of the country's biggest banks back to the drawing board on Wednesday.
At issue was a key clause of the 2010 Dodd-Frank financial legislation that demands that banks draw up "living wills" — i.e. plans for how they would enter bankruptcy should their finances collapse. And regulators at the Federal Reserve and Federal Deposit Insurance Corporation just told five banks deemed "systemically important" — JPMorgan Chase, Bank of America, Wells Fargo, Bank of New York Mellon, and State Street — that their wills aren't up to snuff.
Unsurprisingly, the banks disagreed with the decision, but so far they seem prepared to resubmit new versions in October. This raises the rather obvious question of who's right. The answer is I have no idea, and most everyone else doesn't either.
Subscribe to The Week
Escape your echo chamber. Get the facts behind the news, plus analysis from multiple perspectives.
SUBSCRIBE & SAVE
Sign up for The Week's Free Newsletters
From our morning news briefing to a weekly Good News Newsletter, get the best of The Week delivered directly to your inbox.
From our morning news briefing to a weekly Good News Newsletter, get the best of The Week delivered directly to your inbox.
This gets at a problem with big American policymaking in the modern era: It's needlessly complex. Major laws like Dodd-Frank and ObamaCare have endless moving parts and thousands of rules, and the practical result is that the population of people who adequately understands them — and, more importantly, can properly enforce them — is pretty small.
A few days ago, a related aspect of Dodd-Frank made waves when a judge ruled that regulators had improperly designated MetLife — a nonbank insurance company — as systemically important. Andrew Ross Sorkin is an accomplished financial reporter for The New York Times, who by his own account read through reams of legal briefs on that case and talked to lots of experts. "I have no idea if MetLife is too big to fail," he concluded. Sorkin took issue with some of the judge's logic, but his main question was how anyone "with anything short of a doctorate in statistics and economic modeling" could effectively oversee or assess these sorts of regulations. And critics have regularly slammed Dodd-Frank for being so big and complex that it's effectively unworkable.
The irony is that legislators entangle themselves in these technicalities by trying to moderate and make the regulations more appealing to the industries they oversee. Simple rules tend to be very broad, which make them more politically risky. Their backers are more susceptible to cries of partisan radicalism, and industry lobbyists love to accuse them of making the many pay the price for the malfeasance of the few. "Rather than using a scalpel to deal with this issue, they are using a machete," one corporate trade group put it recently on the issue of corporate tax inversions.
So there's a damned-if-you-do, damned-if-you-don't dynamic to the trade-off between precise complexity and sweeping simplicity. And this being an era of big business and partisan gridlock, Congress has opted for complexity and its attendant vices.
With Dodd-Frank, this manifested itself as thousands of rules that had to be fleshed out by an alphabet soup of regulatory agencies and a "systemically important" designation that had to be applied on a technical, case-by-case basis. With ObamaCare, this looked like a Rube-Goldberg-esque setup that tried to expand Medicaid, coax the states into providing insurance marketplaces, subsidize customers with a byzantine system of tax credits, and try to avoid changing employer-provided health insurance as little as possible.
You could imagine different approaches in both cases.
Instead of ObamaCare, we could have established one national exchange run by the federal government, eliminated the deduction in the tax code for employer-provided coverage, and just given everyone in the national exchange a really generous cash grant that isn't adjusted to income. The Republican reaction might have made it impossible to pass, but it would have saved state governments and everyday Americans an enormous amount of headache.
Financial regulation was such a mess that Dodd-Frank was bound to be complex, but it too could have leaned much more heavily towards broad and simple rules. Instead of the "systemically important" designation, for instance, we could have created a tiered system of capital requirements — similar to the brackets in a progressive income tax — that increased in severity as banks and other financial institutions crossed certain thresholds for size. If there was a size we didn't want those companies to get above, we could have simply made the capital requirements above it so overwhelming that none would allow themselves to get that big. This would have brought howls of "using the machete" from the financial industry — and again would probably have been politically impossible — but it's an example of what keeping it simple looks like.
Finally, getting back to Sorkin's point, setups like Dodd-Frank in particular create a kind of arms race in expertise that the regulated industries almost inevitably win. Not that many people know their way around this stuff, and Wall Street can pay them gobsmacking sums to lobby and game the rules with ever-increasing sophistication. Meanwhile, the government doesn't spend the money to attract similar talent to defend and enforce those same rules.
In short, sometimes avoiding the need for experts can be as valuable as listening to them when it comes to lawmaking. There's something to be said for policies that are big, simple and — for lack of a better word — stupid.

Continue reading for free
We hope you're enjoying The Week's refreshingly open-minded journalism.
Subscribed to The Week? Register your account with the same email as your subscription.