Microsoft wants to monopolize your workplace
Here's why LinkedIn is the perfect match for Microsoft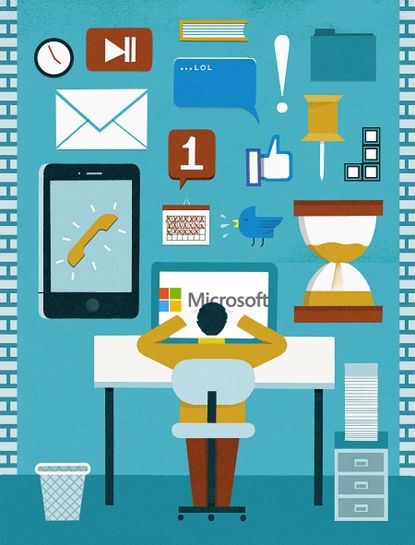 Microsoft announced on Monday that it's dropping $26.2 billion to acquire LinkedIn, the social network geared towards resumes, employment history, and connecting corporate professionals and white-collar workers.
It's a generous offer: The buy per share is 49.5 percent over where LinkedIn's stock closed on Friday.
It may seem quixotic when a tech giant known for its personal computer businesses buys a social network. But if you dig through Microsoft's history, there's a pretty clear strategy here.
Subscribe to The Week
Escape your echo chamber. Get the facts behind the news, plus analysis from multiple perspectives.
SUBSCRIBE & SAVE
Sign up for The Week's Free Newsletters
From our morning news briefing to a weekly Good News Newsletter, get the best of The Week delivered directly to your inbox.
From our morning news briefing to a weekly Good News Newsletter, get the best of The Week delivered directly to your inbox.
Microsoft got going as a dual juggernaut in both the world of PCs and the software you run on them. It's not just individual consumers who buy PCs — it's also companies, and they buy in bulk. This provided an excellent opportunity for Microsoft to place its PCs, its Windows operating systems, and its software package of Microsoft Office products into one big grab bag for bulk buyers. In fact, the famous antitrust lawsuit against Microsoft hinged on its use of overwhelming market share to essentially force that amalgam down buyers' throat and freeze out any possible competitors.
Then along came the internet and digital revolutions.
Today, Microsoft still holds about 90 percent of the PC market, but that market isn't what it used to be. The rise of smartphones and notepads and especially detachable tablets — the ones that effectively double as both a mobile tablet and a laptop computer — has massively displaced the overall amount of PC purchases in the country. Taking account of the entire world of mobile devices as well as personal computers, Microsoft only commands 14 percent of the market today.
So far the company has struggled to adapt. Microsoft's Internet Explorer browser dropped from 57.4 percent market share a year ago to 44.8 percent in February. Meanwhile, Google Chrome, the other market leader, went from 25 percent to 36.6 percent. And it doesn't look like Microsoft's new entry — the Edge browser — is making any headway so far.
As for the Windows Phone — meant to be Microsoft's direct challenge to the dominant mobile device companies like Apple — it's below 1 percent market share.
So what was Microsoft to do?
Well, first it needed to capitalize on the one foothold it still had: Microsoft remains popular with the business customers who buy desktop PCs in bulk. They have longer time horizons than individual consumers, and they like the stability of Microsoft's package of Office software and its overall ecosystem. As technology has advanced in recent years, those PCS have arguably become more durable — more of the tasks that used to be dependent on physical memory have been transferred to cloud computing, processing power is just overwhelming these days, and Microsoft has gotten better about making sure its new operating systems don't require completely new hardware upgrades.
But next Microsoft needed to figure out how to expand on that foothold. If they can't compete with mobile devices and the PC market itself is dwindling to obsolescence, what's left? The answer hit on by Satya Nadella, who became Microsoft's CEO in 2014, was to provide a set of services to those businesses and professional customers that wouldn't live or die by Microsoft's PC sales.
There have been two parts to this so far.
First, Microsoft came up with Office 365 — think the Microsoft Office package of programs, except all housed online as web apps rather than as software on a PC. It's been a big hit: "Today, one out of every five corporate employees uses an Office 365 cloud service, up from less than 7 percent just nine months ago," according to a SkyHigh Networks study.
Second, Microsoft created Azure, which essentially allows customers and businesses to rent computer power from Microsoft's cloud network.
Both of these services operate on a subscription basis. And while their revenue isn't quite up to Microsoft's needs yet, it seems to be getting there fast.
This is where LinkedIn enters the picture. Microsoft is already gaining a command of the market for the cloud computing and the cloud-based apps professionals use. So now it's gaining command over the social platform they use to message, hire, and network with one another as well. LinkedIn may not be the big household name that Facebook is, but it caters to a specific audience of white-collar workers and corporate professionals. It even charges businesses to post job ads and take advantage of other recruiting services — all potential revenue for Microsoft now, and a potential avenue for marketing Office 365 and Azure. As Tim Lee put it at Vox, LinkedIn is basically one giant digital replacement for every rolodex that used to adorn the desk of every business person worth their salt.
And now Microsoft owns it.
Another purchase by Microsoft back in 2011 was Skype. That may have seemed strange at the time, but given the degree to which Skype is used for virtual conferencing and the like, it now looks like one more piece of Microsoft's growing ecosystem of online professional services. The company is even looking into virtual reality headsets for business meetings and communication.
We've seen this same sort of strategy with Facebook too; it's buying up Instagram, transforming into a news source in its own right, and attempting to become the internet portal for hundreds of millions of people.
But while Facebook is looking to essentially become the umbrella provider of everything you do as a social person — your news consumption, your photo sharing, your jokes and stories and arguments with your friends — Microsoft is trying to do it for everything you do as a professional — your projects and spreadsheets and communications and hiring decisions and glad-handing and computing power.
Facebook wants to monopolize your social life. Microsoft wants to monopolize your professional life. Between the two, is there room for anyone else?

Continue reading for free
We hope you're enjoying The Week's refreshingly open-minded journalism.
Subscribed to The Week? Register your account with the same email as your subscription.