Do you suffer from password rage?
Step away from the keyboard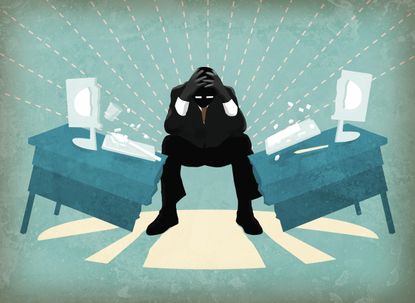 (Image credit: Fanatic Studio / Alamy Stock Photo)
"Please enter your username and password."
Few words fill me with more dread.
Like so many of us, I have my browser set to remember all of my login credentials, so when I get the occasional request to re-enter information, I draw a blank. Far too many times, I enter the information I think is correct, only to get that annoying red text: "Your username and password is incorrect. Please try again."
Subscribe to The Week
Escape your echo chamber. Get the facts behind the news, plus analysis from multiple perspectives.
SUBSCRIBE & SAVE
Sign up for The Week's Free Newsletters
From our morning news briefing to a weekly Good News Newsletter, get the best of The Week delivered directly to your inbox.
From our morning news briefing to a weekly Good News Newsletter, get the best of The Week delivered directly to your inbox.
Rage.
Passwords used to make sense. They were first used in the 1960s to protect critical computer systems from unauthorized access. A limited number of people used these systems, and each person likely only had one password to remember.
Cut to today, when the average person has 19 passwords between his or her various devices. We're told we shouldn't use the same login for different accounts, and advised to make them all as complex as possible. One site requires at least one number, letter, and special character, while another doesn't allow special characters at all. Even if we wanted to violate security experts' recommendations and make all of our passwords the same, we couldn't.
Is it any wonder we can't keep up with them all?
And when you inevitably do get your password wrong, that glaring red error message can be infuriating. When it happens to me, I know I likely have a limited number of attempts before I'm locked out, so often I'll click the link that reads, "forgot my password." But in the minutes that pass as I wait for an email to reset my account, anger begins to build. The only thing I can compare this feeling to is road rage.
I'm not alone in my login-fueled fury. A recent study found that one-third of those surveyed admit to suffering from what's being called "password rage." Respondents reported bouts of crying, screaming, and swearing. Password memory failure is fairly common, as well, with 25 percent of those participating in the survey saying they forget a password at least once each day. That's a lot of red text, a lot of rage, and a lot of potentially busted keyboards.
The best thing to do when you suffer from password rage is to walk away from your computer and do something else until your anger subsides. Unfortunately, human nature makes that really hard. Studies have shown that when something angers us, we naturally move closer to it in an effort to resolve it. So, you keep guessing at the right combination until you're too frustrated to type.
All of this anger is pretty bad for the body. As testosterone gets pumping, blood pressure increases and the brain generates a flurry of negative emotions. With every angry outburst, the risk of stroke, aneurysm, or heart attack creeps upward.
So, what to do? You can now access your phone and some apps with your thumbprint, and experts believe biometrics will soon replace passwords forever. However, this type of authentication isn't without its critics, who say thumbprints, retinal scans, and facial recognition can be as risky as text-based passwords. That data can be hacked and, if that happens, you can't change your fingerprints and retinas like you can your passwords.
Password managers and Excel spreadsheets can keep track of things, but those aren't completely safe, either. You can write your passwords on a piece of paper and store them in your desk, but what if you lose it? What about the many, many times you create a password when you aren't near a sheet of paper?
Of course, the best solution is to find a way to avoid forgetting your passwords in the first place. One of the best methods is to come up with a few complex passwords that are easy for you to remember but impossible for a hacker to guess. To track those passwords, write them on a piece of paper and keep them in a sealed, unmarked envelope. Or, if you want to be extra safe, you can also invest in locks for your desk drawers for an extra layer of protection.
The important thing is that you find a way to recognize your password rage and get it under control. As counterintuitive as it feels, often the best thing you can do is step away from your keyboard, take some deep breaths, and try again later. Your blood pressure — and your keyboard — will thank you for it.

Continue reading for free
We hope you're enjoying The Week's refreshingly open-minded journalism.
Subscribed to The Week? Register your account with the same email as your subscription.