What Twitter needs isn't an acquisition or a new strategy. It's time.
Why Twitter doesn't need to sell itself to a big company with deep pockets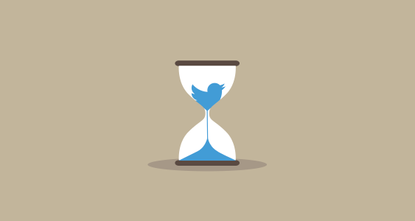 (Image credit: Photo Illustration by Jackie Friedman | Images courtesy iStock, Twitter)
Sign up to our 10 Things You Need to Know Today newsletter
A free daily digest of the biggest news stories of the day - and the best features from our website
Thank you for signing up to TheWeek. You will receive a verification email shortly.
There was a problem. Please refresh the page and try again.
Twitter is in trouble. A lot of people talk about the service's harassment problem, but the company's troubles go far deeper. Usage is down and growth has slowed, which means that revenue is flagging, since advertising is driven by eyeballs. The company's stock price, after shooting up after the IPO, has faded.
In response, Twitter's board has been, it seems, behaving the way corporate boards typically do in such circumstances: first, by procrastinating, and then, by panicking.
First, they fired its well-liked and respected CEO, Dick Costolo, for no other rationale, seemingly, than the fact that a dropping stock price required that Something Be Done, Dammit. Then, Jack Dorsey, the company's iconic product visionary, was brought in as CEO, even though he is already CEO of another public company, Square, Inc. And now the board has been exploring "strategic options," which is corporate code for a fire sale.
Subscribe to The Week
Escape your echo chamber. Get the facts behind the news, plus analysis from multiple perspectives.
SUBSCRIBE & SAVE
Sign up for The Week's Free Newsletters
From our morning news briefing to a weekly Good News Newsletter, get the best of The Week delivered directly to your inbox.
From our morning news briefing to a weekly Good News Newsletter, get the best of The Week delivered directly to your inbox.
Twitter's problem, at bottom, is that it's an acquired taste. Many of its users, myself proudly included, love it and use it compulsively. But many people just don't "get it." They play around with it, but they find it less interesting than the countless other social platforms out there such as Snapchat or Facebook's Instagram.
At the same time, Twitter isn't going anywhere. If nothing else, the presidential election has shown that Twitter has become a vital part of the national conversation, a unique media channel that, for better or worse, the world can't do without. Twitter isn't going to become a ghost town like MySpace.
It also isn't going to change much. The very simplicity of its product and concept means it can't. It's impossible to recognize Facebook today from what it was 10 years ago, when all you could do was post status updates and upload photos, because a social network is by necessity an amorphous concept, and addictive new product features, such as games or check-ins or instant messaging, will find their way into the product. Twitter, meanwhile, is all about 140 character status updates. Beyond making it easier to add links and images and other rich media to tweets, and tweaking the product to make it more user-friendly, Twitter is what it is.
So, what is Twitter to do? Now more than 10 years old, the company is still paying the price for its original misshapen constitution. The proverbial tech company, whether Facebook or Apple, is known and shaped by an iconic founder who is indispensable to the company and can steer it for the long term. Mark Zuckerberg holds special shares that give him near-majority control of Facebook's shareholder vote, ensuring his lifelong dictatorship of the company. When Steve Jobs returned to Apple in 1997, he demanded as a condition that the board resign and that he handpick their successors, ensuring they remained pliant through the painful years of the turnaround when nobody could have anticipated that it would become the most valuable company in the world.
Meanwhile, Twitter was founded by accident, and has many fathers. The product itself is the brainchild of Jack Dorsey, but he invented it while he was working for Odeo, an incubator run by Evan Williams, who first made his name selling Blogger to Google. Twitter was spun out with them as an uneasy CEO/chairman combo, and the two of them have had a years-long boardroom fight for the control of the company. While Williams has now moved on (mostly — he still sits on the board, where he reportedly wields influence) and Dorsey is recognized as the company's product visionary, the company's corporate structure reflects this. Nobody holds a block of super shares like Mark Zuckerberg, and the board is beholden to no person or vision in particular.
Corporate governance textbooks will tell you that boards made up of independent directors sensitive to the wishes of all shareholders are what's best for companies. While there's certainly a very good case to be made that this is the best way to run large companies in stable industries, the track record seems to be that when it comes to technology companies in fast-paced industries, founder-led enlightened dictatorships are the way to go.
So, how to fix Twitter? Should it get a professional CEO? Should it vest all power in a dictator? Should it sell itself to some big company with deep pockets?
As I noted, Twitter is an acquired taste. It's never going to be as big as Facebook, but neither is it going to go away. What it needs most of all is time. Time to get harassment under control, or to develop the live video partnerships that it thinks, probably correctly, are a good source of growth. Time, especially, apart from the pressure of quarter-to-quarter earnings and hedge fund shareholder demands when the company clearly still hasn't reached the adult stage when those are the right metrics to judge it by (and even then, only arguably).
Usually, the solution for public companies going through times too troubled for the markets is to "go private" and find investors that will buy the company from public shareholders and run it privately, as Dell recently did under its founder Michael Dell. While Twitter is probably too expensive for that, there are solutions beyond "going private."
A technology-focused investment fund wouldn't need to own all the shares, or even a majority, to have enough of a voice to drive decisions. A core group of Twitter executives who believe in taking the time to focus on a long-term vision of the company could invite a fund, maybe with some deep-pocketed partners, to take enough of a mix of preferred and common shares to have control of the board and to commit to backing the same executive team for the next, say, five to seven years. It would be a bet that whatever Twitter's stock price is going to do in the short term (and it's probably going to be ugly), the product's inherent strength will make it a success over the long term.
Just give Twitter time. You'll see.
Continue reading for free
We hope you're enjoying The Week's refreshingly open-minded journalism.
Subscribed to The Week? Register your account with the same email as your subscription.
Sign up to our 10 Things You Need to Know Today newsletter
A free daily digest of the biggest news stories of the day - and the best features from our website
Pascal-Emmanuel Gobry is a writer and fellow at the Ethics and Public Policy Center. His writing has appeared at Forbes, The Atlantic, First Things, Commentary Magazine, The Daily Beast, The Federalist, Quartz, and other places. He lives in Paris with his beloved wife and daughter.