Crazy Ex-Girlfriend's dark turn
The show's second season turns an already grim love story into total dystopia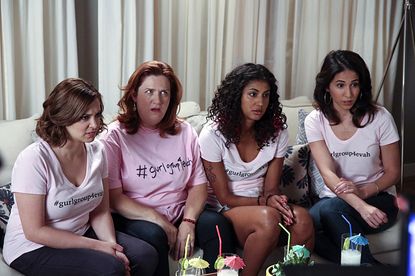 (Image credit: Mike Yarish/The CW -- 2016 The CW Network, LLC All Rights Reserved.)
Sign up to our 10 Things You Need to Know Today newsletter
A free daily digest of the biggest news stories of the day - and the best features from our website
Thank you for signing up to TheWeek. You will receive a verification email shortly.
There was a problem. Please refresh the page and try again.
Rachel Bloom might be America's greatest and least romantic pop-culture bard.
Even before The CW's Crazy Ex-Girlfriend, her razor-sharp semi-musical about an unhappy New York City lawyer-cum-stalker who moves to the ragged bro-ville of West Covina, California, to chase ex-boyfriend Josh (Vincent Rodriguez III), Bloom made it her mission to lampoon — with deadly acumen — the way we talk about love in America. From "Pictures of Your Dick," which satirizes the way chanteuses mourn breakups, to "Historically Accurate Disney Princess Song," which is exactly what it sounds like, her work fully indulges the guilty pleasures of whatever genre she's satirizing while mercilessly exposing its bizarre undercurrents. These sorts of parodies frequently turn dark. And Crazy Ex-Girlfriend's second season is diving deep into that darkness.
The show's first season was filled with wonderful bubblegum satire that makes the strain you're not supposed to see in a happy love story visible. Take the fourth episode, "I'm Going On a Date With Josh's Friend!", in which a scheming Rebecca dates Josh's friend Greg (Santino Fontana) with an eye toward eventually seducing Josh. An equally damaged Greg — who knows exactly where he stands — serenades Rebecca in "Settle For Me," an old-timey number featuring Fontana and Bloom ballroom dancing. It includes the lines "If he's your broken condom, I'm Plan B, so lower those expectations and settle for me." The lyrics are deliciously (and horrifyingly) at odds with the romantic choreography.
Subscribe to The Week
Escape your echo chamber. Get the facts behind the news, plus analysis from multiple perspectives.
SUBSCRIBE & SAVE
Sign up for The Week's Free Newsletters
From our morning news briefing to a weekly Good News Newsletter, get the best of The Week delivered directly to your inbox.
From our morning news briefing to a weekly Good News Newsletter, get the best of The Week delivered directly to your inbox.
Or take the "The Sexy Getting-Ready Song", in which Rachel's character Rebecca Bunch preps for a date.
Bloom said she was inspired by Bye Bye Birdie's "How Lovely to Be a Woman." And indeed, "The Sexy Getting-Ready Song" quickly dispenses with any bygone vision of glamorous womanhood: There's ass blood, a less-than-sexy Spanx bodysuit, and the line "body rolls are really hard." What's smart about this show is that Rebecca's insane gambits sometimes work. Tempering these odes to massive, even soul-killing effort in the name of love, is Josh's happy-go-lucky bro-group, as muscular and pleasantly unconcerned a collection of humans as television is likely to find.
What really kept the show's first season grounded, though, was its only real relationship: Rebecca's friendship with Paula (Donna Lynne Champlin). Easily Crazy Ex-Girlfriend's most interesting character, Paula is middle-aged, frustrated, deeply intelligent, and desperate for something to pour her energies into. In Rebecca she finds a friend, but also — just as crucially — a project. The show's real arc has been this unhealthy but wonderful partnership. The first season explores how Rebecca comes to depend on Paula in a one-sided dynamic that's all too familiar. When Paula starts bucking that burden, the friendship hits a weird wall.
In its second season, Crazy Ex-Girlfriend is letting all that pent-up tension bleed out in messy, utterly unsatirical ways. Realizing her investment in Rebecca's romantic life is unhealthy, Paula asks Rebecca to sign a contract exempting their friendship from future schemes and shenanigans. It's a sensible plan that leaves them with little to talk about, and without Paula, Rebecca's schemes falter and her success rate plummets. Her plot to become Ping-Pong Girl, a girl who effortlessly amazes the guys in her amazing gold lame ping pong gear, fails. Josh dumps Rebecca. Greg — who's realized he's an alcoholic — dumps her too and goes to Emory to live his dream. While Rebecca spends the season spiraling downward, Paula realizes she needs more and decides to apply to law school. Rebecca, caught up in her own drama (and unable to tell Paula about it), delivers Paula's letter of recommendation too late. Paula discovers she's pregnant, agonizes over whether to give up her career, and eventually gets an abortion. Rachel knows none of this, and Paula can't quite tell her: Rebecca seems frivolous, unworthy. Deprived of their scheming, the distance between the two friends mushrooms.
These dynamics came to a head in "Who Needs Josh When You Have a Girl Group?", the second season's sixth episode. Having accidentally torched her apartment in a boyfriend-purging ceremony, Rebecca has moved into a new place that's been lightly renovated since a murder spree. She's also forged a "girl squad" with Heather (Vella Lovell) and Valencia (Gabrielle Ruiz) — both of whom have dated men Rebecca has dated — in a kind of manic response to Josh's easygoing bro-group. In a misguided amalgam of feminist anger and redirected rivalries, their song — a delightful Spice Girls parody called "Friendtopia" — explores the way female friendship gets equated with an adorably vicious concept of "girl power" by taking the "power" part very, very literally: "We are actually going to take over the world," Rebecca says.
If the song sends up a particular model of badass, guy-rejecting female friendship, it also shows how badly Rebecca is splitting from reality. She isn't actually "best friends" with either Valencia or Heather; she's gravitated toward them because she wants to talk about the ex-boyfriends they share. She's best friends with Paula, but she doesn't know what to do about their growing distance. Ever a fan of forcing love, Rebecca engineers a hangout between Paula and the "Girl Squad." It goes very badly indeed. Rebecca's relationships are collapsing around her. (Literally: Her house is falling apart, and Paula gets trapped in the bathroom.) It takes Rebecca's male counterpart, a stalker named Trent (Paul Welsh), to pry Paula free from the fun house of horrors pop culture built.
For a show this bright and brash and hilarious, Crazy Ex-Girlfriend is poised for a long dive into hard consequences that pop culture can't quite address. As hard as it is to watch Paula and Rebecca fight, the series sensitively maps this disintegrating friendship and blossoms when there are real stakes. (And there are: Donna Lynn Champlin chills when she performs Paula's contempt for what Rebecca has become.) It juggles 80 strains of drama with ease, but its central, quiet tragedy is that Paula and Rebecca's friendship was forged through a shared investment in some really toxic scripts. That damage is hard to undo. Crazy Ex-Girlfriend's real problem was never love, it was friendship. And if Rebecca's strategy, at her most "crazy," is to frenetically bootstrap real relationships out of pop culture tropes, that won't work here: Realistic female friendship is practically uncharted territory in American culture. In this spiraling sophomore season, Crazy Ex-Girlfriend might start setting precedents instead of parodying them.
Continue reading for free
We hope you're enjoying The Week's refreshingly open-minded journalism.
Subscribed to The Week? Register your account with the same email as your subscription.
Sign up to our 10 Things You Need to Know Today newsletter
A free daily digest of the biggest news stories of the day - and the best features from our website
Lili Loofbourow is the culture critic at TheWeek.com. She's also a special correspondent for the Los Angeles Review of Books and an editor for Beyond Criticism, a Bloomsbury Academic series dedicated to formally experimental criticism. Her writing has appeared in a variety of venues including The Guardian, Salon, The New York Times Magazine, The New Republic, and Slate.