TV's twisted love of time travel
Why TV is overrun with series about hopping back and forth across years, decades, and even centuries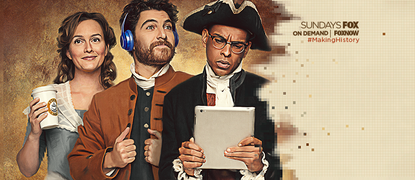 (Image credit: Facebook.com/MakingHistoryFOX)
Sign up to our 10 Things You Need to Know Today newsletter
A free daily digest of the biggest news stories of the day - and the best features from our website
Thank you for signing up to TheWeek. You will receive a verification email shortly.
There was a problem. Please refresh the page and try again.
Television is practically overrun with shows about time travel.
In any given week lately, you could watch 12 Monkeys (based on the trippy time-hopping movie), Frequency (another movie adaptation, about a 21st century cop who can contact her father in the '90s), Time After Time (yet another movie adaptation, following author H.G. Wells as he chases Jack the Ripper), 11.22.63 (based on Stephen King novel's about a modern English teacher who travels back to early '60s Dallas to stop the JFK assassination), Timeless (about a band of secret agents trying to undo timeline-damage), DC's Legends of Tomorrow (basically the same premise as Timeless, but with comic book superheroes), The Flash (which can't seem to stop integrating tales of time travel into its larger plot arcs), and Making History (a kind of sitcom spin on Hot Tub Time Machine, following ordinary dudes on a strange chronological journey).
What gives? What's behind this widespread fascination with TV characters who can hop back and forth across years, decades, and even centuries?
Subscribe to The Week
Escape your echo chamber. Get the facts behind the news, plus analysis from multiple perspectives.
SUBSCRIBE & SAVE
Sign up for The Week's Free Newsletters
From our morning news briefing to a weekly Good News Newsletter, get the best of The Week delivered directly to your inbox.
From our morning news briefing to a weekly Good News Newsletter, get the best of The Week delivered directly to your inbox.
Time-travel stories are nothing new. They date back to the age of H.G. Wells (the author of The Time Machine, not the fictional character). And movies and TV have been in the chronology-bending business for a while, in projects as varied as Somewhere in Time, Early Edition, Peabody's Improbable History, and more. But the nature of these kinds of narratives has changed somewhat in the 21st century. Perhaps this is because the people behind them grew up in the 20th century, in an era when the 2000s seemed like the stuff of futuristic fiction. Perhaps they're playing around with the timeline because the world of today isn't as fantastic as they'd hoped.
Or perhaps there's something else about the mid-2010s that's responsible for this glut.
Traditionally, time-travel stories are essentially culture-clash stories. Relatable modern women and men arrive somewhere familiar to them primarily from books, and they struggle to adjust to the customs and the fashions. That's enough right there for a good plot. NBC's Timeless has played this particular angle intelligently, making sure that whenever its adventurers Lucy (Abigail Spencer) and Rufus (Malcolm Barrett) venture into the past, they have to prepare in advance for how women and people of color were treated in that era, and then adjust their mission accordingly. This show and others like it function as miniature weekly history lessons, and can also generate seemingly limitless sources of dramatic conflict and comedy just from the differences in human society across the decades.
Other shows tap time travel for its nostalgic jolts. This is a lot like what Quantum Leap did in the '80s and '90s, recreating the recent past as a warmer alternative to the present. (And now Quantum Leap itself is a nostalgia piece. Such is the cycle of entertainment.) In a way, Rod Serling and The Twilight Zone laid the groundwork for this with its first masterful time-slip episode "Walking Distance," in which a man drives back into his own past and finds the experience so enchanting that he hesitates to leave. A lot of these nostalgia-driven stories — like the British cult-classics Life on Mars and Ashes to Ashes — ground their plots in something personal for the heroes, having them revisit their old homes or even meet their younger selves. Next to history-buff wish-list items like "What would it be like to talk to George Washington?," the return to childhood fantasy is one of this genre's most common.
With these two elements comes a bevy of speculative-fiction-type questions, which have become the foundation for these kinds of stories. Doctor Who helped establish a baseline wonkiness for another subset of time-travel sagas, with a premise that couches time-and-space tourism in the context of a larger cosmology, encompassing codes, councils, traditions, and rules. The shows that follow that lead (like Legends of Tomorrow) consider how the ability to move freely through time might affect character and culture.
It's another branch of the genre though that's become increasingly prevalent and frequently problematic … not in a "bad for society" way, but "bad for art." These are the shows that use time travel as a reset button, similar to the way the 1978 movie Superman had its hero zoom back to save the life of his true love, Lois Lane. This has become an all-too-common plot device for The Flash over the past two seasons, to the point where it's hard to keep track of what on that show actually "happened" — and sometimes even hard to care too much about where the story might be going, since we know it could all be erased at any time. Something similar happened with both Lost and Fringe, two terrific dramas that disappointed some fans when they created new timelines. Once any part of a story can be undone, much of the larger dramatic tension gets broken.
Contemporary TV shows with time-travel premises generally don't fall completely into any one category, but nearly all of them deal to some extent with this Lost/Fringe/Superman/Flash-esque "butterfly effect," along with whatever their main thrust happens to be. Timeless for example primarily tells culture-clash stories, and Frequency traffics in nostalgia, but both also deal with the repercussions of changing history. More and more, serialized dramas with these plot arcs take cues from The Terminator movies, by following what happens when action heroes try to stop a catastrophe by reshaping the past.
And again: Why? Is the upsurge in time-travel TV part of the general apocalyptic strain in American popular culture, seen also in the waves of zombie tales and bleakly existential horror movies? Are we waking up to the potential world-ending threats of global warming, our depleted natural resources, and nuclear war; and are we wishing we had the power to do everything over again, but better?
Maybe these shows that treat both the past and their mythologies like an Etch-A-Sketch can be explained by changes in technology over the past 20 years. The writers and producers behind these shows are mostly Gen-Xers, who grew up with video games, word processors, and satellite TV systems with hundreds of channels. Many probably read Choose-Your-Own-Adventure books when they were kids. This has become an era of choice, and instant deletion, and radical reinvention … a time when it almost seems criminal to waste anything, even if it's as seemingly frivolous a narrative idea.
None of this is meant to be condemnatory. Sure, Making History and Time After Time (TV's two most recent additions to the genre) are both fairly negligible and will undoubtedly be quickly gone and forgotten. But Timeless and Legends of Tomorrow are a lot of fun to watch, and 11.22.63 and 12 Monkeys have had a lot to say about why people pine for times gone by. The Flash remains the jewel of The CW's DC superhero shows … although it's at its best when it drops the time-travel angle.
But the proliferation of these series over the past year suggests that the whole concept of chrononauts may be getting played out. There are only so many times that an action-adventure can send its characters back to meet Al Capone, or have them accidentally change the timeline so that somebody they once loved no longer exists. More importantly, the escapist value of these stories is getting lost as they tie themselves in knots with questions about consequences.
A deep pessimism has crept into this genre, even in stories that are supposed to be about fixing our mistakes. The characters on time-travel-driven TV shows spend almost as much time regretting their trips as they do marveling at the wonders of wherever they land. What does it say about this era of storytellers that when they try to write a tale of second chances, the repairs their characters attempt are worse than any damage they've done?
Continue reading for free
We hope you're enjoying The Week's refreshingly open-minded journalism.
Subscribed to The Week? Register your account with the same email as your subscription.
Sign up to our 10 Things You Need to Know Today newsletter
A free daily digest of the biggest news stories of the day - and the best features from our website
Noel Murray is a freelance writer, living in Arkansas with his wife and two kids. He was one of the co-founders of the late, lamented movie/culture website The Dissolve, and his articles about film, TV, music, and comics currently appear regularly in The A.V. Club, Rolling Stone, Vulture, The Los Angeles Times, and The New York Times.