How The Sense of an Ending intelligently veers from the book
How's this for a Hollywood twist? The movie ditches the big reveal and gives depth to the supporting characters.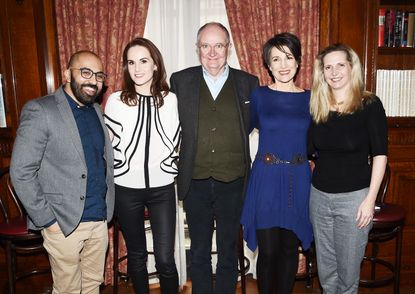 (Image credit: Nicholas Hunt/Getty Images)
Sign up to our 10 Things You Need to Know Today newsletter
A free daily digest of the biggest news stories of the day - and the best features from our website
Thank you for signing up to TheWeek. You will receive a verification email shortly.
There was a problem. Please refresh the page and try again.
Film adaptations of first-person novels can be tricky to pull off. It's one thing to read a narrator's account, but quite another to see that account onscreen, where the camera lends it some third-person authority. If what you see matches what the narrator describes, subsequent revelations that it happened differently can feel cheaply manipulative. Film adaptations like Gone Girl and Fight Club — novels that use a narrator's unreliability to structure an eventual revelation — experiment with different ways to temporarily dupe the audience in ways they won't resent. Usually, what's called for is a major explanation — e.g. mental illness in A Beautiful Mind, anterograde amnesia in Memento, Amy's voiceover in Gone Girl.
But the adaptation of Julian Barnes' award-winning The Sense of an Ending, released today, handles things differently.
Without a mental illness to hang the movie on, or even anything as sensational as the "ending" that the title misleadingly promises, director Ritesh Batra forgoes the big reveal and just shows us how the narrator's perspective doesn't quite match the reality around him. This approach expands the story in meaningful ways — and, lucky for us, maximizes a terrific cast starring Jim Broadbent, Harriet Walter, Charlotte Rampling, Michelle Dockery, and Emily Mortimer.
Subscribe to The Week
Escape your echo chamber. Get the facts behind the news, plus analysis from multiple perspectives.
SUBSCRIBE & SAVE
Sign up for The Week's Free Newsletters
From our morning news briefing to a weekly Good News Newsletter, get the best of The Week delivered directly to your inbox.
From our morning news briefing to a weekly Good News Newsletter, get the best of The Week delivered directly to your inbox.
Barnes' first-person novel, which was published in 2011, features Tony, the elderly proprietor of a secondhand camera shop, piecing together some hazy parts of the past — specifically, his relationship with his first love, Veronica, and his college friend Adrian's suicide. Both come back into partial focus when Veronica's mother Sarah leaves him a letter and a mysterious inheritance. Tony starts thinking about his own role in past events — and trying to get closure from people unwilling to give it.
That Tony's past requires reconstruction at all is really the novel's point; our hero is selective with his memories. "I wrote Veronica out of my life story," Tony says in the book. "I had kept no letters, and only a single photograph, which I hadn't looked at in ages." (That photograph acquires some evidentiary importance in the book; it's not incidental that both Tony and Veronica are themselves photographers.)
When I spoke to Batra, I asked him about the revised role of photography in the film. In Barnes' novel, it mattered greatly that both Tony and Veronica spent a lot of time behind a camera; this was a source of connection. In the film, we never see them take a single photograph. Instead, we encounter Tony (Jim Broadbent) as a man whose only connections — and they are slim — are to his ex-wife Margaret (Harriet Walter) and his pregnant daughter Susie (Michelle Dockery). He writes letters to the editor about what the word "average" means, he's mean to the mailman, and he spends his days in his tiny camera shop, barely tolerating customers who can't afford to buy his wares. Whatever interest in photography once animated him is gone.
"That's one of the departures we made from the novel, not having Tony behind the camera," Batra says. "I discussed it a lot with the actors." Billy Howle — who plays Young Tony in flashbacks — became very proficient with the Leica. "I did too, and so did Freya, who played Veronica," Batra says. But Howle's experience never made its way onscreen.
Instead, the film begins by toggling back and forth between Old and Young Tony, as if to register the difference between the curmudgeon he is now and the voyeur he once was (that all shutterbugs are, really). As we watch Old Tony start his day, Young Tony watches Young Veronica (Freya Mavor) adjust her camera on the street outside a party and look suddenly up at him.
"In those days, we imagined ourselves as being in a holding pen, waiting to be released into our lives," Broadbent reflects in voiceover, noting that life turned out instead to be a series of holding pens. This sets up a terrific visual joke: Tony's camera shop — filmed in Tufnell Park — turns out to be absurdly small. Like, a quarter of a storefront. ("It's supposed to be the second-smallest bit of commercial real estate in London," Batra remarks.) Tony's final holding pen is proportional to his shrunken wants and his hopes. "You want your emotions to support your life as it has become. You want them to tell you that everything is going to be okay," Old Tony reflects. "And is there anything wrong with that?"
The catalyst for Tony's renewed contact with Veronica, decades later, is a letter from her mother Sarah (Emily Mortimer) — a woman he only met once, but by whom he was fascinated — bequeathing him some money and the diary of his best friend Adrian, who committed suicide back when they were in college. Tony doesn't know why Sarah had Adrian's diary. Nor does Veronica, a virtual stranger now, seem inclined to tell him. She refuses to hand over the diary despite her mother's wishes, and only agrees to meet Tony when he insists, rather legalistically, on his rights.
The film registers the gradual expansion of Tony's life as he starts to let the past in. If Veronica's refusal is the instigating incident, his efforts to understand get him chatting with old buddies, confiding in his ex-wife, and even speaking frankly to his daughter.
But again, the film encounters challenges the novel doesn't: Veronica's stonewalling is linked to an incident that Tony either forgot, "conveniently forgot," or lied about. That's a difficult set of possibilities to convey through flashbacks. As Batra says:
One way the film solves that is by exploiting the differences between the young and old actors as a way of registering how unreliable Tony really is. When Tony meets Veronica as an adult, it's shocking to the viewer: Charlotte Rampling plays Veronica as a woman who has suffered. There is nothing of Freya Mavor's Young Veronica, a girl whose coolness seems as flirtatious as it is laconic. But Tony sees her differently; he finds her remarkably unchanged. That shows the viewer how distorted Tony's perceptions really are; where we see a total transformation, he sees the same girl he fell in love with. ("What is memory but perspective?" says Batra, when I ask him about this.)
The same is true for Tony. It's hard to see much of Billy Howle's Young Tony — especially the intense, longing gaze — in Jim Broadbent's affably resigned older version. There are continuities between the two characters, of course; they're linked by hand gestures, by a particular way of widening the eyes. But there's no physical resemblance between the actors. Asked about how he went about casting the principals, Batra said that was intentional; for Young Tony, he didn't want a Jim Broadbent lookalike. Instead he looked for:
The film, then, is much more interested in imaginative rather than photographic resemblance. The images that in the novel confirmed particular details — a record of Adrian and Veronica meeting, a letter explaining why someone died — fade as sources of certainty in the film. Instead, the movie investigates impressions and similarities: between one young man and another, between a woman going up the stairs and Veronica's mother Sarah, between Tony as he was and Tony as he thinks he was.
That decentering of Tony's perspective might be clearest in the film's treatment of characters like Margaret (Tony's ex wife) and Sarah (Veronica's mother) — characters flattened by the filter through which Tony sees them in the novel. "The novel strictly sits in Tony' shoes. It's in first person, Tony talking to the reader," Batra says, talking about how he worked with screenwriter Nick Payne and the actors to rethink certain characters outside of Tony's point of view. Take Margaret: "We don't really get a view into who she is" in the novel, Batra tells me, but he worked with Harriet Walter at "sort of creating Margaret and how soft or hard she could be."
The same was true for Sarah:
The effect is a diffuse and less invasively memoiristic version of the Barnes story. This is a tremendous cast: Walter, Dockery, and Mortimer give great performances here. (So, in a very different way, do Rampling and Howle.) Broadbent softens a character who badly needs his humanizing touch.
But the result is, by comparison to the novel, subterranean in its effects. Each character is both more legible but less definite than her literary counterpart. And if the impact of the novel's central revelation is undercut by its transfer to film, its sympathetic project is intriguingly expanded.
Continue reading for free
We hope you're enjoying The Week's refreshingly open-minded journalism.
Subscribed to The Week? Register your account with the same email as your subscription.
Sign up to our 10 Things You Need to Know Today newsletter
A free daily digest of the biggest news stories of the day - and the best features from our website
Lili Loofbourow is the culture critic at TheWeek.com. She's also a special correspondent for the Los Angeles Review of Books and an editor for Beyond Criticism, a Bloomsbury Academic series dedicated to formally experimental criticism. Her writing has appeared in a variety of venues including The Guardian, Salon, The New York Times Magazine, The New Republic, and Slate.