I desperately wanted to be a stepmom
The words "my boyfriend's daughter" just never matched how I really felt about Miranda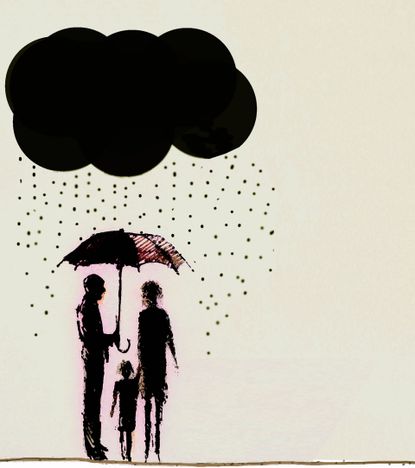 (Image credit: Ikon Images / Alamy Stock Photo)
Sign up to our 10 Things You Need to Know Today newsletter
A free daily digest of the biggest news stories of the day - and the best features from our website
Thank you for signing up to TheWeek. You will receive a verification email shortly.
There was a problem. Please refresh the page and try again.
The times when I most yearned for the title of stepmom were when it mattered the least: speaking to coworkers or other women — usually much older than me — about their teenage daughters. When one mom lamented her daughter's growing reclusiveness, I felt a smug sense of pride about the chatty, unguarded girl in my life. Another showed me her daughter's prom pictures, and I reciprocated by bringing up images of Miranda in her golden gown on Facebook. But when I talked about Miranda, I'd have to say, "this is my boyfriend's daughter," and the words never quite matched how I felt about her.
Partially this has to do with the word "boyfriend." Boyfriend and girlfriend are juvenile ways of describing adult relationships, and I don't know why we use them except that it's hard to break tradition. But even when I described Miranda as "my partner's daughter," the words depicted a relationship that still revolved around David. She wasn't directly my anything. I wanted the label of stepmom, because I wanted some finite way of claiming that Miranda was important to me. She was a chosen part of my life.
When I started dating David, Miranda was 11. I met her just a couple weeks into our relationship, which the friend who'd introduced David and I took as a sign that he was "really interested." Miranda clung to David's waist, not out of bashfulness, but affection. She demanded what she wanted without seeming bratty, accepting no's without whining. I was enthralled and intimidated by this small confident being. She was like her father — bold, witty, and vibrant — and so important to the man that I quickly fell in love with, I just wanted her to like me.
Subscribe to The Week
Escape your echo chamber. Get the facts behind the news, plus analysis from multiple perspectives.
SUBSCRIBE & SAVE
Sign up for The Week's Free Newsletters
From our morning news briefing to a weekly Good News Newsletter, get the best of The Week delivered directly to your inbox.
From our morning news briefing to a weekly Good News Newsletter, get the best of The Week delivered directly to your inbox.
She would come to stay with him on long weekends, and the three of us went on hikes and played softball at the park. I quickly learned that if you want to endear yourself to your new boyfriend's child, have a great dog. It was love at first sight between Miranda and my shelter mutt. He jumped in circles when he saw her, and she screamed in delight. Whenever we walked him, she'd demand to hold the leash, even though they were the same size, and he'd pull her along rather than the other way around.
On our first hangout alone, while David was at work on a Friday evening, I took her to see one of the Twilight movies, and we agreed the werewolf was cuter than the vampire. By the time I saw her next, she was over Twilight, and I tried to keep up with her changing adolescent interests.
Over time, we established our own rapport. We bonded over Disney movies, art, and books. We teased David together, or they teased me. And after David and I moved in together, home felt more whole when she was around.
Perhaps I wanted the title of stepmom because I was looking for a script — a societal standard for relating to a partner's child. Loving Miranda was easy — she was lovable. Period. But learning to navigate how I should relate to her felt like learning to surf with no instruction. She'd ask my opinion on everything from small matters — should she get the cartilage of her ears pierced — to important ones — should she lean toward art school or a degree in physics? And each time, I'd wonder anew, is it okay to offer her advice or should I defer to her parents? How big of an opinion about what was good for her was I allowed to have? I compared my place in her life to roles that I had a better grasp of: Should I relate to her more like a parent, an older friend, or an aunt?
Marriage seems to come with more expectation around these relationships. When you marry a parent, you marry into their family, including their children. But I know of too many instances where kids were treated like visitors in their parent's homes after a second marriage. I personally believe that good stepparents want their stepkids to feel at home and feel wanted — but this should be true even without the marriage.
Yes, I wanted to be a wife, as well as a stepmom. When David asked me why, I told him I saw marriage like signing up for a marathon — you're more likely to finish if you sign up in the first place. We would talk about what our life would be like in 10 or 20 years. We fantasized about traveling the country together: David doing stand-up comedy, which was turning into his full-time job, and me writing in quaint coffee shops I was sure I'd find wherever we'd go. And we fantasized about retiring to the middle of nowhere and living off the grid. He liked the idea of spending his life with me, but he wasn't sure about the marriage part. Actually, he wasn't sure I knew what I wanted and, looking back, I think he was right.
As much as I wanted the security of the roles — wife, stepmom — and as much as I loved David and Miranda, I was never completely satisfied with the life he offered me. Comedy kept him away from home most nights, and I complained about us not spending enough time together. Maybe part of me thought that getting married would mean committing to working out our differences in the name of love. But, in the end, we decided that loving each other didn't mean we should be together.
David and I broke up after five years together; Miranda was 16. One of the most difficult parts of the breakup was losing my consistent connection to her. Would this have been any different if we'd been married and had gotten a divorce? Probably not.
The nice thing about not having a script is that you get to make up your own rules. Although we're no longer dating, David and I still love each other. And Miranda and I still care about each other and keep in touch. She knows that she has someone she can reach out to who is not a parent.
I'd like to think I was able to mentor Miranda as she grew up, but I know she taught me just as much about life as I was able to teach her. She humbled me with all her questions that I had no answer to; she taught me to love like a mother, a stepmother, a friend … she taught me to love outside of labels.
Continue reading for free
We hope you're enjoying The Week's refreshingly open-minded journalism.
Subscribed to The Week? Register your account with the same email as your subscription.
Sign up to our 10 Things You Need to Know Today newsletter
A free daily digest of the biggest news stories of the day - and the best features from our website
Jera Brown is a freelance writer and MFA candidate at Columbia College Chicago. She blogs about spirituality and sexuality at scarletchurch.com.