Can the girls of Girls make it in Hollywood?
Now that the HBO show is over, will Lena Dunham and company head to the big screen?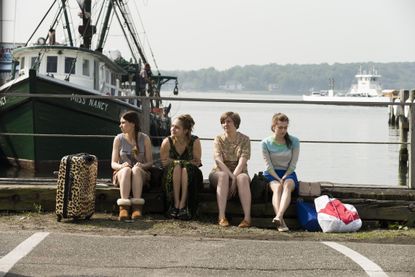 (Image credit: Mark Schafer/courtesy of HBO)
Sign up to our 10 Things You Need to Know Today newsletter
A free daily digest of the biggest news stories of the day - and the best features from our website
Thank you for signing up to TheWeek. You will receive a verification email shortly.
There was a problem. Please refresh the page and try again.
What will the girls of Girls do next? Lena Dunham's incisive, often hilarious dramedy series ends Sunday night, and while she has made seemingly sincere overtures about revisiting the characters for a Sex and the City-style future movie, it's safe to say that the series' cast will be embarking on other endeavors for now. Some of the actors may well find another television series, but Dunham got her start in feature films, and many of her coworkers have done some movie-land moonlighting during their show's six seasons. Now that they're all free of their HBO commitment, what might the four core Girls look like on the big screen?
It's a little bit surprising that more hints aren't out there already; Game of Thrones folks started popping up in studio movies pretty quickly, but the ladies of Girls — Dunham, Jemima Kirke, Allison Williams, and Zosia Mamet — have made themselves scarcer. The biggest hit any of them have experienced just came out this year, when Allison Williams played the female lead in the sociological horror smash Get Out. It's her first real movie role, and by the end of its theatrical run will have been seen by approximately 20 million people. In contrast, the highest-rated episode of Girls ever barely crested the one-million mark.
Strange, then, to consider that most people watching Get Out aren't aware of Williams' baggage as Marnie, probably the least-liked of the show's central foursome. Her work on Girls has been fearless in her willingness to appear disagreeable and uptight, which makes her warmth in the early scenes of Get Out all the more impressive, while still retaining a hint of Marnie in her reminder of her (black) boyfriend to bring his "cozy clothes" on a weekend trip to meet her (white) parents. She also gets a huge laugh later in the movie by simply sipping milk through a straw. How this skill set, and her nuanced depiction of entitlement in Girls, will translate to other movies is a little tricky to discern. It's easy to imagine her getting shoehorned into the nagging girlfriend role in some mediocre bro comedy, which would be a shame. The Girls episode "The Panic in Central Park" offers ample evidence of her range.
Subscribe to The Week
Escape your echo chamber. Get the facts behind the news, plus analysis from multiple perspectives.
SUBSCRIBE & SAVE
Sign up for The Week's Free Newsletters
From our morning news briefing to a weekly Good News Newsletter, get the best of The Week delivered directly to your inbox.
From our morning news briefing to a weekly Good News Newsletter, get the best of The Week delivered directly to your inbox.
But going by films alone, the rangiest (and most experienced) of the four is Zosia Mamet, who logged bit parts in indies like Greenberg and The Kids Are All Right in between recurring roles on a few pre-Girls TV shows. During the show's run, she's been in the kinds of indie movies that often play the Tribeca Film Festival, as Bleeding Heart did in 2015 and as The Boy Downstairs will in just a few weeks. Mamet's Shoshanna, who delivered a memorably dispassionate kiss-off to the other ladies in the penultimate episode, is the most distinctly stylized character on the show, with her rapid-fire dialogue delivery and expressive eyes. It's easy — probably too easy — to assume that Dunham, Williams, and Kirke are playing extensions of themselves, something Williams in particular has rightfully complained about. But Mamet has more room to pivot elsewhere, as she does in Bleeding Heart, where she plays a prostitute who may be the long-lost sister of the movie's lead. The movie is slight, but Mamet breathes life into a potentially stock part. She plays a similarly lost, though more self-confident, young woman in the final segment of Wiener-Dog, paying a token visit to her grandmother in obvious hopes of squeezing her for some money.
In her indies, Mamet seems willing to mine the kind of unpleasantness often associated with her co-stars — a departure from instant fan favorite Shoshanna, who has made her share of nasty comments (and is a "mean drunk," per the third-season episode "Beach House") but also maintains a certain level of wannabe-Sex and the City pluck. Mamet could make a winning rom-com heroine, although she clearly goes after character actor roles — she's in Under the Silver Lake, due out later this year. I hope I see her in several movies a year for the next 50 years.
On the opposite end from Mamet is her on-screen cousin Jemina Kirke, the least experienced performer of the four. Apart from some cameos and as-yet-undetermined roles in a couple of as-yet-unreleased movies, Kirke has mostly just acted for her real-life schoolmate Dunham, in her film Tiny Furniture and on Girls, playing similar characters. She reported tried to quit Girls early in the show's run, and perpetually seems more interested in her work as a painter and a mother. Maybe she pushed her sister Lola, star of Mistress America, into the business to satiate demands for Kirke's acting.
That just leaves Dunham, who isn't just the star of Girls but its creator — and, as such, a writer, director, and producer. Hopefully she will deliver a follow-up to Tiny Furniture; her work has only gotten better since that hilarious, barbed indie made the rounds seven years ago. Hollywood is notoriously unkind to female directors, and though it's possible that Dunham harbors a secret desire to make a movie about, say, Namor the Sub-Mariner, she will most likely occupy that dangerous, disappearing middle ground between micro-budget indie and lavish big-budget spectacle.
It seems entirely possible that Dunham might have to continue taking acting gigs to supplement or boost her work as a director. As an on-camera presence, she has experience acting for filmmakers of a similar sensibility, from her Girls collaborator Judd Apatow (This is 40) to mumblecore impresario Joe Swanberg (Happy Christmas). Dunham is often delightful in supporting roles, particularly in Happy Christmas, but her work on Girls, particularly in this final season, has been exceptional.
In the recent episode "What Do We Do This Time About Adam?" her character Hannah reunites with her ex-boyfriend Adam (Adam Driver) based on his professed desire to help raise her impending child. But doubts visibly nag at her in the back half of this dreamy episode, and by Hannah and Adam's final scene together, their mutual acknowledgment that this rush back into a relationship cannot work plays out entirely on their faces. Driver has been tagged as a breakout on the show from the beginning — more on this in a moment — but Dunham matches and surpasses him in this scene, as affection, regret, sadness, and resolve all pass over her quavering face. It's a particularly lovely moment among many from her time on the show.
Of course, only one of the two people in this scene is also in Star Wars. Though the writing and production of Girls, along with writing a memoir and a book of short stories, has doubtless kept Dunham busy even when she's not appearing on camera, it's a little galling to consider how the biggest post-Girls bumps so far have gone to, well, boys.
Driver is obviously the big one, playing Kylo Ren in The Force Awakens and appearing in movies by Martin Scorsese, the Coen Brothers, Jim Jarmusch, and Noah Baumbach, among others. It's hard to fault these filmmakers for casting him, and harder still to fault Driver for racking up such a terrific resume. But the boy bump goes further: The first Girls cast member to get a starring vehicle was actually Christopher Abbott, the guy who played Marnie's on-and-off boyfriend Charlie for two seasons (and one fifth-season episode). His title role in James White wasn't widely seen, but it was well-reviewed despite indulging in the kind of tedious solipsism Dunham has been accused of, minus any traces of humor. And tiny release notwithstanding, it's a bigger part than Mamet, Williams, or Kirke have ever played in a movie.
Even the more offbeat Alex Karpovsky, so good as Ray on Girls, has notched bigger credits than many of the girls, with a couple of Coen Brothers movies and a starring role in the upcoming Folk Hero and Funny Guy. He makes an appealingly awkward stand-up comic in that film, but it would be a stretch to say he has a presence that explains why he's leapfrogged over Williams or Mamet. None of the Girls quartet are probably fated to become movie stars on the level of Sandra Bullock or Dwayne Johnson, but the same combination of charisma and subtlety that made them all so compelling on Dunham's show should be able to translate to film, even if that industry still favors offbeat, complicated men over women with similar qualities. Hopefully they can elbow their way into yet another boys' club.
Continue reading for free
We hope you're enjoying The Week's refreshingly open-minded journalism.
Subscribed to The Week? Register your account with the same email as your subscription.
Sign up to our 10 Things You Need to Know Today newsletter
A free daily digest of the biggest news stories of the day - and the best features from our website
Jesse Hassenger's film and culture criticism has appeared in The Onion's A.V. Club, Brooklyn Magazine, and Men's Journal online, among others. He lives in Brooklyn, where he also writes fiction, edits textbooks, and helps run SportsAlcohol.com, a pop culture blog and podcast.