How a blast from Breaking Bad's past predicts Better Call Saul's future
Welcome back, Gus!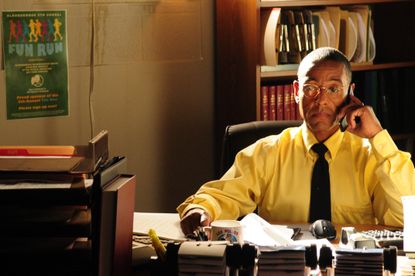 (Image credit: Ursula Coyote/AMC)
Sign up to our 10 Things You Need to Know Today newsletter
A free daily digest of the biggest news stories of the day - and the best features from our website
Thank you for signing up to TheWeek. You will receive a verification email shortly.
There was a problem. Please refresh the page and try again.
Gus Fring is back.
Our first glimpse on Better Call Saul of Breaking Bad's best bad guy — and the only man capable of outsmarting Mike Ehrmantrout — shows him sweeping amiably and semi-visibly while Jimmy stares — with zero chill — at the guy Mike charged him with watching.
It's telling that Fring's first, long-anticipated appearance is smeary and out of focus. That tantalizing flash of yellow shirt and that smudged outline of him standing is typical of the show's trademark nudge-nudge humor and restraint. Jimmy doesn't know that the mild-mannered manager of a chicken franchise is worth looking at, or that he'll be that invisible manager himself in the not-too-distant future. This is a delicious moment: before Jimmy turns into Saul Goodman, and before Saul turns into Cinnabon Gene. We know more than either Jimmy or Mike at that moment. (We even know more than Gus!) That's fun.
Subscribe to The Week
Escape your echo chamber. Get the facts behind the news, plus analysis from multiple perspectives.
SUBSCRIBE & SAVE
Sign up for The Week's Free Newsletters
From our morning news briefing to a weekly Good News Newsletter, get the best of The Week delivered directly to your inbox.
From our morning news briefing to a weekly Good News Newsletter, get the best of The Week delivered directly to your inbox.
It matters, I think, that Gus' first appearance will be lost on people who aren't paying proper attention. Put differently, Better Call Saul rewards us — the attentive viewers who follow in Mike's footsteps. Mike's exhausted, intelligent eyes have been behind binoculars, magnifying glasses, and the telescope of a long-range firearm. His eyes are a model for ours: The show elicits in its viewers the quality it most respects in its characters: a talent for close, patient, almost obsessive observation. Like Mike, we'll fail: The show will outsmart us, and we'll spend hours trying to figure out how. That's fun too.
It's no secret that Better Call Saul excels at making things that don't seem fun improbably engrossing. Jonathan Banks can pull a car to pieces, or stare quizzically into space, or shell peanuts, and I'll be riveted. There's a propulsive consciousness powering those banal repetitions, and the banality — which is always beautifully filmed — ratchets up our sense of Mike's mounting frustration. The same is true for Jimmy reassembling shredded documents or Kim editing a brief or Gene cleaning his Cinnabon at the end of the night. The show uses these moments of absorption to communicate something about a character's interiority.
Nowhere is that more true than in the show's portrayal of different forms of work. Regardless of our characters' varying levels of crookedness, the one quality they share is a willingness to work hard. That's why Jimmy's most labor-intensive job — swapping those two numbers in every document in Chuck's file — is so tragic: Chuck's work is all he has, and Jimmy's action undoes it. Pit two smart, extremely hard workers against each other and interesting things will happen.
The show's insistence on work is thematically crucial: Better Call Saul is, in the unlikeliest of ways, a workplace comedy. Mike's competence, for instance, could all too easily be presented as typical Tough Guy magic. Instead, we're treated to a scene of him carefully reading the owner's manual for the tracker Gus uses and fiddling with it as he figures out how it works. Mike is smart. Mainly, though, he works hard.
Better Call Saul might be the story of a sometime huckster trying to make good who will — at some unspecified point drawing near — give up the project of redemption and go full Saul Goodman. At its heart, though, the show is an ode to attentiveness. It seeks out whatever poetry there is in caring deeply about details — whether it's the rainbow Jimmy paints over or the Wexler-McGill "stock market crash" logo he lovingly paints in its place — and zooms into the context that makes that absorption not just legible but entertaining.
Sometimes that attentiveness has direction and energy: Mike's scenes work because we see his desperate problem and we see him solve it. Sometimes it doesn't: Kim's anxiety as she stares at a document throbs in rhythm with her computer cursor. Her fear — what if she accidentally makes the kind of mistake Chuck didn't, but was crucified for? — manifests as a series of pointless substitutions: em-dash for semicolon, semicolon for period. Sometimes the contrast between those modes of attentiveness achieves effects the script can't: The contrast between the camera's painful magnification of the individual pixels on Kim's computer while Jimmy easily paints over the rainbow in the next room expresses the psychic distance between them.
But the most interesting stuff on Better Call Saul happens when attentiveness fails to produce results. The Gus Fring reveal is fun because of how completely it frustrates both Mike and Jimmy's modes of detection — and their ideas of what a criminal underworld looks like. The Pollos Hermanos is such a deceptively clean operation. Jimmy scours it and the camera notes just how few hiding places it has. Mike watches it from a distance, baffled, while Gus sweeps that parking lot, observing and unobserved. It's fun to see Gus outsmart Mike yet again; these are intellectual gladiators. But Gus' return isn't just Breaking Bad fan service: It's crucial that Jimmy falls so hard for Gus' illusion in ways that resonate with — and possibly inform — Jimmy's future as Gene.
Gus Fring runs a fast food empire because it makes him invisible. It's likely not a coincidence, then, that Gus Fring's life looks like what Gene's life running a Cinnabon really is. Want to disappear? Become a manager at a fast-food franchise. That's what Jimmy/Saul learn from Gus.
That's a comparison I hope the show plays with moving forward. The thief's conundrum in this season's opening speaks to the show's interest in hiding in plain sight: The only place he can hide in that mall is the photobooth, a place specifically devised to document your presence. If you really want to disappear, the show says, get in front of the camera.
So how does the camera express the differences between Gene, who's hiding, and Jimmy, who isn't? Better Call Saul's camera has a lot of perspectival flexibility, and it shoots Jimmy very differently from Gene. In the black-and-white portions, it'll film Gene rinsing out sinks from directly above his head. It will orbit his managerial doings in Omaha like a cheery omniscient drone, even invading his lunchbox to gaze lovingly up at him as he reaches for his sad-sack sandwich. Never has a camera been less in tune with its character than the black-and-white camera is with quiet little Gene — it's having way too much fun zipping around, discovering the interesting angles of life in the mall as he slogs away at his duties.
That's one reading. The other is that the camera is so much in tune with its subject that it's expressing the manic desperation of Gene's mind as he plugs away at his work — that its playfulness is the personality he can't express for fear of being detected. We don't get those crazy shots when Jimmy's at liberty to express himself.
What unites Better Call Saul's past, present, and future is that Jimmy simply isn't capable of remaining patient and invisible forever. "Gene" couldn't help yelling for the thief to get a lawyer. Jimmy lost control and barged in on Chuck. Some critics object that this show risks running two parallel shows: a Mike show and a Jimmy show. What knits those halves together, I think, is this interest in attentiveness and patience and the occasions that break them. Everyone in this show is just amazingly patient: not just Gus and Mike but Kim, Chuck, even Howard. Jimmy set a trap for Chuck that took advantage of Chuck's inattention (Chuck is so careful, he had to be literally unconscious when the substitutions were made). Chuck set a trap for Jimmy in turn — one that required so much patience that even Howard feared it wouldn't work. But it did, and it relied on Jimmy being the least patient character in the bunch. Jimmy fell into Chuck's trap the moment he tore the tape off the paint, smudged his logo, and forgot to attend: to why Chuck did what he did, to what he might lose.
Mike, the guy who never loses control, is a crucial foil for Jimmy, who does. There's a lesson in that for the attentive viewer: Will you be a Jimmy or a Mike? Will you pay attention to every clue or handwave the details away? I think we have to attend carefully to "Gene's" swoon as he stares at a spoonful of frosting. Unlike Gus and Mike, the best bad guys in the business, Jimmy isn't a good bad guy. He's a bad good guy. Time to start placing bets on how long he'll remain the Cottonwood Mall Cinnabon's manager.
Continue reading for free
We hope you're enjoying The Week's refreshingly open-minded journalism.
Subscribed to The Week? Register your account with the same email as your subscription.
Sign up to our 10 Things You Need to Know Today newsletter
A free daily digest of the biggest news stories of the day - and the best features from our website
Lili Loofbourow is the culture critic at TheWeek.com. She's also a special correspondent for the Los Angeles Review of Books and an editor for Beyond Criticism, a Bloomsbury Academic series dedicated to formally experimental criticism. Her writing has appeared in a variety of venues including The Guardian, Salon, The New York Times Magazine, The New Republic, and Slate.