The Leftovers recap: The wrong Kevin
How "Crazy Whitefella Thinking" tenderly examines Kevin Garvey Sr.'s search for meaning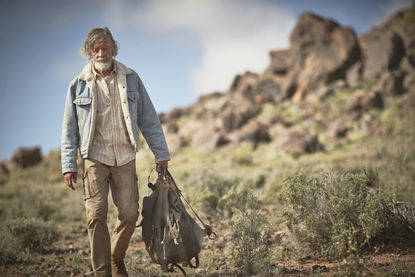 (Image credit: HBO/Ben King)
Sign up to our 10 Things You Need to Know Today newsletter
A free daily digest of the biggest news stories of the day - and the best features from our website
Thank you for signing up to TheWeek. You will receive a verification email shortly.
There was a problem. Please refresh the page and try again.
According to the faith of the Indigenous Australians, a songline is a swath of land, where, eons ago, the creator-beings wandered. With their wanderings, they brought about the world as we know it. Standing in those places, and lifting one's voice in tribute, can connect you with these creators. So, in his quest to save that world as we know it, Kevin Garvey Sr. (Scott Glenn) voyages to the songline down under. Though The Leftovers has cultivated a niche as the most spiritually minded show on TV (Reza Aslan, a one-man cottage industry of all things faith-based, serves as an executive producer), this third episode of the third season is less interested in whether Kevin Sr.'s cross-cultural grandstanding will avert the apocalypse than it is with the question of his character. Communing with the creator-beings might open the boundaries of time and space, but the old chestnut holds true: Wherever you go, there you are.
The episode opens on an image of Kevin Sr. back on the day of the original Departure; he stands, silent and helpless, as cars burn, smoke billows, and shocked survivors wail in the streets. He may be the police chief, the town's stalwart protector, but there's absolutely nothing he can do now. That moment will break the hinges off the iron door of his personality and usher in a wild wind, a force that knocks him off-balance, either into out-and-out mental illness, an awkward kind of half-baked mysticism, or a profound sense of purposelessness (the show suggests it's a combination of all three). This installment, called "Crazy Whitefella Thinking," isn't only a showcase for Scott Glenn (though it is certainly, and wonderfully, that); it is an acerbic, pointed, and, at times deeply tender examination of a different, though no less potent, kind of loss — a loss of personal meaning, of one's place in the world.
Throughout the first season, Kevin Sr. functioned mostly as a totem of Kevin Jr.'s anxieties and dread about his own emotional well-being; in season two's seminal "International Assassin," he made a brief, memorable appearance as the dazed-and-confused shamanic figure who tells Kevin Jr. to take Patti "to the water." In season three, his storyline is a wry riff on the redeemer archetype, one that, from the opening credits (a louche, lounge-lizardy rendering of "Personal Jesus"), suggests that the holy man is, in fact, a lonely man. Kevin Sr. may speak of the "voices" that compelled him to Australia, and pushed him through the outback as he lives out of his car and dodges the local constables and government officials who would (quite reasonably) prefer that he not desecrate their sacred, historical lands with his crazy whitefella dancing. But, in his own voice, he tells an actual Indigenous priest, Christopher Sunday, that he is afraid because his life lacks meaning.
Subscribe to The Week
Escape your echo chamber. Get the facts behind the news, plus analysis from multiple perspectives.
SUBSCRIBE & SAVE
Sign up for The Week's Free Newsletters
From our morning news briefing to a weekly Good News Newsletter, get the best of The Week delivered directly to your inbox.
From our morning news briefing to a weekly Good News Newsletter, get the best of The Week delivered directly to your inbox.
The story he shares with Sunday — of traveling to a town where, in an inversion of Miracle, Texas, every living being departed except for a single egg that hatched into magical chicken named Tony who can, apparently, "help you find what you're looking for" — gives a symbolic resonance to the episode's themes: He may come to Australia as the self-proclaimed savior of the world, but when he asks Tony to find his purpose, the sanctified fowl leaps on his backpack and starts pecking at an old tape deck that holds recordings he made with little Kevin Jr. years ago. Kevin Sr. may not be able to commune with the creator-beings and avert the coming flood, but he could comfort his son — who is still trying to understand the depth and breadth of his Lazarus act. These recordings, made during a family trip to Niagara Falls, form an emotional songline throughout the episode — each random observation about ducks, and John Hinckley Jr., and the Itsy-Bitsy Spider is a sacred moment, a chance to create a lasting connection between a father and son still in the thick of their grief over a lost wife, a lost mother; but these chances, just like Kevin Sr.'s more grandiose attempts at bringing salvation, will ultimately fail.
In the very opening shot, Kevin Sr.'s car careens over an outback of sun-flushed, acid-washed oranges and browns, as he listens to Kevin Jr. marvel at how long the ducks can remain underwater without dying (writers Damon Lindelof and Tom Spezialy giving fans the ultimate oh, I see what you did there moment), and ask why "John" tried to shoot the president. "Because he's crazy," Kevin Sr. says, bluntly. Glenn's performance in the present action so nimbly balances all of Kevin's current-day contradictions — his ego and his fear; his resolve and his blustering selfishness — that it's easy to miss the micro-performance on this tape. This Kevin Sr. is a more confident (if tired) man, not only because of his youth, but because his objectives are clear to him: Raise the kid; protect the town. The way that Glenn's voice breaks when he tells Sunday that Kevin Jr.'s insistence on taping everything "made me crazy," merges the older man with the younger one, who could still regard "crazy" as a joke, or a tossed-off slur.
It's appropriate, then, that the only member of our main cast that he'll interact with is Matt Jamison (Christopher Eccelston) — no stranger to insinuations about his sanity, and no stranger to the arrogance conferred when a man believes that he is quite literally holier-than-thou. After Kevin Sr. is arrested for invading an Indigenous space, and then released (if not on his own recognizance, then his crotchety old dudeness), he heads to an outpost, where a cold beer and one of the only existing copies of The Book of Kevin are waiting for him. He may share his son's disgust with the book, but for very different reasons — when he calls Matt to rail, it's because the book focuses on the wrong Kevin. "I am not a part of Kevin Jr.'s story," he yells. "He's a part of mine." In the recordings, we learn that Kevin Jr. once believed that his father could sing away the elements, that if he sang "The Itsy-Bitsy Spider," he could shield them from a terrifying downpour. And now, Kevin Sr. needs to believe that he really is that powerful.
This concept of perspective — that we are simultaneously the stars of our own lives, and bit players in everyone else's — informs the most potent aspect of this episode's sarcastic skewering of the savior trope, specifically the white savior trope. Most of the episode involves Kevin Sr.'s efforts to find Christopher Sunday, so that Sunday can teach him the final song for the final sacred spot — the idea that perhaps the Indigenous elders might very well use their own songlines to save themselves never once occurs to him, though its uppermost in the minds of everyone he encounters, including the nice white lady who runs the cultural center near Sunday's home. Kevin Sr.'s willfully oblivious appropriation of Indigenous cultures — he calls himself Sunday's equal, and snaps at a young Indigenous ambulance driver that he is the man's "elder" — might seem cartoony and garish in a world where Iron Fist didn't exist. "You want to stop the flood," Sunday drolly remarks, before nodding at a leak in his ceiling. "Start there." Kevin Sr. doesn't stop the flood; he doesn't even fix the leak — in a biting bit of symbolism, he falls off the roof and literally crushes Sunday to death.
It's a clever twist, a cold indictment of the wanna-be shaman, and a show that was content to revel in its own smartness might have ended there. But The Leftovers is one of the more intimate, emotional shows on TV, so "Crazy Whitefella Thinking" ends on a note of, if not hope (not exactly), then at least promise, and purpose. After Sunday's death, Kevin Sr. staggers through the desert until he collapses, sun-battered and snake-bit, on the property of one Grace Playford (Lindsay Duncan) — the woman who drowned Chief Kevin at the end of "Don't Be Ridiculous." Grace admits that, as she tended to him, she found a page from The Book of Kevin and believed that it could be some new form of scripture, that the promise of this self-resurrecting lawman might give her the ultimate peace after the ultimate loss. She needs this holy Kevin to reach out to her children, so she can talk to them, just one last time.
Director Mimi Leder wisely closes her camera tight on Duncan's face; Duncan's expressions are a perfect rhapsody of open sorrow and barely-suppressed bitterness as she speaks of her husband's departure, and thinking, for years, that her five children vanished with him, leaving their little Bibles in a perfect row; only to find, years later, that her children did not depart, they took off to find their father and died from the heat — in the same spot where she eventually finds Kevin Sr. "I thought you were an angel from God with a message just for me," she sobs. "But you're not an angel; there is no message."
In this moment, Kevin Sr. becomes genuinely human, genuinely empathetic to this good woman's pain; silently, almost imperceptibly, he lets go of his grandiose visions of single-handedly saving the world. He doesn't have that power, but he can, at least, help alleviate her pain, just as, with a silly children's song, he soothed his young son's fear of the downpour. "You're not crazy," he tells her. "You just had the wrong Kevin."
Continue reading for free
We hope you're enjoying The Week's refreshingly open-minded journalism.
Subscribed to The Week? Register your account with the same email as your subscription.
Sign up to our 10 Things You Need to Know Today newsletter
A free daily digest of the biggest news stories of the day - and the best features from our website
Laura Bogart is a featured writer for Salon and a regular contributor to DAME magazine. Her work has appeared in The Atlantic, CityLab, The Guardian, SPIN, Complex, IndieWire, GOOD, and Refinery29, among other publications. Her first novel, Don't You Know That I Love You?, is forthcoming from Dzanc.