The Baywatch movie isn't sexy
These bodies are almost too perfect to be real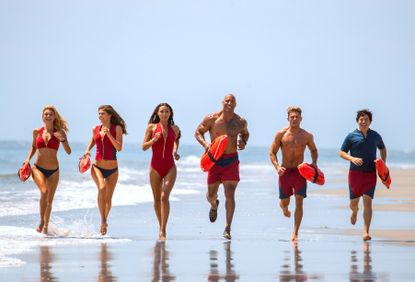 (Image credit: Paramount Pictures/Entertainment Pictures)
Sign up to our 10 Things You Need to Know Today newsletter
A free daily digest of the biggest news stories of the day - and the best features from our website
Thank you for signing up to TheWeek. You will receive a verification email shortly.
There was a problem. Please refresh the page and try again.
I don't know about you, but what I miss most about the Baywatch years is the inspiring spectacle of pecs bouncing mightily down the beach at dusk. I miss the muscles and the tone, the iron discipline that made this crack team of life-savers the formidable athletes they undoubtedly were.
Kidding. The show was cheesecake through and through, and the bits people watched for … well, they wobbled.
Baywatch was a silly show that understood it was silly. The women wore pubis-baring swimsuits and thick layers of makeup while the team investigated crime. People agonized over whether they should be lawyers or lifeguards. It was all campy and ridiculous and the show knew it. That's sort of the trouble: The new Baywatch is supposed to be a knowing wink to that already winking original, but all that winking adds up. It seems less sly than manic, like it's clobbering you with elbow nudges.
Subscribe to The Week
Escape your echo chamber. Get the facts behind the news, plus analysis from multiple perspectives.
SUBSCRIBE & SAVE
Sign up for The Week's Free Newsletters
From our morning news briefing to a weekly Good News Newsletter, get the best of The Week delivered directly to your inbox.
From our morning news briefing to a weekly Good News Newsletter, get the best of The Week delivered directly to your inbox.
That said, the reboot is almost as friendly as Dwayne Johnson. It knows what you think, and it's filled with gratifying meta observations about the implausibility of the plots and the impracticality of the suits. Zac Efron's character Matt Brody, for instance, observes that the lifeguards' cussed insistence on detecting crime instead of doing their jobs seems like an "entertaining but far-fetched TV show." It's a clunky line and Efron does what he can with it, but you can appreciate the work it's trying to do.
Still, there's a strenuousness to it all that feels like of a piece with The Rock's hard-working brand of friendliness (which Caity Weaver captured beautifully in this GQ profile). It's trying so very hard, in fact, that it all feels a little bit like work.
Baywatch, in contrast, was fun. Yasmeen Bleeth and Pamela Anderson looked like hedonists — porny hedonists, perhaps, but nevertheless people who looked after their own good time. No one in this new Baywatch looks anything like that. Nobody's sultry, or even — and I realize this is taking the thing a bit far — sexy.
I'm going to be blunt: Baywatch is a campy show about bodies, and there's a striking contrast between the bodily extremes of this new version compared to the original. For all the libidinous energy that percolated in the original show, the bodies in this new Baywatch are much too polished to sell anything as basic as lust. They're too perfect. They're a thousand times more disciplined, honed, and anatomically perplexing than the bodies in the original. Don't get me wrong: I understand that Zac Efron has a babyface problem he used bodybuilding to solve. It didn't work, though, and on top of that I don't quite follow what his body is. During a startling sequence in which his character goes shirtless to navigate a grievously unfun jungle gym, I understood, in a cerebral kind of way, that there were abdominal muscles amid the painful and veiny tumorous growths that had once been a six-pack before they obscured his navel. But I found myself thinking fondly of belly-buttons and wondering how much work a 64-pack takes and whether we've all gone a bit too far.
Maybe we haven't, but Hannibal Buress and Jon Bass were a pleasure onscreen in part because they looked so comparatively normal. It's not surprising that Jon Bass was the sexually desiring subject in this film; his body hasn't been sculpted into an object of consumption yet. Zac Efron is supposedly in lust with Alexandra Daddario's Summer, but rarely have two such beautiful people been so chemically inert. Even Priyanka Chopra, who simmers and smolders all over the place, manages to be so vague about it that the eroticism never quite lands.
What's funny is that this Baywatch definitely thinks it's progressed relative to the old Baywatch — both in its politics and its sense of irony. Men say "no offense" to women now when they keep referring to confrontations as happening between "guys," and the women, unthreatened, repeatedly say "none taken." The villain is a woman, after all — Chopra plays this role, and if there's a smidgen of Orientalism around her, there's a chill NBD quality to her foreignness — her accent even becomes American at one point. Gay jokes, jokes about race, Baywatch gives one the sense that the big issues are behind us, so why not have pornier swimsuits (with zippers!) and not one but two extended episodes featuring penises, one of them defunct? Let's go for that R rating!
Alas, we're not beyond anything. All that winking on top of winking produces something like a double-negative, a version of Baywatch that wants to seem at ease when it's actually sucking in harder than ever before. It's hard to feel sexy when you're sucking in, even if it looks good. Take Ilfenesh Hadera: She's rather formidable as Stephanie, Mitch's second-in-command, but when she and Mitch kiss, it's for show, and there's no hint that it might be anything else.
Which, look, that's fair enough. It's actually kind of nice to have a family vibe instead of endless innuendo and cheap sensualism.
Baywatch is an enjoyably dumb and kind of funny way to spend a couple of summer hours. It riffs amiably on Dwayne Johnson and Zac Efron's reputations — it's no coincidence that the film's biggest laughs came from jokes about them. But if you think about it for any amount of time, you'll quickly realize its problems: The film feels porny without being sexy, sanitized despite showing an actual penis. What's worse is that it claims to have excellent politics that in practice it ignores: It recognizes that Stephanie should be put in charge but puts Zac's character Matt there instead. It jokes about Summer's exclusion from "the guys" and then ends by actually excluding her.
After all this time, after decades of knowing reflection on how destructive our juvenile fantasies about masculinity have been to men and women alike, we seem more susceptible to drifting backward than ever before. Baywatch used to be about ladies sexily running; now it's about men strenuously lifting. I'm not sure that's the improvement the film thinks it is.
Continue reading for free
We hope you're enjoying The Week's refreshingly open-minded journalism.
Subscribed to The Week? Register your account with the same email as your subscription.
Sign up to our 10 Things You Need to Know Today newsletter
A free daily digest of the biggest news stories of the day - and the best features from our website
Lili Loofbourow is the culture critic at TheWeek.com. She's also a special correspondent for the Los Angeles Review of Books and an editor for Beyond Criticism, a Bloomsbury Academic series dedicated to formally experimental criticism. Her writing has appeared in a variety of venues including The Guardian, Salon, The New York Times Magazine, The New Republic, and Slate.