The extraordinary ordinariness of The Americans finale
Tick tick ... tick tick ... tick tick ... tick tick ... tick tick ... Tune in next season for the boom! (Maybe.)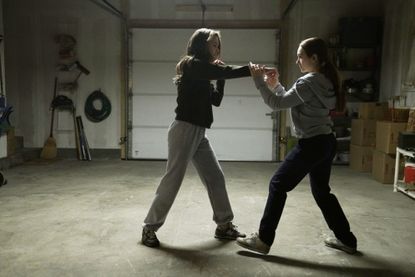 (Image credit: Patrick Harbron/FX)
Sign up to our 10 Things You Need to Know Today newsletter
A free daily digest of the biggest news stories of the day - and the best features from our website
Thank you for signing up to TheWeek. You will receive a verification email shortly.
There was a problem. Please refresh the page and try again.
The fifth season of The Americans has perfected the art of intriguing fakeouts that build in anticipation of consequences that never come. Stan's girlfriend seems sketchy. So (from different points of view) do Sofia's boyfriend and Henry's friend "Chris." Paige, who looks miserable, hangs a rope in the garage and walks through dark parking lots. Oleg stares grimly at the water. So does Philip. We're trained by now to see disaster looming around every corner, death at every door. "You aren't going to make it," Elizabeth tells Tuan in the preview to the finale, and we all wonder how Tuan will die.
But Gabriel's memorable remark — "you're losing it, Philip" — turns out to apply to us too. Tuan isn't dead, he's just annoyed at his spy-parents and a little freaked by Elizabeth's laceratingly gentle prophecy. Paige wasn't suicidal, she was just training. As for Sofia's gigantic fiancé, he comes up clean, and Renée still seems fishy, but at least she's teaching Stan to cook something other than fettuccine alfredo while she talks him into remaining at his job. For all our sinister imaginings, Martha seems like she's muddling through. She's even getting a child! And Oleg — who we don't see in the finale — is either bound for a prison camp or a promising career in middle management.
For a show that made one of the world's greatest season finales out of a girl picking up a telephone to call her pastor, this season was every bit as "petit bourgeois" as Tuan says. Every exciting development thunks into a disappointingly prosaic end: Mischa met his dad's family. Renée replaced Philip at racquetball. Benjamin bred a good plant. Pastor Tim and the Jenningses had a nice talk. And hey, Reagan made a joke!
Subscribe to The Week
Escape your echo chamber. Get the facts behind the news, plus analysis from multiple perspectives.
SUBSCRIBE & SAVE
Sign up for The Week's Free Newsletters
From our morning news briefing to a weekly Good News Newsletter, get the best of The Week delivered directly to your inbox.
From our morning news briefing to a weekly Good News Newsletter, get the best of The Week delivered directly to your inbox.
The finale's reference to Reagan's "we begin bombing in five minutes" "joke" seems like a sly comment on this tendency to stretch tension out until it flatlines. The Americans is experimenting with narrative ductility. This is a Cold War approach to story, and if leads are thinning out like wires, the show is gambling that people will tune in for the final season to see where those circuits go.
The flip side of these deferrals is that actions that seem monumental, like bombs that did in fact go off, aren't. I'm thinking of Elizabeth shooting Hans, or Claudia admitting that the Centre is using lassa fever, or even Elizabeth's attack on Claudia all those seasons ago. The show went to a lot of trouble to remind us of old storylines, but those reminders didn't sharpen into anything like a crisis. The mantel of this show is heaped with guns and not a one has gone off. Oleg is suffering and stays where he is. Stan, tortured by all he's done, almost breaks free but doesn't (thanks, Fishy Renée!). For all that Paige seemed like a powder keg, the incidents that should have sparked — Pastor Tim's diary, that moment in "Darkroom" where all three Jenningses were staring at his — failed to ignite. Even Elizabeth's huge dramatic pivot, the disillusionment that led her, after murdering Natalia Granholm, to say she wants to leave, fails to stick.
Instead of any big shifts, the big revelation is that there will be more long, sustained, indeterminate work. Kimmy's father will be heading the Soviet Division for which the episode is named! That this is spectacularly irrelevant and uninteresting to viewers of the show — who might have a hard time even recognizing the character — is at least half the point. It's as if that long digging sequence in the season premiere was a warning: Don't expect things to be fast or rewarding or even fun. The bomb isn't going off in five minutes, and that's almost worse.
I'm being a little unfair here: The one big incident was, of course, Pasha's suicide attempt. We're meant to notice that things didn't quite go the Centre's way here, and not just on the Jennings' side. Tuan, you'll recall, told them that he "worked with him on the note that he's leaving. It states it's all because he hates his life here and they forced him to live in United States." That turned out not to be the note that Pasha left — his father tells Philip that it says he loves them, and that he's sorry, but he can't live in America. Pasha's effort, that is to say, was genuine.
I think we're meant to understand this as yet another foreshadowing (at this point, the show is sort of permanently overcast). The season has been glutted with neglected sons in need, from Mischa to Henry to Pasha to Tuan. Behind all of these is the awful memory of Jared. We're meant, too, to understand the Morozovs as upside-down Jennings: Pasha in America is a preview or portent of what Paige and Henry's life might be in Russia. Philip's tantrum at Henry registers how fully he appreciates the parallel: His concern that the Morozov family is breaking up echoes his fears for his own.
But none of those foreshadowings have paid off. It looks like the Jenningses aren't leaving after all.
And yet it's interesting, isn't it, how the camera — which has done such extraordinarily interesting work this season, though much that it hinted hasn't come to pass — does this yet again? It's the camera's job to point at all the thrilling things the show isn't doing. Paranoid, it peeks down at people from trees. It teases faultlines that never mature into full and dramatic breaks. It swoops up to people after lingering on food. It's practically writing its own show.
Because the camera usually loves what the Jenningses' don't have time to and sees what they refuse to, I want to celebrate the moment when it looks with Elizabeth at her closet. This might be one of my favorite scenes of the season. As Elizabeth surveys her shirts and shoes, the sheer tacky American abundance of things she has that she won't have in her new old life; as she gazes at her American counter and sink and dishwasher and sees her American home not as the disguise she's always assumed it to be, but as an actual space in which she actually lived, we see a pretty amazing sequence of feelings pass over Keri Russell's face. What I wish I'd understood was how this moment intersects with Elizabeth's decision to stay. Whether, in the moments after Philip tells her about his discovery, she's in any way factoring in the comforts of which she seems more concretely aware. I believe fully in Elizabeth's commitment to the cause. If she's newly appreciative of "petit bourgeois" comforts, though, I'd like to know how that's affecting her decision.
And that, I think, is finally what this peculiarly slack season of The Americans has been about: the ways things like food — which this season has thematized so aggressively — can bridge the apparent divide between pure Soviet ideology and suburban comfort. The way catering to basic needs confers something like honor, something Paige can sign up for, continuing to work in the food pantry. And the way Elizabeth's fierce rejection of excess blinds her to the way the question of food — good food — has corrupted government and society alike back home.
I wrote last week that Philip and Elizabeth's recent missions seemed to invert the show's original stakes: "If the point was initially to make the domestic clever camouflage for exciting secret work, the terms of the premise have been inverted: Now the spies are just reporting on the domestic doings of ordinary families." Pasha's suicide unites those concerns more than the show ever has. The Jennings were hoping to transition into something like an "ordinary family." Now they've destroyed one.
There was a lot of subdued table-setting this season, a lot of joking about the bombs that never come. Let's hope season six is an epic and even explosive meal.
Continue reading for free
We hope you're enjoying The Week's refreshingly open-minded journalism.
Subscribed to The Week? Register your account with the same email as your subscription.
Sign up to our 10 Things You Need to Know Today newsletter
A free daily digest of the biggest news stories of the day - and the best features from our website
Lili Loofbourow is the culture critic at TheWeek.com. She's also a special correspondent for the Los Angeles Review of Books and an editor for Beyond Criticism, a Bloomsbury Academic series dedicated to formally experimental criticism. Her writing has appeared in a variety of venues including The Guardian, Salon, The New York Times Magazine, The New Republic, and Slate.