Insecure is one of the most interesting shows on television
On the fabulous faux-normalcy of Issa Rae's HBO series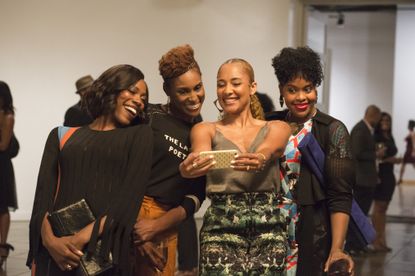 (Image credit: Justina Mintz/courtesy of HBO)
Sign up to our 10 Things You Need to Know Today newsletter
A free daily digest of the biggest news stories of the day - and the best features from our website
Thank you for signing up to TheWeek. You will receive a verification email shortly.
There was a problem. Please refresh the page and try again.
There's a certain kind of excellent TV that manages to tap into zeitgeisty social questions of what constitutes "normalcy" while reserving the right to be really odd. Take Seinfeld. The show had a pretty basic premise — single 30-somethings squabble over whether what the folks around them do is normal — but it was clear from the outset that someone's off-kilter perspective was shaping its acidic vision of friendship in New York. (Larry David would later turn his gimlet eye on Fancy Hollywood in Curb Your Enthusiasm.) That marriage of a city setting and generic situation with a weirdo's assumptions and defaults almost always produces something interesting. Crazy Ex-Girlfriend's West Covina, Donald Glover's Atlanta, Baskets' Bakersfield, and Insecure's Los Angeles are cities pulled like taffy through their protagonists' idiosyncratic perspectives. Of these, Insecure stands out as the most apparently normal show with the most apparently normal protagonist. But appearances can be misleading.
Insecure creator and star Issa Rae has always staged normalcy as a problem her protagonists are ill-equipped to solve. Her web series Awkward Black Girl was about that effort: It featured a black girl who was awkward — with black people, with white people, with men, with herself. The title seemed unassuming and obvious even as it winked at how rarely we see black women portrayed as anything other than sassy and excessive (or cool and controlled). Rae's protagonists agonize over their self-presentation. They typically have a pretty good sense of what "normal" means and what people expect, and they're smart and willing and often deliver reasonable approximations. But they're secretly weird and worried. There's no question that their social performance is a façade, and it breaks down.
In Insecure, there are plenty of women who half-fit those facades. Yvonne Orji plays Molly, a gorgeous, driven attorney whose poise conceals a complicated and interesting nest of impulses and needs. A good friend to Issa, she's also arrogant and vain. Her behavior with men reflects the mass of contradictions she is inside (thanks in part to structural concerns about what a Professional Black Women ought to be). The ongoing conflict between the perfect person she ought to date and her real, messy desires leads to an ugly breakthrough at the end of season one. The second season has her finally visiting therapists, but Molly's smiling resistance to admitting that the identity she's worked so hard to build has problems is one of the most interesting beats in the season's first half.
Subscribe to The Week
Escape your echo chamber. Get the facts behind the news, plus analysis from multiple perspectives.
SUBSCRIBE & SAVE
Sign up for The Week's Free Newsletters
From our morning news briefing to a weekly Good News Newsletter, get the best of The Week delivered directly to your inbox.
From our morning news briefing to a weekly Good News Newsletter, get the best of The Week delivered directly to your inbox.
Molly's flaws are more visible than Issa's because the show — which flirts with close third-person and sometimes pretends to be omniscient — never quite lands in her perspective. It thinks it's taking a bird's-eye view of these people living in Los Angeles. Really — secretly — it's 100 percent in Issa's awkward and engaging point of view.
The proof of this is the show's changing relationship to Lawrence, Issa's boyfriend (played by Jay Ellis). Ellis does a tremendous job of quietly portraying Lawrence as Issa sees him — first as something between a moocher and incompetent dreamer, and later, in the second season, as an intensely desirable hunk. In the first season, Lawrence is smart. Creative. He has a degree. He ticks a lot of Issa's Professional Woman boxes, and he's lovable in his way. But he's unemployed and lacks follow-through. He isn't exciting. Their chemistry is low, she seems restless, and the camera films her attraction to other men (especially Daniel, played by Y'lan Noel) with so much yearning you can't help but cheer when they finally sleep together. You don't quite get why Molly's being such a jerk about it or defending Lawrence. Why can't she feel what we feel? See what we see? Lawrence is sweet, and that couch episode was gorgeous, but even the harmony there felt old and married rather than sexy and fresh. Isn't it objectively correct that Daniel > Lawrence? GET WITH THE PROGRAM, MOLLY.
The second season revisits all this and turns the kaleidoscope just enough to show us a) how right Molly was; b) how well she knew Issa — better than we did, certainly; c) that Molly's defense of Lawrence was more complicated than just "taking his side;" and d) how completely trapped we were in Issa's point of view throughout the first season without realizing it. We were sex-blind right alongside her, and now the scales have fallen. The sexual tension between her and Daniel seems beside the point now; with Lawrence gone, all that's left is emptiness and regret. We miss Lawrence with Issa and on her behalf. And we watch him sleep with Dominique Perry's Tasha with her understanding, her resentment, and her love.
Don't get me wrong: There are plenty of scenes in Insecure's bold second season that Issa's not around for — Molly scenes, some incredibly interesting Lawrence scenes. What's key is how suffused they are by Issa's deep (and awkward, and intelligent) fondness for the people concerned. Our protagonist tries to summon jealousy, distance, and any number of other generic scripts that could help her fight off the basic fact that she loves Lawrence still. But she can't, and the camera loves him right along with her, even when he's hurting her. Even when he's objectively being a jerk, Issa can't reduce her ex to his worst qualities and move on. As a result, neither can the camera. The show cheats on its sitcom premise and keeps reinflating characters that should stay flat.
This is a terrific second season. Insecure might be one of the most interesting interrogations of what the quest for "normalcy" means these days — for a 29-year-old black female wannabe rapper working for a nonprofit in L.A. That combination of universal curiosity with intense specificity makes Rae's approach to broader questions of race, class, and gender feel smart, funny, and — above all — genuinely original.
Continue reading for free
We hope you're enjoying The Week's refreshingly open-minded journalism.
Subscribed to The Week? Register your account with the same email as your subscription.
Sign up to our 10 Things You Need to Know Today newsletter
A free daily digest of the biggest news stories of the day - and the best features from our website
Lili Loofbourow is the culture critic at TheWeek.com. She's also a special correspondent for the Los Angeles Review of Books and an editor for Beyond Criticism, a Bloomsbury Academic series dedicated to formally experimental criticism. Her writing has appeared in a variety of venues including The Guardian, Salon, The New York Times Magazine, The New Republic, and Slate.