How Curb Your Enthusiasm became comfort food
It's still funny. But it's almost aggressively unhip.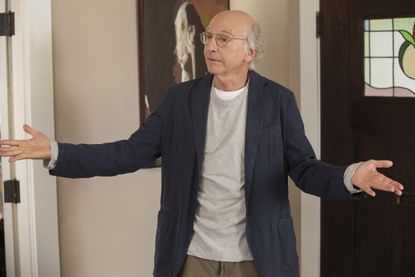 (Image credit: John P. Johnson/courtesy of HBO)
Before its long-awaited return Sunday night, it had been six long years since Curb Your Enthusiasm was last on TV. But now that the HBO show is back, it's as if time has run backwards. Everyone's older, certainly — creator and star Larry David opens with a shower scene that reveals the state of his body and his temper — but they're almost exactly where they left off. To quote O.J. Simpson, who was released from prison Sunday after nine years in: "Nothing has changed in my life." Curb hews hard to the conventions of the golden age that spawned it; it's accordingly funny, but almost aggressively unhip. Dated references blunt its trademark edge, making David's caustic comedy feel a tad safer than it might otherwise. The premiere, for instance, features references to Ayatollah Khomeini's 1989 fatwa on Salman Rushdie and Tyra Banks' fat suit (which she donned in 2005). The former feels like a leftover arc from Seinfeld someone deemed too edgy at the time. The latter is just weird. Even Leon's lingo feels old.
That said, a lot about Curb works as well as it ever has. The loose, improv-heavy series continues to benefit from a fantastic cast: Cheryl Hines stepped brilliantly back into her character's bemused impatience, a goggle-eyed Richard Lewis berates Larry for minor social crimes, Susie Essman blows up every scene she's in, and JB Smoove remains the Kramer figure to Larry David's Jerry.
This series has always covered a huge amount of ground in a single episode, and "Foisted" is no exception: It grapples with haircut pricing, gender roles in weddings, door-holding etiquette, the compatibility of constipation and labor, stolen crudités, bad assistants, whether Soap's On is a good business name, whether People Against Mutilation is a good charity name, pet condolences, and the logistics of meeting at a party. The show is as crisp and smart and nuttily diagnostic as ever.
Subscribe to The Week
Escape your echo chamber. Get the facts behind the news, plus analysis from multiple perspectives.
SUBSCRIBE & SAVE
Sign up for The Week's Free Newsletters
From our morning news briefing to a weekly Good News Newsletter, get the best of The Week delivered directly to your inbox.
From our morning news briefing to a weekly Good News Newsletter, get the best of The Week delivered directly to your inbox.
But it also feels like Curb is chasing those old references — from the Producers poster hanging in Larry's office to the Mary Poppins song he sings in the shower to the Psycho reference that concludes the episode — in order to carve out some space for a looseness and freedom that "asshole comedy" used to have, but can't quite pull off these days. It's one thing for Larry to obnoxiously joke about how all the ayatollahs have the same-sounding name, but it's the kind of joke that lands differently now that the president, on the very day the episode aired, did almost exactly the same thing in a riff on nuclear war — in all seriousness confusing Kim Jong Un with his father, Kim Jong Il. Larry's neurotic toxicity is only as lovable as his innocuousness. As is true of almost all irony and satire these days, that balance has shifted, and not in Curb's favor.
One solution, then, is to double down on the show's comedic moment and sort of pretend it's still existing in the timeframe in which it was conceived. This seems to be a trend with these resurrected shows: Will and Grace — which trades in Lady Di nostalgia and Madonna jokes — also feels stuck in amber. It plays weirdly; there's no getting around it. For one thing, the "Fatwa" joke is so dated that Jeff had to offer this painful bit of exposition, presumably to make sure millennials got it: "You wrote a musical about Salman Rushdie having his life ruined cuz he had a fatwa — a death threat — from the Ayatollah Khomeini." It's bad. But if you squint and pretend it's 2004, it kind of works.
After all, the structure of so much Curb Your Enthusiasm is roughly this: Something happens, Larry renarrates it to a confidant, and — in the course of discussing and anatomizing the social phenomenon — something else happens. In practice, this pattern adds up to something like a meta-laugh track. Take Larry's assistant Mara (played with wan Victorian girlishness and subterranean deadpan by Carrie Brownstein). When she explains that she missed work because she was constipated, it's truly hilarious. It's so funny, in fact, that Larry David breaks repeatedly while suggesting she turn her office chair into a toilet — a suggestion Brownstein blandly ponders with the episode's best line: "maybe something to consider for the future, if you wanted to look into the plumbing." Brownstein says this solemnly, moving on to the grim but also somehow giggle-inducing news that Richard Lewis' parakeet has died.
That joke somehow acquires a second punchline when Larry tells Leon about the incident. If a laugh track works by alerting the audience that something is funny, these discussions do something similar: Leon overreacts expansively to Mara's silliness, Larry reveals her sexual trauma, Leon calls her a bitch, and that leads to the introduction of the concept of "foisting." This secondary modeling and analysis is basically the structure that powered Seinfeld and Curb both. (This paragraph, by the way, is arguably an example of this strategy in reverse: renarrating that set of beats without David's incredulity as a guide makes the sequence sound a lot less funny.) Whether this approach still works is an open question; so much of the observational humor that built these shows presumes a kind of American consensus about correct behavior and universal experience that no longer obtains.
To put it differently, Curb sometimes feels like "old man humor" in that it expects its missteps to be excused because it came up at a different time. All those dated references suggest it might be sheltering just a little bit in its own irrelevance. If the best comedies have a sharp and vital take on the present, then Curb, for all its snap and verve, suffers from a distinct lack of ambition. If the point is to mine stale controversies for a safe laugh, then it mostly succeeds. Don't get me wrong: Larry David remains a total pleasure to watch. The music is mischievous, the cast a delight. But it's a sign of these peculiar times that Curb — that sometime father of cringe comedy — has become something closer to comfort food.

Continue reading for free
We hope you're enjoying The Week's refreshingly open-minded journalism.
Subscribed to The Week? Register your account with the same email as your subscription.