The Last Jedi finally gives Star Wars fauna its due
Porgs, and fathiers, and vulptices, oh my!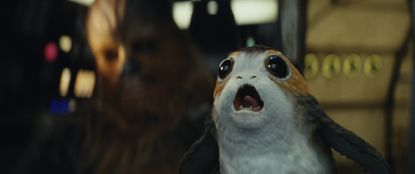 (Image credit: Lucasfilm Ltd.)
Sign up to our 10 Things You Need to Know Today newsletter
A free daily digest of the biggest news stories of the day - and the best features from our website
Thank you for signing up to TheWeek. You will receive a verification email shortly.
There was a problem. Please refresh the page and try again.
Star Wars: The Last Jedi has been rightfully praised for blazing a new trail. The latest entry in the wildly popular series is surprising, stylized, and narratively ambitious in ways its more nostalgic predecessor, The Force Awakens, never was. But at least in one important aspect, The Last Jedi actually marks a return to the old ways of doing things. I speak, of course, of space creatures.
When live-action Star Wars came back to movie screens after a decade-long hibernation in 2015, it was clear that the filmmakers, including new director J.J. Abrams, wanted to re-prioritize the human characters. Humans populated George Lucas' controversial prequel trilogy, of course, but Lucas' seeming distance from actors and his fascination with new technology meant that their performances weren't always the most eye-catching element on screen. (Just think of The Phantom Menace's Jar Jar Binks.) So The Force Awakens, as if to reassure the audience that they were dealing with a director who actually liked actors, kept one of its biggest computer-generated-only characters, the shadowy villain Snoke, shrouded in fuzzy transmissions. Another computer-generated creation, the wily bar proprietor Maz, was clearly modeled on Yoda: diminutive, confidently mischievous, wise. It was the flesh-and-blood actors who really stood out.
This was not a bad strategy, as Abrams is a casting whiz who helped make new characters Rey (Daisy Ridley), Finn (John Boyega), and Poe (Oscar Isaac) unquestionable and surprising highlights in a movie that was sold in large part on nostalgia. That more nostalgic space is where the new Star Wars creatures were consigned. Even glimpses at strange new species during a roving look through Maz's outpost felt more like an homage to the first film's famous cantina scene than an introduction to memorable new side characters.
Subscribe to The Week
Escape your echo chamber. Get the facts behind the news, plus analysis from multiple perspectives.
SUBSCRIBE & SAVE
Sign up for The Week's Free Newsletters
From our morning news briefing to a weekly Good News Newsletter, get the best of The Week delivered directly to your inbox.
From our morning news briefing to a weekly Good News Newsletter, get the best of The Week delivered directly to your inbox.
Writer-Director Rian Johnson's Last Jedi stays focused on the humans (and the previous film's non-human, non-alien sidekick, the droid BB-8). How could he not, with Ridley, Boyega, and Isaac supplying so much charisma and empathy? But he also nudges Star Wars back in the direction of its more creature-y comforts.
Pre-release hype fixated on the porgs, the tiny owl-y, penguin-ish birds that populate the remote island where Rey goes to find Luke Skywalker. But the island is also home to an amphibious race of female caretakers who look askance at Rey. Much later, the salty planet Crait introduces a pack of crystalline dog/wolf creatures called vulptices. In between, a stop at a casino on the planet Canto Bight provides the requisite alien overload, where any number of creatures bustle through the frame.
None of these creatures are major characters in the movie. Some of the casino patrons will doubtless be assigned names later for toy and/or trivia purposes (and I can't wait to find out the official ridiculous moniker of the tiny alien who wears a monocle and hoards gold coins), but many of Last Jedi's most memorable creatures are patterned after animals rather than speaking, upright-walking humans: the porgs, the vulptices, and the fathiers, a horse-like species used for racing and gambling on Canto Bight and, as such, subjected to much cruelty.
This might seem like a further segregation of the charismatic humans from the alien backgrounds. But Johnson does something canny with the movie's zoological creations. He uses them not just to give his world detail and texture (this was something Lucas excelled at, even in the much-maligned prequels), but to suggest a world beyond the ongoing Resistance-versus-First-Order conflict. At one point during Rey's training with Luke, he tries to better define the Force, emphasizing that it's not a power that resides within certain chosen people, but rather something that connects every living thing. The Last Jedi is fascinatingly ambivalent about the nature of the seemingly eternal wars that lend the series its name, and showing the natural beauty of these worlds subtly reorients the movie's point of view. (The Phantom Menace did this, too, but a lot of people were too distracted by Jar Jar to notice).
This also seems to be the function of Johnson's humanoid aliens. The patrons of Canto Bight may look like a collection of imitation-cantina denizens, but it's crucial that they're described as, essentially, members of the 1 percent — and war profiteers, with connections to both warring parties. While previous eclectic locations like Tatooine show the seedier underbelly of the galaxy, Johnson offers a glimpse at the upscale version of citizens whose lives may be affected by de facto civil war, but go right ahead amidst it, tending to their own concerns.
The new Star Wars movies are still either too confident in their humans or too cautious about resembling the prequels to go all-in on a fully CG (or puppet) non-droid character (the villainous Snoke is once again one of the most prominent effects characters in the new movie, and his design has been tweaked to look creepier, which actually involves making him look more human). The biggest new characters are all human, and some established non-human favorites have more cameo-like roles.
Yet even without a Jabba the Hutt, a Watto, or a Jar Jar, the filmmakers seem to better understand how important these characters are. The Resistance and First Order are ultimately good and evil, respectively. But Johnson uses a hallmark of the series to suggest a galaxy's worth of life in between.
Continue reading for free
We hope you're enjoying The Week's refreshingly open-minded journalism.
Subscribed to The Week? Register your account with the same email as your subscription.
Sign up to our 10 Things You Need to Know Today newsletter
A free daily digest of the biggest news stories of the day - and the best features from our website
Jesse Hassenger's film and culture criticism has appeared in The Onion's A.V. Club, Brooklyn Magazine, and Men's Journal online, among others. He lives in Brooklyn, where he also writes fiction, edits textbooks, and helps run SportsAlcohol.com, a pop culture blog and podcast.