Is Phantom Thread funny?
On the indiscernible humor of Paul Thomas Anderson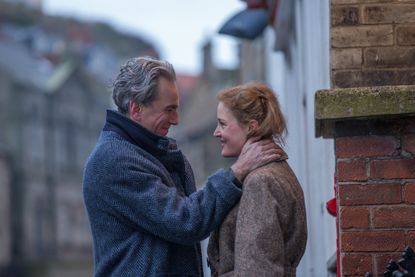 (Image credit: Focus Features)
Sign up to our 10 Things You Need to Know Today newsletter
A free daily digest of the biggest news stories of the day - and the best features from our website
Thank you for signing up to TheWeek. You will receive a verification email shortly.
There was a problem. Please refresh the page and try again.
Are P.T. Anderson's movies funny?
As a critic who often sees movies at press screenings, I'm privy to experiences that I know are markedly different from other moviegoers. Sometimes this is a good thing, as when the press audience for The Accountant started guffawing at its late-game absurdities. Sometimes it's kind of a bummer, as when a crowdpleaser doesn't go over so well in a tiny screening room. And sometimes it's just different, as when Paul Thomas Anderson's Phantom Thread receives the kind of raucous (if occasional) laughter that it's difficult to picture manifesting in a commercial setting.
It's not that Phantom Thread, in which Anderson reteams with his There Will Be Blood star Daniel Day-Lewis for another story about a single-minded man, is laughably bad. But it's also not exactly a comedy. It's as wonderfully unclassifiable as most of Anderson's movies. There are some hints of gothic sorta-romance in sync with the kinds of movies made around, or slightly before, the movie's 1950s setting, as exacting fashion designer Reynolds Woodcock (Day-Lewis) takes up with a young waitress named Alma (Vicky Krieps). Each finds the other reluctant to bend to their respective wills, so there is some relationship-strife drama in the offing, too, which is approximately where the blackly comic notes grow louder.
Subscribe to The Week
Escape your echo chamber. Get the facts behind the news, plus analysis from multiple perspectives.
SUBSCRIBE & SAVE
Sign up for The Week's Free Newsletters
From our morning news briefing to a weekly Good News Newsletter, get the best of The Week delivered directly to your inbox.
From our morning news briefing to a weekly Good News Newsletter, get the best of The Week delivered directly to your inbox.
Around the middle of the film, in what is one of its signature scenes, Woodcock's breakfast routine is disrupted by Alma. She's not an especially loud or uncouth woman, except compared to her fussy, controlling man, who bristles at the sound (amplified by Anderson's soundtrack) of her buttering and consuming toast. Reynolds fumes and eventually suggests that she quiet herself or leave. It could be a scene out of an English sitcom, or a more genteel studio comedy from years ago, and in those contexts it would seem lightly amusing at best. But in the middle of this tense, unusual romance, one where both parties initially seem braced for a swift dissolution, the real hostility behind Woodcock's irritation makes it funnier.
This is a more low-key version of what Anderson did in 2002's Punch-Drunk Love, another romance that seemed poised on the precipice of disaster. The relationship between an unstable man-child (Adam Sandler) and the gently offbeat woman he adores (Emily Watson) could be described as a romantic comedy; it could also be described as the most nerve-wracking romantic comedy ever made. Upon first viewing, it seems like something terrible could happen at any moment.
I recall Roger Ebert writing about reports of unsophisticated audience members breaking into laughter at disturbing scenes in Punch-Drunk Love. They were conditioned, he thought, by dopier Adam Sandler characters to find scenes of destruction amusing. But this is itself a simpler read of a movie that uses the rhythms of Sandler movies to offer startling discomfort, which itself can be funny. Anderson uses these moments to break tension, then immediately tense up further. So when Sandler's character responds to a stream of hectoring insults from his many sisters by smashing in a series of glass doors, it's disturbing but not unfunny — it's like a slapstick scene from a regular Sandler comedy plugged into an amp, squalling out some feedback at the end. Comedy is driven at least in part by surprise, which often comes from inappropriate behavior, and Punch-Drunk Love walks a line between inappropriate and frightening.
The same is true for Phantom Thread's Woodcock — and, in her way, Alma, whose way of regaining the upper hand in her relationship has a devious, darkly funny logic. (She foreshadows her strong will early on: "If you want to have a staring contest with me," she notes, "you'll lose.") Day-Lewis is not thought of as a comic performer, but sometimes the best way to get a laugh is to inhabit a character fully, and that, of course, is his specialty. His commitment is part of the explosive shock-laughs he gets at the notorious ending of There Will Be Blood, explaining oil-filching in terms of straws and milkshakes. Woodcock speaks more lightly than Daniel Plainview, with a slightly effete fussiness; again, this could turn lightly sitcommy, like a fashion-world Frasier. But the way the movie examines how control and raw need intertwine is very Anderson.
Among the filmmakers he came up with in the late '90s, Anderson isn't quite as pervasively serious as Darren Aronofsky or Christopher Nolan (and even those directors have their moments of levity). But unlike, say, Alexander Payne, Wes Anderson, Spike Jonze, or David O. Russell, he's never made a movie that could be called a comedy. Phantom Thread isn't his foray into the genre, but some of the film's fans have taken to Twitter to note how surprisingly funny it is — at least one early reaction called it his funniest work, which strikes me as a stretch, like a genuine laugh self-consciously amplified into a performative guffaw. Anderson's last movie before this one was Inherent Vice, which occasionally veered into genuine slapstick, and his breakthrough Boogie Nights has plenty of big laughs.
If anything, his mixture of intensity and comedy stays remarkably consistent, in tone if not in pure number of laughs. He's ultimately both sort of funny and probably incapable of making anything resembling a comedy. Punch-Drunk Love has elements of romantic comedy and Adam Sandler formula, and it's incredibly tense. The Master is elliptical and disturbing, but dotted with a few hilarious Philip Seymour Hoffman outbursts. Boogie Nights is rollicking until it turns tragic. Inherent Vice is a sometimes-comic detective movie, but it's suffused with loss and regret. There Will Be Blood goes so "too far" that it's hard not to laugh in disbelief. And now Phantom Thread is a half-harrowing, half-tender chamber piece about the nature of love that also pokes, amusingly, at the supposed importance of the Great Artist.
It's a strange, remarkable piece of work, and a reminder that laughter doesn't have to derive from jokes. It can come from feats of audacity, too.
Continue reading for free
We hope you're enjoying The Week's refreshingly open-minded journalism.
Subscribed to The Week? Register your account with the same email as your subscription.
Sign up to our 10 Things You Need to Know Today newsletter
A free daily digest of the biggest news stories of the day - and the best features from our website
Jesse Hassenger's film and culture criticism has appeared in The Onion's A.V. Club, Brooklyn Magazine, and Men's Journal online, among others. He lives in Brooklyn, where he also writes fiction, edits textbooks, and helps run SportsAlcohol.com, a pop culture blog and podcast.