The soundtrack saves Bohemian Rhapsody from being a total disaster
Even a bad movie can't ruin Queen's greatest hits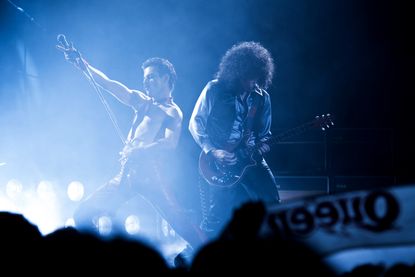 (Image credit: Alex Bailey)
It has come to my attention that there are people who do not like Queen. Aside from finding this deeply upsetting, I have to ask: Can you not appreciate a voice as playful as a pussycat but "with the velocity of a hurricane?" Do you turn your nose up at strange hybrids of rock and opera? Does your heart not beat louder when you hear stomp-stomp-CLAP, stomp-stomp-CLAP?
To be clear, Bohemian Rhapsody, out Friday, is not a film that will convert anyone not already in the church of frontman Freddie Mercury. It is a biopic that sings to the choir, with more than a dozen of Queen's greatest hits blasted at the audience over the course of its two-hour runtime. And to be honest, for all the pitfalls of the film — and there are many — this in and of itself is pretty great. Mercury could sing, and his voice is the redemption of an otherwise clumsy portrait of his life.
Criticism has been leveled at Bohemian Rhapsody since well before it was released, with early reviews skewering the film for the significant and morally problematic liberties it takes with Mercury's life. The script is an incomprehensible spill of lines seemingly intended to make the quotes page of IMDb ("We believe in each other ... that's everything."). More worryingly, Mercury's sexuality is twisted up in a contrived depiction of his downfall and a made-up split between him and the band. Yet you can almost forget about all that when Roger Taylor taps out the half-skip lead-in to Mercury's vocals in "Crazy Little Thing Called Love."
Subscribe to The Week
Escape your echo chamber. Get the facts behind the news, plus analysis from multiple perspectives.
SUBSCRIBE & SAVE
Sign up for The Week's Free Newsletters
From our morning news briefing to a weekly Good News Newsletter, get the best of The Week delivered directly to your inbox.
From our morning news briefing to a weekly Good News Newsletter, get the best of The Week delivered directly to your inbox.
That's because Bohemian Rhapsody relies on the audience's familiarity with Queen's music to pull off its emotional highs and lows. In doing so, the filmmakers decided against using cast covers of Queen songs, as many musicians' biopics do, and instead piped in Queen's actual tracks over the actors' ad-libbing, complete with Mercury's inimitable voice appearing to come out of actor Rami Malek's mouth. Some of the songs in the movie are blends and remasters — recordings of live shows are used heavily throughout the film — but each had me silently enthusing ohhhh yes, this one when opening notes I've heard thousands of times on the radio rung out over the theater's booming speakers.
Unfortunately, pre-existing songs can only do so much to tell a story and Bohemian Rhapsody is mostly spent waiting for the next musical montage. The poor script and muddled chronology of Queen's rise mean there isn't much meat between songs, even if Malek is a true sensation in embodying Mercury. The upside is, you don't often have to wait long for the music: "Fat Bottom Girls" swings us through a tour of the Midwest, and "We Will Rock You" plays out to the jolly foot-stomping of Queen's digitally recreated crowds. When the film slows down, such as when the ghostly notes of "Bohemian Rhapsody" drift over the fields of Rockfield Farm like divine inspiration, I wasn't so much moved by Mercury's genius as I was rolling my eyes and thinking, alright, alright, play the song already.
The film culminates in a moment-by-moment recreation of the Live Aid concert, which lasts over 10 minutes (just under half the length of Queen's real set) and is more or less Bohemian Rhapsody throwing its hands up and saying, "Have some more Queen!" We get the "Bohemian Rhapsody" intro, "Radio Ga Ga," and Mercury leading the crowd in his most famous "ay-oh" (a triumphant overcoming of laryngitis, although the movie would have us believe his voice is going because of complications with AIDS). The fact that the Live Aid recreation takes up so much real estate in the movie just goes to show that even the filmmakers knew they were relying on the legacy of Queen's songs to sell movie tickets. And to be fair, it is the best section of the movie.
That said, Bohemian Rhapsody could have gotten more adventurous with the soundtrack. Although I am absolutely on board with listening to "We Will Rock You," "Under Pressure," and "We Are the Champions" in a movie theater, Bohemian Rhapsody leaves no opportunities for casual fans to discover deep cuts. I was about 40 minutes into the movie when I finally realized I ought to stop waiting for my own favorite track, "White Queen," to show up. In an interview with the BBC, Malek said two of his favorite Queen songs are "Lily Of The Valley" (off Sheer Heart Attack in 1974) and "You Take My Breath Away" (A Day at the Races in 1976) — both quieter, more contemplative tracks. "Trust me, I pushed for those songs to be in the movie, because they informed so much of Freddie to me," Malek said. "But no one's singing those ones at karaoke."
That last word — karaoke — is a pretty good summation of Bohemian Rhapsody. The movie takes for granted that its audience will be fans of Queen, willing to forgive its problems if they can just sit back and sing along with the music.
The problem is, inevitably the songs end. And when they do, you might wish you'd just put on a record instead.

Continue reading for free
We hope you're enjoying The Week's refreshingly open-minded journalism.
Subscribed to The Week? Register your account with the same email as your subscription.