Why the Green New Deal is more realistic than a carbon tax
Centrists have it backwards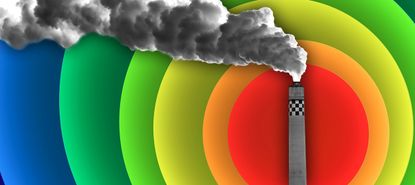 (Image credit: Illustrated | Ralf Geithe/iStock, Pixelci/iStock)
A record number of American economists now support a carbon tax. There's a twist, though: They'd like the country to pass it instead of a Green New Deal.
Unfortunately, that's bad politics and bad policy.
This new carbon tax proposal comes with a pretty overwhelming pedigree: It's signed by 27 winners of the Nobel Prize in economics, four former chairs of the Federal Reserve, 15 former heads of the White House Council of Economic Advisors, and so on. It was organized by the Climate Leadership Council, which managed to round up over 3,300 signatures from professional and academic economists — hence the "record numbers" part.
Subscribe to The Week
Escape your echo chamber. Get the facts behind the news, plus analysis from multiple perspectives.
SUBSCRIBE & SAVE
Sign up for The Week's Free Newsletters
From our morning news briefing to a weekly Good News Newsletter, get the best of The Week delivered directly to your inbox.
From our morning news briefing to a weekly Good News Newsletter, get the best of The Week delivered directly to your inbox.
Now, I should say right off the bat that this carbon tax would actually pair well with leftist Democrats' Green New Deal, which would completely overhaul the U.S. economy to fight climate change. In many respects, this carbon tax plan is quite smart. It would place a price on every ton of carbon emissions that rises every year, slowly squeezing total emissions down. It would include a border adjustment, encouraging trading partners to adopt their own carbon tax and preventing U.S. companies from escaping the tax by just bringing in goods and inputs produced in other countries.
Finally, the carbon tax would give all its revenue right back to U.S. families in the form of equal checks sent to every citizen. This is crucial. Hiking the price of fossil fuels will certainly discourage their use. But energy is also a much bigger — and relatively fixed — part of the budgets for lower-income households. By remitting the carbon tax's revenue this way, you not only zero out the harm done to families' pocketbooks, you actually make them better off on net. Equally crucial to realize: No other use of the carbon tax's revenue achieves this.
Now for the unfortunate part. That so many economists suddenly renewed their push for this idea at the exact same time enthusiasm for a Green New Deal was taking off on the Democrats' left flank might, on its own, merely be suspicious. But they also made the subtext text: They're trying to quarantine the leftists and prevent them from driving the agenda. "I think it is fair to say that America has two choices, one is the route of the Green New Deal, one is the route recommended by the entire economic establishment," Ted Halstead, the founder of the Climate Leadership Council, told the Financial Times. Janet Yellen, former Federal Reserve Chair under President Obama, added that this carbon tax plan "is much more efficient and less costly than [the Green New Deal]."
But is it?
The problem with a carbon tax on its own is that it's not remotely as realistic as its proponents claim, especially when you factor in the scale of the climate challenge. According to the latest science, the entire globe must completely eliminate its carbon emissions in the next decade or two, or global warming will cross into genuinely dangerous territory.
For a carbon tax to rise to that challenge, it would have to be brutally expensive. Remember: A carbon tax is just a "market mechanism" that sets the price for carbon but relies on private, decentralized economic activity to accomplish the Herculean task of actually greening the economy. So the only way it could even maybe work in such a short time is with a truly punishing price for carbon. Even one that began immediately at $230 per ton, rising to over $1,000 per ton by 2050, would still leave the globe with dangerous levels of warming.
That would mean significantly higher prices at the pump and in electricity and heating bills. There would also be all sorts of cost hikes for goods and services that rely on transit. Moreover, since this is a market mechanism, there wouldn't be any guarantee that green upgrades were coming. Instead, Americans would have to wait on private investors to decide whether there was a justifiable profit motive for action. Invariably, some communities would get hit much, much harder than others.
To see what this is like in practice, just look at France. French President Emmanuel Macron recently tried to impose a modest gas tax to fight carbon emissions — including welfare offsets to soften the blow to consumers — and there was rioting in the streets. A big part of the problem was that, thanks to the design of public transit, many rural working-class citizens are stuck relying on cars regardless of gas prices.
That's why the Green New Deal — which would hire hundreds of thousands of people to build all the solar and wind and batteries, construct a new power grid, connect every neighborhood, outfit peoples' homes and cars and buildings, and all the rest — is a much more realistic solution. It doesn't rely on the profit motive, but builds out infrastructure through direct industrial policy. That gives us a real chance to actually cut enough emissions in time and ensures that Americans have readily available green alternatives. And politically, few ideas are more consistently popular than hiring lots of people at good wages to do productive stuff.
Of course, a carbon tax could certainly work in concert with a Green New Deal. Indeed, the more successful the Green New Deal is, the less punishing the carbon tax would need to be to have the same effects. Taxing carbon would reduce fossil fuel consumption and hurry the transition to a cleaner economy. It would also provide popular cash handouts to cushion the blow. Meanwhile, the Green New Deal would hire people directly, upgrade the country's infrastructure, energy, and technology, and give the transition a real shot at happening on schedule.
But it's still the case that we could achieve all our domestic climate policy aims with a Green New Deal alone. Meanwhile, the proposal's popularity among voters certainly wouldn't suffer from a lack of a carbon tax. Thus, the carbon tax needs the Green New Deal much more then the Green New Deal needs the carbon tax.
The economics establishment has things backwards.

Continue reading for free
We hope you're enjoying The Week's refreshingly open-minded journalism.
Subscribed to The Week? Register your account with the same email as your subscription.