Mia Farrow is right about Myst
It really is one of the best video games ever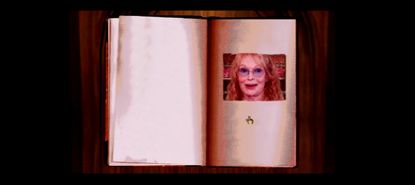 (Image credit: Illustrated | Daniel Perez/Getty Images, Screenshot/YouTube)
I have been on this Earth for less than half as long as Mia Farrow, but if I know one thing, it's that she's right about Myst.
On Tuesday night, the actress shared a strange and utterly illogical tweet about President Trump and the 1990s hit video game that instantly drew comparisons to Britney Spears' infamous climate change tweet. It jumped from one thought to the next with no obvious bridge or transition beyond a jarring "also."
It was, like the very game she praised, nonsensical and brilliant:
Subscribe to The Week
Escape your echo chamber. Get the facts behind the news, plus analysis from multiple perspectives.
SUBSCRIBE & SAVE
Sign up for The Week's Free Newsletters
From our morning news briefing to a weekly Good News Newsletter, get the best of The Week delivered directly to your inbox.
From our morning news briefing to a weekly Good News Newsletter, get the best of The Week delivered directly to your inbox.
At a certain auspicious point in the late 1990s, I begged my dad to take me to our local CompUSA and buy me Myst. Although the game, as Farrow notes, came out in 1993, less than a year after I was born, it remained the best selling CD-ROM game through the '90s. It wasn't until 2002 that it was unseated by The Sims (another eventual CompUSA purchase of mine, RIP CompUSA).
I'd learned about Myst the same way I discovered most exciting things in my life those days: Through my best friend's very cool and very wise older brother. I'd been unable to stop thinking about Myst since I'd seen him playing it during one of my playdates; my friend and I had pressed in close to his computer chair as he weaved through what seemed to be hyper-realistic, vaguely steampunk landscapes, gathering scraps of paper and toggling gears and levers. There was something deeply strange and hypnotizing about watching him play the game, with its still frames and ambient sounds. By the time we were shooed away, I knew I had to play it for myself. I was entranced.
Everything about Myst was mysterious, from the image on the box to the opening credits when I put the CD in the computer — remember when we used to have to do that? Unlike other CD-ROM games I'd played, Myst didn't open with any sort of backstory or explanation. There was no tutorial to learn the gameplay, either. Instead, I was transported to a dock on an island, with the only sound the calls of seagulls and lapping water. With a tiny Caucasian hand, I could point which direction I wanted to "look"; with an authoritative click, I could move forward (although on our slow computer, it took about 25 seconds to progress to the next image, and my impatient clicking frequently made it crash). Approaching a gear in the distance made the sound ominously change. Clicking a lever there seemingly did nothing.
Minutes of clicking around rolled into hours. I explored. I got stumped, repeatedly. And to be entirely honest, I never finished the game. Nor did I ever really figure out what was going on. I just looked the plot up on Wikipedia, and apparently it has something to do with brothers trapped in magical book prisons? It didn't really matter, though. Myst became my world, even if my primary relationship with it was just the playing.
As it factors into the annals of video game history, Myst was a massive success, and as such, many games would mimic its formula. It pushed the boundaries of what most people understood games could do, even if there were more innovative and interesting games being made at the same time. While the graphics of Myst today look hilariously blocky and awkward, at the time they seemed pristine — even, as FastCompany notes, photorealistic. The gameplay itself was unhurried, almost meditative: There was no clock, no enemies to fight, no way to be "killed," even if the creepy tone had me on edge the entire time I was wandering around the island. It was a decades-early precursor to similar "relaxing" atmospheric games, like the immensely addictive Witness.
Even though I never finished Myst, or really understood it, it's stayed with me for years. I might not think about it every month — frankly, I probably haven't thought of it in half a decade, before it showed up in my Twitter feed last night — but it's the unconscious standard I weigh other games against. Does this create its own world? Am I taken in by it? Am I filled with some sort of wonder?
Rewatching gameplay of Myst today, I still find myself transported back to that computer room in my best friend's house, pressing closer to try to solve the puzzles, to understand the mechanics of the world. There's something to be said for the fact that a more than 25-year-old game is being rereleased even now, that people still want to, however abruptly or randomly, talk about it.
It goes beyond nostalgia. It's just, simply, one of the BEST.

Continue reading for free
We hope you're enjoying The Week's refreshingly open-minded journalism.
Subscribed to The Week? Register your account with the same email as your subscription.