The bliss of baseball on the radio
Listening to baseball with my grandfather is one of my favorite family memories ever, and I'm always up for another inning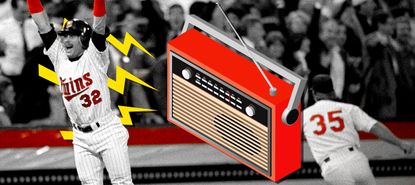 (Image credit: Illustrated | AP Photo/Mark Duncan, File, CasPRO/iStock)
I don't really enjoy watching baseball, but I love listening to it.
Back in October 1991, I was a self-involved 18-year-old, the freshest of college freshmen, making the most of my newfound freedom and, as a result, getting very little sleep. So it was with a bit of resentment that I took a weekend to travel to Oklahoma, where family on my dad's side was gathering at some rustic lakeside cabins to celebrate my grandparents' 40th anniversary.
This was back before smartphones and social media — a couple of years, in fact, before any form of internet would start to become commonplace. It was, in other words, before the incessant need to be plugged in and processing information at all hours of the day. But still I chafed: I wanted to be around my new friends. I wanted to be around girls. At the very least, I wanted to be around a television.
Subscribe to The Week
Escape your echo chamber. Get the facts behind the news, plus analysis from multiple perspectives.
SUBSCRIBE & SAVE
Sign up for The Week's Free Newsletters
From our morning news briefing to a weekly Good News Newsletter, get the best of The Week delivered directly to your inbox.
From our morning news briefing to a weekly Good News Newsletter, get the best of The Week delivered directly to your inbox.
That weekend ended up producing one my favorite family memories ever.
On that Saturday night, my grandfather built a campfire outside the cabin. He brought a portable radio outside, and together we sat and listened to Game Six of the World Series.
We were lucky: That was one of the best games of one of the best World Series ever played — the "worst to first" championship between the Minnesota Twins and Atlanta Braves, both of whom had arrived in the playoffs after finishing in last place in their respective divisions the previous year. My grandfather and I sat, not talking much — he wasn't always a talker — and listened as Game 6 went the distance, moved into extra innings, and then finally ended in the 11th, when Minnesota's Kirby Puckett hit a home run off Atlanta's Charlie Leibrandt.
The Twins went on to win the championship the next night, but that hardly matters. What I got out of that night was my favorite-ever shared moment with my grandfather, a moment both thrilling and bucolic. We went inside, our clothes smelling of smoke, and ever since I've preferred baseball on the radio.
I'm lucky: I've spent most of my life in the Midwest, listening to Denny Matthews' gravelly voice on kansas City Royals' broadcasts. But I also lived in Philadelphia during the Phillies' 2008 championship run and got to hear the legendary Harry Kalas in his final full season at the microphone.
There have been exceptions. In 2014, the Royals — after 30 years of losing — finally made the playoffs again. My father and I agreed to meet in Chicago, halfway between us, in part so we could share a Royals' postseason game together.
It was a year after my mother died, and we spent most of that trip walking for miles up the shore of Lake Michigan, not infrequently breaking down in tears. And then we went to our hotel room, sat on our beds, and watched the Royals beat the Baltimore Orioles in Game Two of the American League Championship Series.
For a moment there, after a year of pain, we got to share a little bit of joy.
Sometimes, the game disappears from my life for long stretches. Somehow, though, I always return, and most often when I return, it's to the radio. It's a break from the madness of the world, a couple of hours of Zen punctuated — if you're lucky — by a home run or a stolen base. For my money, it beats all the meditation apps in the world.
There's a moment in City Slickers, a movie about cows and midlife crises, when a character played by Daniel Stern admits that obsessing about baseball is "foolish." Then he adds: "But when I was about 18, and my dad and I couldn't communicate about anything at all, we could still talk about baseball. Now that — that was real."
That doesn't quite describe my experience with baseball. But I get it. I get it.
Happy Opening Day.

Continue reading for free
We hope you're enjoying The Week's refreshingly open-minded journalism.
Subscribed to The Week? Register your account with the same email as your subscription.