Why Game of Thrones' lovers are so hard to love
The show's last season seems to be all about romance — but where's the chemistry?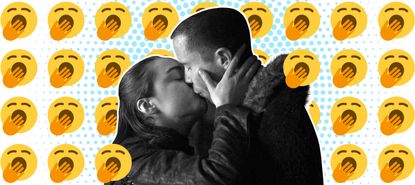 (Image credit: Illustrated | slavadubrovin/iStock, Courtesy HBO, Emojipedia)
If you were to judge Game of Thrones based solely on Sunday night's episode, "Knight of the Seven Kingdoms," you might mistake it for a romance. Arya and Gendry are, at long last, an item. Sansa and Theon shared some very suspicious eye contact in the Winterfell courtyard. Tormund made giant-suckling come-ons to Brienne of Tarth. Grey Worm and Missandei smooched.
Why, then, did it all feel so … dull?
Game of Thrones' final season has gotten off to a surprisingly slow start, by which I mean there has only been one horrifying mutilation in the show's first two hours. In last week's premiere, most of the runtime went toward putting the pieces in place for the forthcoming episode-long Battle of Winterfell. The second episode, "Knight of the Seven Kingdoms," expanded on that table-setting, giving characters room to breathe, talk, and canoodle. It also highlighted the biggest problem Game of Thrones has this season: the utter lack of chemistry in its marquee relationships.
Subscribe to The Week
Escape your echo chamber. Get the facts behind the news, plus analysis from multiple perspectives.
SUBSCRIBE & SAVE
Sign up for The Week's Free Newsletters
From our morning news briefing to a weekly Good News Newsletter, get the best of The Week delivered directly to your inbox.
From our morning news briefing to a weekly Good News Newsletter, get the best of The Week delivered directly to your inbox.
Game of Thrones hasn't always struggled with generating steamy on-screen romances, although it does tend to have more misses than hits in its past. Part of that comes down to the show's underlying cynicism about love: Many of the happiest couples met tragic ends, like Catelyn and Eddard Stark; Tyrion and Shae; or Myrcella Baratheon and her Dornish sweetheart. But a large part of the problem can surely be blamed on insufficient writing. While there are relationships that did work on screen, like Daenerys and Khal Drogo's coupling or Renly Baratheon and Loras Tyrell's romance, too often Game of Thrones coughs up something like Robb Stark and the nurse Talisa, whose love was supposed to have been so powerful that Robb dared break his oath to the Freys, but whose scenes together were largely boring and lacked personality.
There won't be second-chance relationships after season eight, which is why it's vital that audiences are invested in the ones forming now. The couples featured Sunday in the closing montage set to Pod's song were shown in such a dramatic manner presumably as to up the ante. When some of the characters likely die next week, it will be all the more tragic because it will be their lover's loss, as well. But with so many of this season's pairings still underdeveloped or subjected to bad writing, it's a struggle to muster investment in most of them.
Jon and Daenerys' relationship is by far the biggest concern: It is so lacking in chemistry that it has been called out by critics over and over. Actors Kit Harington and Emilia Clarke's on-screen shortcomings seem unique to the direction of Game of Thrones, too; the actors managed to shoot a perfectly swoon-worthy photo together for Rolling Stone last year. But on camera, they're subjected to the hokiest scenes: Their Disney-esque dragon ride in the first episode was laughably cheesy and not helped at all by their corny dialogue (Jon: "It's cold up here for a southern girl." Daenerys: "So keep your queen warm."). During "Knight of the Seven Kingdoms" on Sunday, they continued to be wooden in all their shared screentime, despite supposedly being in love.
The biggest relationship development, though, belonged to Arya. While I've long been shipping her with Hot Pie, she ended up, predictably, with forge hunk Gendry, who makes up for what he lacks in personality with great abs. This love scene should have been huge for the advancement of Arya's character — she makes herself vulnerable to Gendry by asking if he will take her virginity — but it felt unearned, with their attraction never having been satisfactorily established. Arya goes from bossing Gendry around to discovering he's Robert Baratheon's bastard to demanding he take off his pants so fast that my head was spinning. Further, I'm worried that the whole point of this scene was to ensure Arya might die "a woman" rather than "a girl" in the Battle of Winterfell.
Other relationships are likewise underdeveloped. While Gilly and Samwell are two of my favorite characters, they still feel more like friends than lovers. Missandei and Grey Worm finally hooked up last season, but their stilted personalities and awkwardness with each other make it hard to emotionally connect to their love story. The wildling Tormund's flirtation with an unreceptive Brienne, meanwhile, seems mostly like fan-service and comic relief. And while there is definitely potential for Theon and Sansa, particularly given the fact that they have a more complicated history, they will have to do something more than just stare longingly over a torch.
One couple does deserve major applause, though. Brienne of Tarth and Jaime Lannister have, for seasons now, been the most riveting and complicated relationship on the show, from their early origins as opponents, to their amazing scene together at the baths of Harrenhal, to their tender reunion at Winterfell that culminated last night in Brienne's knighting and her beaming smile — one of my favorite moments on the show yet. Their relationship is different than those of other characters because it has multiple layers. The writing has invited us to understand their attraction, and they've been given generous time together on screen. If Jaime does indeed die in Brienne's arms in the next episode, as some people are guessing he might, it will be a perfect example of how a carefully constructed relationship can legitimately enhance a plot.
Game of Thrones may have a reputation for massive fight scenes and CGI dragons, but it is fundamentally a drama about character dynamics. When the showrunners resort to throwing certain characters together, though, as on Sunday night, it feels like a cheap bid to earn the audience's emotional investment.

Continue reading for free
We hope you're enjoying The Week's refreshingly open-minded journalism.
Subscribed to The Week? Register your account with the same email as your subscription.