Just how did insulin get so expensive?
Americans are making cross-border drug runs to treat their diabetes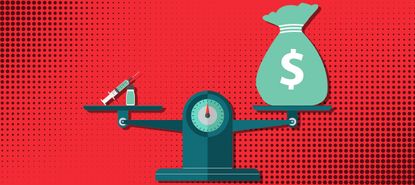 (Image credit: Illustrated | PORNCHAI SODA/iStock)
Lija Greenseid, "a rule-abiding Minnesota mom," as the Washington Post described her, is not the sort of person you'd expect to jump the border to buy drugs. But her daughter has Type 1 diabetes, and the cost of the insulin she needs has skyrocketed, roughly doubling in price just between 2012 and 2016, from $2,964 to $5,705. So Greenseid's organized a "caravan" of people to regularly drive into Canada — despite the possible illegality of the move — where they can buy the insulin they all need for a small fraction of the U.S. price.
How on earth did insulin become so expensive that Americans are forced to effectively do cross-border drug runs?
There are several causes behind that story. And it's not just insulin: the story of how that particular drug's price tag took off is something of a microcosm for America's broken drug market as a whole. Americans pay vastly more for their drugs than in any other developed western country. Our prescription drug costs have grown by three times over the last decade, and are projected to double again over the next decade. One quarter of Americans can't fill a prescription because of costs, according to surveys.
Subscribe to The Week
Escape your echo chamber. Get the facts behind the news, plus analysis from multiple perspectives.
SUBSCRIBE & SAVE
Sign up for The Week's Free Newsletters
From our morning news briefing to a weekly Good News Newsletter, get the best of The Week delivered directly to your inbox.
From our morning news briefing to a weekly Good News Newsletter, get the best of The Week delivered directly to your inbox.
But let's start with insulin.
Insulin is a hormone the body needs to properly break down foods. People with diabetes — almost 10 percent of Americans — can't produce insulin properly, so they need to inject it every so often. About 90 to 95 percent of people with diabetes have the less severe Type 2, but even one third of them need to inject insulin on a daily basis. For the remaining people with Type 1, they have to inject it daily to survive.
A process for manufacturing insulin from a cow pancreas was discovered in the early 1920s. Over time, researchers found ways to keep purifying and strengthening the drug, so it worked more effectively for more people. In the 1970s, they found a way to mass produce insulin via bacteria, through recombinant DNA technology.
As the newer forms of insulin came along, the older and cheaper forms manufactured from animals stopped being produced — even though, according to plenty of studies, they actually worked just fine for many patients. Over 90 percent of Americans with Type 2 diabetes are prescribed the newest and most expensive versions. The three large makers of insulin — Eli Lilly, Novo Nordisk, and Sanofi — have made modest tweaks to the drug over time. Those tweaks may or may not come with benefits for the drug users, but they do allow the companies to keep extending the patents, and thus preventing competition. It's a strategy called "evergreening," and it's common across the U.S. drug market. Even in some cases where the insulin patent has expired, patents on secondary ingredients, or on devices like the pens necessary to inject the insulin, still stand in the way.
Another hurdle is government regulation. Obviously, having the Food and Drug Administration (FDA) do tests and trials before a drug is approved is a good thing. But there's ultimately no "right" answer to how much testing should be done. The process costs companies a ton, making it a barrier to entry. For drugs like insulin, that are engineered biologically rather than through straight chemical engineering, the FDA process is extra demanding.
A final problem is government policy. Most other western countries like Canada either strictly regulate drug prices across the board, or health insurance is provided by some sort of single-payer system, giving the government enormous leverage to force drug prices down. The United States has none of this: We have a hodgepodge of different buyers, from government programs like Medicare and Medicaid to private insurers. Medicare is explicitly forbidden from trying to negotiate drug prices down. And we don't really regulate drug prices much.
In short, our patent system — and the way the drug manufacturers game it — keeps a lot of competitors out. The FDA process, for good or ill, throws up an extra hurdle. That gives the manufacturers of insulin and lots of other drugs a lot of room to just keep jacking prices into the stratosphere. Meanwhile, America's adherence to a strictly "market friendly" policy philosophy means the government has no leverage to push prices down on the back end. As a result, the price of insulin (like many other drugs) has been inching upward for decades, and really took off in the last few years.
That's the problem in a nutshell. How do we fix it? There are actually a lot of options on the table.
We could empower Medicare to start bargaining over drug prices, which some lawmakers are already talking about doing. And we could even pass a Medicare-for-All system, which would give the government even more leverage. Yet another possibility is a process some other countries use called all-payer rate setting: It's not a single-payer system, but the government basically sits all the drug manufacturers down in a room at regular intervals and forces them to agree on prices that society will find affordable.
We could also reform the U.S. patent system. Right now, patents on drugs can last 20 years. That can be shortened, and the requirements for what sorts of changes to a drug justify a new patent can be strengthened. There's also the possibility of streamlining the FDA approval process. (Though that seems like a solution we should approach extra cautiously.)
We could dramatically scale up the amount of drug research the government does, and the results of that research could then be made available to everyone free of charge. We could also institute a prize system for private researchers that would have the same effect. And we could take a hint from most other developed countries and forbid direct drug marketing to consumers. We currently don't do that, and as a result our drug manufacturers spend tons of money that could go to research flooding the U.S. with advertising.
Defenders of the current system worry that America's high prices actually subsidize drugs for the rest of the world, and a U.S. crackdown on drug revenues would squash drug innovation wholesale. But if we removed a lot of the baseline research costs, not to mention the marketing costs, that would free up a lot money in the manufacturers' business models even as price reductions take money away.
The good news is, the fact that this problem has a lot of causes also means there are a lot of potential solutions.

Continue reading for free
We hope you're enjoying The Week's refreshingly open-minded journalism.
Subscribed to The Week? Register your account with the same email as your subscription.