Sorry. Every movie you've ever loved is going to be remade.
The Princess Bride isn't the first and it definitely won't be the last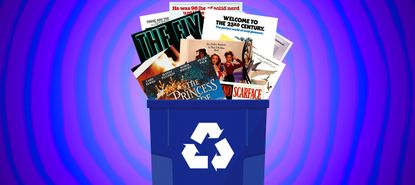 It was the 2019 Pet Sematary that finally broke me. Was this really necessary? I seethed in a theater earlier this year, at a loss for why anyone would green light a self-serious update to a 30-year-old so-bad-it's-good movie. "Update," even, was generous; apart from a more realistic cat, a different dead kid, and the switch from celluloid to a digital camera, there was really nothing "new" about the new Pet Sematary. Why, I rhetorically implored the cinema gods, does this even exist?
There's an easy answer: Everything you love, or ever will love, is going to be rebooted or remade. On Tuesday, Variety reported that the Sony Pictures CEO had been pitched on updating The Princess Bride, sending social media into a tizzy: Cary Elwes (who played the movie's hero, Westley) tweeted "it would be a pity" to "damage" one of the "perfect movies in this world," with even Texas Sen. Ted Cruz popping out of the woodwork to agree.
Here's the truth: The Hollywood remake machine has no sympathy for your precious childhood. It's going to chew up everything that can even remotely be deemed "nostalgic" and regurgitate it back up, likely as a big-budget, mediocre, soulless lump. Human culture has always been littered with recycled parts; the difference is, now it's not even bothering to dress them up.
Subscribe to The Week
Escape your echo chamber. Get the facts behind the news, plus analysis from multiple perspectives.
SUBSCRIBE & SAVE
Sign up for The Week's Free Newsletters
From our morning news briefing to a weekly Good News Newsletter, get the best of The Week delivered directly to your inbox.
From our morning news briefing to a weekly Good News Newsletter, get the best of The Week delivered directly to your inbox.
To be clear, the remake itself isn't inherently offensive; it has been a major cog in the motion picture industry since it practically began, back when 1903's The Great Train Robbery was followed up by a remake, also called The Great Train Robbery, in 1904. Today, classic films like William Wyler's 1959 remake of Ben-Hur (which has since been remade again), John Carpenter's 1982 The Thing, and Brian De Palma's 1983 Scarface get credited as being better than the originals; it seems as if every generation has their own version of A Star Is Born and Little Women. But at some point along the way, things started to get out of hand: Last November, Den of Geek put together an astonishing list of 121 movie remakes and reboots currently in the works, stretching from Ace Ventura to Zorro Reborn (and it's already out of date). The situation in television is even more dismal: From the rebooted Twilight Zone to the bizarre-sounding remake of Saved by the Bell, one almost wonders if there is any space left for wholly original concepts.
There are a few different kinds of remakes, though, all of which feel justified to varying degrees. Franchise films actually have the best excuse for existing; there is a certain continuity expected of a story like Batman or James Bond that is served by it always drifting around in the cultural ether. Despite their many modern detractors, franchise films have also long held their own in cinematic history; Godzilla, which has been around since 1954, had a new movie out this year. Still, there is plenty of reason to believe we've reached a point of total saturation; since 2000, the Fantastic Four and X-Men series have been revived twice; Batman has been jump-started three times; and there have somehow been three different Spider-Men in a 10-year time span. Plus, it can just get confusing: Shaft (2019) is the sequel to Shaft (2000), which is essentially a remake of Shaft (1971), which served as the source material for Shaft (the TV series). And don't get me started on Child's Play and Halloween.
Foreign film remakes are also common, when scripts from overseas are tweaked for a new language and culture. Think Italian director Sergio Leone's A Fistful of Dollars (1964), which was a rough remake of Japanese director Akira Kurosawa's Yojimbo (1961). Hollywood in particular loves to steal scripts from abroad: Gore Verbinski's The Ring (2002) was based on Hideo Nakata's 1998 Ringu, as one example. But oftentimes these updates can feel lazy and exploitative, like a handicap for people who are too lazy to read subtitles, such as when the announcement of an English-language adaptation of the German film Toni Erdmann (2016) came while the movie was still playing in U.S. theaters. Likewise, Will Ferrell and Julia Louis-Dreyfus are set to star in a remake of the 2014 Swedish film Force Majeure, which is so good it should really just be watched on its own. Sometimes these "remakes" even crash and burn, like when the U.S. adapted the British TV show Skins and the reality show Love Island, experiments that flopped due to the differences in our cultures (The Office and Black Mirror, meanwhile, make perfect counterexamples).
Gender-bending films are another increasingly popular way to reboot a series, from the all-female Ocean's 8 to 2016's Ghostbusters to the Tessa Thompson-fronted Men in Black: International. Again, there is a history of success here, His Girl Friday (1940) being the best known, although I'd also point to the brilliant Jodie Whittaker as the new female Doctor Who. Too often, though, as I have written before, the gender-swapping feels like apologetic pandering. An all-female Lord of the Flies adaptation, for example, was recently scrapped after being criticized "for putting a male writing-directing team at the helm of what was being billed as a female-fronted project," The Hollywood Reporter writes; Call Me By Your Name's Luca Guadagnino is now set to direct, with the script having safely reverted back to featuring William Golding's all-male students.
Perhaps the most offensive cases of all are the straight remakes and reboots of classic films and TV shows. I'm talking about the Princess Brides and Cluelesses and West Side Stories and X-Files and Saved by the Bells. The blatant money-grabs, where there is little room to add something new or valuable to the script, and which often end up as nothing more than bland copies of the original. On rare occasion there can be the potential for something interesting to unfold — a The Birds remake that sticks to Daphne du Maurier's bonkers short story, or the possibility that Disney's live-action Mulan paves new ground for Asian-American actors in Hollywood, or the case where the reboot of Twin Peaks was one of 2017's greatest and most daring shows. But these are the laudable exceptions; too often, our culture has relied on remakes for reasons that are greedy and uninspired.
Which brings us back to the outcry over The Princess Bride. Is nothing sacred? the film's longtime fans seem to be groaning. The mistake, though, isn't in thinking that The Princess Bride is; it's in thinking that anything ever was.

Continue reading for free
We hope you're enjoying The Week's refreshingly open-minded journalism.
Subscribed to The Week? Register your account with the same email as your subscription.