What Clarence Thomas doesn't believe
Corey Robin's new book offers a provocative thesis, but it's not very convincing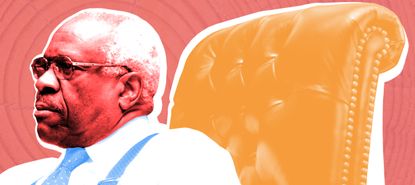 (Image credit: Illustrated | REUTERS/Jonathan Ernst, alzay/iStock)
For decades now it has been widely assumed by many liberal observers that Clarence Thomas was a man of mediocre intellect, a lapdog to the late Antonin Scalia with no original judicial philosophy who would, despite his historically long tenure on the Supreme Court, leave no lasting legacy. It is rumored that Thomas himself enjoys reading their speculations.
The best thing that can be said about Corey Robin's new book is that it should finally put an end to these inexcusably ugly slurs — which, as the author reminds us, are exactly the sort of thing right-wingers used to say about Thurgood Marshall and William Brennan. Thomas is, as court watchers not named Linda Greenhouse or Jeffrey Toobin have long recognized, a fascinating figure in his own right.
The Enigma of Clarence Thomas is a study that combines biography with an exhaustive reading of Thomas's public statements — including, somewhat iffily, the text of his written legal opinions, which too often do double duty here as both evidence and conclusion — to offer a new way of making sense of the justice's legacy. Thomas, Robin argues, is best understood as a black nationalist in the tradition of Malcolm X, whose speeches Thomas still quoted from memory while serving in the Reagan administration during the 1980s.
Subscribe to The Week
Escape your echo chamber. Get the facts behind the news, plus analysis from multiple perspectives.
SUBSCRIBE & SAVE
Sign up for The Week's Free Newsletters
From our morning news briefing to a weekly Good News Newsletter, get the best of The Week delivered directly to your inbox.
From our morning news briefing to a weekly Good News Newsletter, get the best of The Week delivered directly to your inbox.
On its face, this is fascinating and original. Thomas was, it is true, a Malcom-quoting student activist while enrolled at Holy Cross College half a century ago and someone who remains deeply pessimistic about the state of American race relations. Like Marcus Garvey and many other prominent black thinkers of the 20th century, he is skeptical of white liberals who claim to have the best interests of black Americans at heart. He has dismissed affirmative action as condescending and even argued, with reference to his own experience, that "the problem with segregation was not that we didn't have white people in our class. The problem was that we didn't have equal facilities. We didn't have heating, we didn't have books, and we had rickety chairs." Liberals and conservatives alike, he says, have assumed for too long that "anything that is predominantly black must be inferior" and that when blacks are offered places in predominantly white institutions they should be grateful. (Among the latter he would include the Supreme Court itself, which he has jokingly referred to as the answer he wishes he could give now to the FBI officer who once asked him in a background interview whether he had ever belonged to a white-only club.)
Out of these biographical details, stray comments in interviews, and a handful of dissents and concurrences in cases involving race, Robin has fashioned a grand theory of Thomas's jurisprudence. For Robin the key to understanding Thomas is his Manichean vision of (literally) black and white conflict between two distinct constitutional orders locked in a totalizing struggle that should continue as long as America itself exists:
In other words, Thomas is said to reject both the originalist argument for a Constitution whose underlying principles transcend the grim historical reality of 1789 and the liberal "living constitution" in favor of a bizarre hypothesis according to which white supremacy is rightly enshrined in law for blacks' own benefit alongside a handful of minimalist protections in the Bill of Rights — that of bearing arms chiefly among them — and the post-Civil War amendments, which provide them with a spare but powerful toolkit for the defense of their lives and property.
This is all fascinating, except insofar as it purports to be a serious explication of Thomas's actual views about the Constitution. I do not know whether Robin really believes this about Thomas; I feel comfortable saying with certainty that Thomas does not believe it about himself. When Thomas writes "If society cannot end racial discrimination, at least it can arm minorities with the education to defend themselves from some of discrimination's effects," his meaning is plain enough: In the absence of the post-racist utopia long promised by liberals it is still better to have some rights than none. You do not need two Constitutions to believe that. It would be curious to know why in the course of writing this book Robin did not interview Thomas himself, who might be expected to have some opinions about the implications of his own legal thought. Somehow one imagines that they would be at once humbler and more interesting than Robin's gnostic hypotheses, powerful as they are.
For my part it seems fairly unremarkable that our only living African-American Supreme Court justice might occasionally draw readers' attention to the history of racism. (One especially amusing example is his oblique reference in a later gun control opinion to John Paul Stevens's famous dissent in Citizens United, which spoke glowingly of a 1907 piece of legislation authored by the notorious racist Sen. Benjamin Tillman of South Carolina: "Tillman's contributions to campaign finance law have been discussed in our recent cases on that subject," Thomas wrote. "His contributions to the culture of terrorism that grew in the wake of Cruikshank had an even more dramatic and tragic effect.")
The idea that Thomas's belief in the persistence of racism should strike us as revelatory or even mildly surprising tells us more about Robin and his intended audience — and, no doubt, about certain right-wing pathologies — than it does about Thomas. Surely it would be more extraordinary if he actually agreed with his fellow justices, liberal and conservative alike, that, in the words of his colleague Brett Kavanaugh, a single 1986 case "ended the widespread practice" of racial discrimination in the selection of jurors. Thomas knows better, not because he once typed up a manifesto for his Black Student Union, or even necessarily because he is black, but simply because he is honest.
There are other problems here as well. At one point Robin — on the basis of no evidence I can discover — attributes Thomas's views on abortion to "misogyny." This seems odd to me, not least because he cannot be unaware of the frequency with which critics (often but not always on the right) have used similar accusations of sexism as a pretext for racist character assassinations of black men, in sports and entertainment as well as in politics.
It is interesting that Robin says almost nothing about the influence of the Catholic Church, to which Thomas, like four of his fellow justices, belongs and in which he had virtually his only childhood contact with whites, or about his enthusiasm for RVing or his beloved Nebraska Cornhuskers or, indeed, anything else that might round out the portrait of this complicated and interesting character. It is curious, too, that he has not done more to situate Thomas within the context of other figures from the so-called "right wing" of the Black Panther movement who have since gone on to espouse seemingly more conventional reactionary views — Jim Brown, for example, who is mentioned in these pages only once, when a white friend of Thomas's refers to the Browns legend as "that n—."
This is not to suggest that Robin has written a bad book. It is deeply (though not widely) researched, full of generous quotations, and ingeniously argued. And at the most fundamental level his thesis — that Thomas, in common with many progressives outside the mainstream of liberal jurisprudence, dismisses meliorist assumptions about racial progress as unfounded — is correct. But he is also too clever by half. His fundamental mistake is to assume that there must be any identifiable grand synthesis underlying the hundreds of opinions delivered by a justice over the course of three decades on the bench. Human beings, even those who find themselves serving on the Supreme Court, tend to be messier than that.
For all this, though, Robin's book does make good on the promise of its title by making Thomas less enigmatic. I for one came away from it with a vivid impression of him, not as an esoteric black nationalist but as something that many readers will find even more extraordinary: an American conservative whose sincerely held views cannot be attributed to racism.
Want more essential commentary and analysis like this delivered straight to your inbox? Sign up for The Week's "Today's best articles" newsletter here.

Continue reading for free
We hope you're enjoying The Week's refreshingly open-minded journalism.
Subscribed to The Week? Register your account with the same email as your subscription.