The legacy of BoJack Horseman
In rejecting self-help platitudes, BoJack offered viewers a mature vision of growth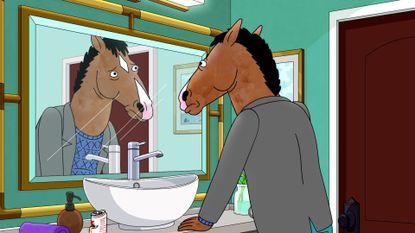 (Image credit: Netflix)
Since BoJack Horseman's debut in 2014, the series has garnered tremendous critical accolades, a thriving fan base, and a reputation for being, well, excruciatingly sad. In the world of BoJack, each colorful character, whether human or animal, is constantly wrestling with their inner demons, as well as the self-absorbed and vapid culture of Hollywood. Unlike the imaginary '90s sitcom Horsin' Around that first made BoJack famous, the series insists that growth isn't something that can happen in a single 30-minute episode. Real change takes time.
This message permeates many of the most moving and memorable moments of the entire series of BoJack Horseman, the final episodes of which debut Friday. In one of my favorite scenes, we watch as BoJack struggles at the end of season two to continue with his running routine, cursing and complaining the whole way, until eventually he collapses to the ground out of sheer exhaustion. When he comes to, he sees a fellow runner, a baboon that viewers have seen outpacing BoJack every day, standing over him, "It gets easier," he tells BoJack, "Every day, it gets a little easier. But you gotta do it every day. That's the hard part. But it does get easier."
The central heart of BoJack Horseman is about this reality — that there are no shortcuts to getting better, whether it's getting physically fit or learning to be a better person. It's normal to experience setbacks, and sometimes those setbacks might feel like we're back at square one all over again. True growth comes from our willingness to keep going, even when we think we might have no choice but to give up. It also involves taking responsibility for our actions when we fail and the knowledge that not everything is going to be fixed just because we say we're sorry.
Subscribe to The Week
Escape your echo chamber. Get the facts behind the news, plus analysis from multiple perspectives.
SUBSCRIBE & SAVE
Sign up for The Week's Free Newsletters
From our morning news briefing to a weekly Good News Newsletter, get the best of The Week delivered directly to your inbox.
From our morning news briefing to a weekly Good News Newsletter, get the best of The Week delivered directly to your inbox.
These are unglamorous truths, but heroic ones as well. Over the course of six seasons, each character, from BoJack to Diane to Princess Carolyn to Mr. Peanutbutter, has become more real precisely because they continue to do the hard work of confronting their own choices. For some audience members, BoJack Horseman's willingness to probe despair and disappointment has been emotionally exhausting. Many viewers discuss the need to pace out the "sad horse show" because they know that watching the series is going to make them cry.
Still, the show's central premise that change is hard offers something uniquely fulfilling, one that our TV obsession with the rapid-fire makeover that we see on shows like Queer Eye and Tidying Up simply can't — a commitment to seeing something beautiful and inspiring in the journey itself, rather than the final outcome. In BoJack, sadness itself isn't pathologized; it's presented as simply part of the human condition. The characters who have grown the most over six seasons are the ones who learn to acknowledge their pain, rather than hide from it. This is especially clear in Diane's arc, where her second chance at love and joy is coupled with going back on antidepressants, and in Princess Carolyn's story, where she learns that being a mother, something she has wanted all her life, doesn't automatically make her complete.
One of the most difficult aspects of the final season will be in allowing viewers to continue to feel empathy for BoJack while also holding him accountable for the pain he has caused, most often to the women in his life. At his best, BoJack is merely self-absorbed. At his worst, he has taken advantage of people at their most vulnerable and, in the last season, even physically assaulted a co-star. Does BoJack deserve forgiveness for all the horrible things he has done? In many ways, the series already answered this question way back in season 1, when Diane told BoJack that goodness isn't some kind of mystical, metaphysical aspect of your character, but simply the sum of your choices, "I don't think I believe in deep down," she tells BoJack, "I kind of think all you are is just the things that you do."
The idea that the past isn't something you can just discard on your quest to improve is antithetical to our "Thank U, Next" culture, where the path to self-actualization is littered with old objects, old friends, and old aspects of yourself that no longer "spark joy." Instead, BoJack offers a vision of personal growth that can't be purchased or reduced into a hashtag. It presents a grown-up vision of self-care, one that is equal parts compassion and tough love. In the end, whether we should punish or forgive BoJack isn't something that we need fully answered in order for the series finale to be satisfying.
Instead, BoJack's legacy will be its earnest insistence that the ways we choose to treat people matter precisely because they can't ever be changed.
Want more essential commentary and analysis like this delivered straight to your inbox? Sign up for The Week's "Today's best articles" newsletter here.

Continue reading for free
We hope you're enjoying The Week's refreshingly open-minded journalism.
Subscribed to The Week? Register your account with the same email as your subscription.