Awkwafina Is Nora from Queens sets the millennial slacker record straight
The show follows in the footsteps of Girls and Broad City, but with a distinctly political slant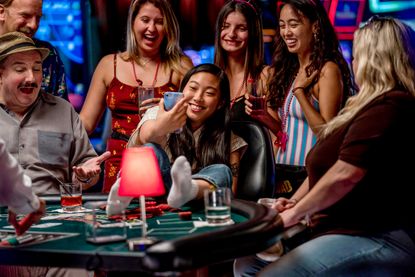 (Image credit: Zach Dilgard/Comedy Central)
In the second episode of Awkwafina Is Nora from Queens, Nora runs into an old high school friend, Melanie, on the Atlantic City boardwalk. Melanie went to Emerson on a full-ride scholarship, and Nora recalls hearing she was working in video production — at BuzzFeed, Melanie confirms, but she was laid off. Melanie then proceeds to recite allll the jobs she's held in the interim, before she took up braiding tourists' hair on the boardwalk. To comfort her, Nora marvels, "You've lost more jobs than I've ever had!"
It's a laugh line, but it's also a gut punch. For millennials, anyway, Nora's perceived dichotomy is familiar; for many of today's 20- and 30-somethings, adulthood has meant unemployment or a laundry list of dead-end gigs. Nora and Melanie's exchange might also serve as the perfect introduction to Awkwafina Is Nora from Queens, which premieres Wednesday night on Comedy Central and follows in the footsteps of other recent New York slacker millennial sitcoms like Girls and Broad City. But where Nora from Queens differs is in its uniquely sharp political slant. Although Awkwafina still finds plenty to make fun of about her oft-mocked generation, she also clearly sets the record straight about what is to blame for their stagnation.
Even with its subversive packaging, though, Awkwafina's new show is as funny — if not funnier — than its predecessors. While the 31-year-old rapper-turned-actress made it big in 2018 with roles in Ocean's 8 and Crazy Rich Asians, and this year won a deserving Golden Globe for her part in The Farewell, the semi-autobiographical Nora from Queens looks back to a less-glamorous time, when Awkwafina (whose real name is Nora Lum) was unemployed and living with her father (played on screen by BD Wong) and grandmother (the always-memorable Lori Tan Chinn) in Queens. The majority of Nora from Queens' 20-minute episodes revolve around scenarios in which Nora attempts, often rather pathetically, to grow up. She can't cash a check (the bank closed her account assuming she'd died) or hold a job (she was kicked out of dental hygiene school), she doesn't know her Social Security number, and she considers the height of sophistication to be the Brazilian steakhouse chain Fogo de Chão.
Subscribe to The Week
Escape your echo chamber. Get the facts behind the news, plus analysis from multiple perspectives.
SUBSCRIBE & SAVE
Sign up for The Week's Free Newsletters
From our morning news briefing to a weekly Good News Newsletter, get the best of The Week delivered directly to your inbox.
From our morning news briefing to a weekly Good News Newsletter, get the best of The Week delivered directly to your inbox.
In 2020, this is not an unfamiliar premise. When Lena Dunham's Girls premiered on HBO back in 2011, its lead, Hannah Horvath (Dunham), announced herself as "the voice of a generation — or at least a voice of a generation," with the show aiming to encapsulate what young adulthood looked like for those who had "bought into a social contract that said: Everything will work out, if first you go to college," to quote Derek Thompson at The Atlantic. Girls notably broke from a long history of shows about young, ambitious New Yorkers, both with its marginally more believable living situations (Hannah and her friends occupy shabby Brooklyn studios as compared to, say, Friends' unfathomably massive Greenwich Village apartments) and with its insufferable, entitled, spoiled, stereotypically millennial characters. Girls also helped usher in an enduring trope of the "female slacker." As The Guardian wrote at the time, "[t]he version of 20-something womanhood being reflected back at us in 2012 isn't dressed in Louboutins, busy ball-breaking in boardrooms: she's eating cereal, in her pants, in her parents' basement."
While Nora from Queens benefits from Dunham having turned overeducated and underemployed young women into comedic protagonists nearly a decade ago, the show might better be compared to Broad City, which also aired on Comedy Central. Where Girls was criticized for centering a particularly narrow, wealthy, and white perspective, Broad City was quicker to link millennial women's angst and rage to the fact that the generation is in "worse financial shape than every preceding living generation, and may never recover." But even the financially-conscious Broad City failed to fully take into account how suffocating such an economy really is; as Vanity Fair wrote in one review, protagonists Abbi and Ilana "might be broke — again — but they're having too much fun to notice." Nora, by contrast, barely gets even the luxury of fun. In an almost perfect retort to the Broad City episode in which Abbi and Ilana cockily roll up to the bank to deposit a $8,000 check, Nora at one point prances through the city celebrating her own humble $379.
It is not just coincidence, either, that Girls, Broad City, and Nora from Queens all feature heavily autobiographical elements, with the protagonists more or less playing versions of themselves. Financial anxiety and a lack of viable career paths are a defining characteristic for a whole generation, particularly for those in creative industries. But it's also not surprising that on occasion these creator-actors stumble, perhaps forgetting exactly how oppressive being broke really was; they are, after all, the ones who "made it." Only Awkwafina seems to pull off the balance between slacker humor and a more realistic portrait of millennial economic insecurity, with Nora living sans income, with her family, in Elmhurst (even Broad City's Abbi somehow affords her own two-bedroom, in the chicer Queens neighborhood of Astoria). And of course Awkwafina's story is alone among the major slacker millennial sitcoms for centering a character who isn't white.
Nora is leagues from perfect, but at least Nora from Queens gives her the benefit of the doubt by calling out the system that is rigged against her. In one particularly clever bit of editing, a bank teller explains to Nora why she needs to have a bank account, with the reasons — "to build up your credit, apply for a loan, buy a house and get a mortgage, not to mention set up a basic investment portfolio and formulate a retirement plan" — physically crowding the screen in a visual representation of how overwhelming and out-of-reach these steps feel to millennials, who might not even have a savings account to their name. At times, though, like her processors on Girls and Broad City, Nora's optimistic upbringing can get in her own way. "Nancy's favorite part of the job was leaving. I want a job where my favorite part is coming," she tells her father as a naïve explanation for why she'd rather be unemployed than become an assistant.
Sometimes, though, all it takes is a single line to punch right through the show's otherwise blazingly great humor. As Nora earnestly confesses at one point, "there's all these things I don't know about and I don't want to get left behind." It could easily sum up the dramatic thrust of Awkwafina Is Nora from Queens; it might just as easily sum up a generation, as well.
Want more essential commentary and analysis like this delivered straight to your inbox? Sign up for The Week's "Today's best articles" newsletter here.

Continue reading for free
We hope you're enjoying The Week's refreshingly open-minded journalism.
Subscribed to The Week? Register your account with the same email as your subscription.