Julia Louis-Dreyfus, movie star
The sitcom queen brings her mastery to the big screen in Downhill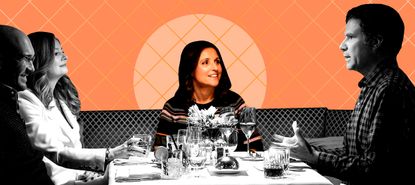 (Image credit: Illustrated | Jaap Buitendijk/Twentieth Century Fox, Roman Bykhalets/iStock)
Julia Louis-Dreyfus is one of the most talented and successful comic actors in America, having managed (among other accomplishments) the near-impossible feat of starring in three different hit sitcoms in three different decades: Seinfeld in the 1990s, The New Adventures of Old Christine in the 2000s, and Veep in the 2010s (she won Emmys for all three). Though of course starring in a trio of long-running series has kept her busy for 20-plus TV seasons, it's still a little surprising to realize just how few movies she's appeared in — and how even fewer have given her a starring role. Without counting voiceover work or the occasional mom and/or love interest part, Louis-Dreyfus has starred in exactly two films: 2013's grown-up rom-com Enough Said, and this weekend's Downhill, a remake of the 2014 Swedish/Norwegian film Force Majeure.
Downhill pairs her with her fellow Saturday Night Live alum Will Ferrell, who has made a more traditional (though by no means typical) jump from TV comedy to big-screen success. Here they play a married couple who take their two sons on a lavish Austrian ski trip, to bond as a family and supposedly heal from a recent death in the family. Pete (Ferrell) is obviously missing more than his departed father; he gazes wistfully at the blithely hashtagged Instagram posts of a younger colleague Zach (Zach Woods), while Billie (Louis-Dreyfus) encourages him to put down his phone and stay in the moment. Tensions between Pete and Billie heat up when the family briefly faces down what looks like a deadly avalanche. Pete flees (with his phone, Billie notes), neglecting to make sure his family is safely by his side. The avalanche is a false alarm; the warning bells it sets off in Billie's head are not.
In different context, this could be a Seinfeld story. (In fact, it more or less was, albeit one involving Jason Alexander's George, rather than Louis-Dreyfus' Elaine: In "The Fire," George discovers a fire at a children's birthday party, and shoves through the crowd to get himself to safety.) Downhill has already gotten some attention for refashioning a dry, dark foreign-language film as an American comedy, staffed up with sitcom pros: beyond Louis-Dreyfus and Woods (The Office), directors/cowriters Jim Rash and Nat Faxon both moonlight as in-demand TV actors. The movie's central dynamic — a distracted and vaguely buffoonish husband, a dissatisfied wife, and some ski-based slapstick — could fit comfortably into any number of multi-camera or single-camera TV comedies.
Subscribe to The Week
Escape your echo chamber. Get the facts behind the news, plus analysis from multiple perspectives.
SUBSCRIBE & SAVE
Sign up for The Week's Free Newsletters
From our morning news briefing to a weekly Good News Newsletter, get the best of The Week delivered directly to your inbox.
From our morning news briefing to a weekly Good News Newsletter, get the best of The Week delivered directly to your inbox.
As it turns out, Downhill's greatest strength is the most sitcom-experienced member of the cast: Julia Louis-Dreyfus, characteristically terrific as Billie. She performs a pocket symphony of quiet irritation, especially when she's stuck in social situations that (at least initially) preclude her from addressing Pete's accidental betrayal — which he downplays to the point of refusing to acknowledge it. Repeatedly, Louis-Dreyfus has to nail reaction shots that aren't full reactions — essentially, she has to act from beneath a mask of social niceties that she can barely keep affixed to her face. The mask finally slips in a bravura scene where polite small talk with Zach and Rosie (Zoe Chao) descends into a full-on fight between Pete and Billie, after she can't stand to listen to him mischaracterize the event any longer. Even then, she airs her grievances with a kind of composure. (Being a lawyer, she essentially calls her children as witnesses.)
Louis-Dreyfus's work in Downhill isn't so far removed from what she does in Nicole Holofcener's Enough Said, which also imbued a sitcom-ready misunderstanding (a woman realizes she's dating her new friend's ex-husband, unbeknownst to either of them) with real depth of feeling. Downhill isn't as successful on the whole, but in a different way than Force Majeure fans might have anticipated. For the most part, the remake doesn't broaden its characters into caricatures of the dorky dad and the nagging wife — even Zach and Rosie feel like believable, non-malicious people. Instead, the movie goes earnest in the style of an American indie, chasing scenes of funny awkwardness with what looks suspiciously like genuine soul-searching. A yearning score backs these scenes, and the camera repeatedly captures the perhaps too-tidy metaphorical sight of Pete and Billie isolated by a pair of bathroom mirrors. If this sometimes feels like an exercise in comedians going straight, the cast is up to the task, especially Louis-Dreyfus. She has a moment of quivering disbelief in the immediate aftermath of the avalanche that's as vivid a piece of "serious" acting as she's ever had to do, and she nearly sells the idea that this material should have a sincere, sensitive dimension.
It's particularly satisfying to watch Louis-Dreyfus anchor movies for the first time as a middle-aged actress, playing parts that specifically engage with the mysteries and disappointments of growing older. For all of its unwillingness to go blackly comic, Downhill is a well-observed character dramedy, and Louis-Dreyfus makes a lot of its observations. If she doesn't get another hit series going in the 2020s, she'll be a welcome presence at the multiplex.
Want more essential commentary and analysis like this delivered straight to your inbox? Sign up for The Week's "Today's best articles" newsletter here.

Continue reading for free
We hope you're enjoying The Week's refreshingly open-minded journalism.
Subscribed to The Week? Register your account with the same email as your subscription.