Lylie: luxury jewellery from e-mined gold
Founder Eliza Walter explains her ingenious sustainable jewellery brand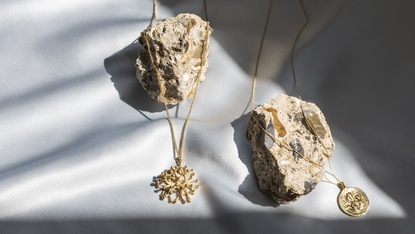 (Image credit: Lylie)
Eliza Walter, 29, entered the world of jewellery through the slightly circuitous route of fine art, working for a central London gallery specialising in post-war and contemporary collectibles. She founded her brand, Lylie, in 2017 while still employed by the gallery, inspired by the creative world she was immersed in and determined to elevate sustainable fine jewellery to a place of prestige and luxury. "I grew up in the countryside and my parents were always composting, making use of what they had, so sustainability is something that's very close to my heart," she said. In her teens, she visited a foundry to learn about lost wax casting as part of her design and technology GCSE and was surprised to learn about the gold and silver content in electronic waste. "It was really impactful. Even back then I wondered, 'Why is no-one making more of this?'"
After graduating from the University of Bristol with a degree in history of art (hence the gallery work) Walter completed an apprenticeship at the British Academy of Jewellery in Hatton Garden, set on the idea of creating her own designs from gold salvaged from e-mining. "For a few years, my brand was a side hustle," she said. "It needed building up and lots of investigation, but I've always been interested in business. When I was little, I was already making jewellery. My father told me that if I wanted to do that, I also had to learn how to sell it. He frog-marched me to a small jewellery shop in Cambridge and made me sell a bracelet to the shop owner!"
Today, Walter is sitting in her glass-roofed studio in Belgravia, London. It may sound fancy, but the jeweller has put in the work to get to this address – sub-letting her apartment, renting out her car and generally making ends meet. "It's all about the hustle," she said candidly. "If you want to make things work you have to put all your energy into it." The space is beautiful, but it's also a wise business move.
Subscribe to The Week
Escape your echo chamber. Get the facts behind the news, plus analysis from multiple perspectives.
SUBSCRIBE & SAVE
Sign up for The Week's Free Newsletters
From our morning news briefing to a weekly Good News Newsletter, get the best of The Week delivered directly to your inbox.
From our morning news briefing to a weekly Good News Newsletter, get the best of The Week delivered directly to your inbox.
"The light is so important especially when we are showing clients our stones," she said. "So often Hatton Garden jewellers have beaming spotlights which show off the stones beautifully, But take them outside and it's an altogether different story. They really can look so dull. Here you can appreciate their tonal depth and beauty." Lylie has a broad and eclectic ready-to-wear collection – encompassing engravable gold signet rings, precious hair accessories and diamond drop necklaces, as well as a full men's range counting pendant necklaces and engagement rings. She also works extensively on remodelling and resetting heritage pieces.
Her approach, however, is different to most contemporary jewellers. Not only does Walter use recycled gold from the electronic and dental waste, she also has formulated a design "menu" which makes it easier for clients to understand what they have to add to existing jewellery pieces to achieve a certain style, making the creative process less arduous and more interesting. "It allows you to see what could be done if you add a gem or two and ten grams of gold," she explained.
E-mined gold and precious metals is a fascinating space to explore for young jewellers, Walter claimed. "Each iPhone gives 0.2 grams of gold, which is minute by all accounts," she said. "A wedding ring is about 4 grams of gold. But actually, on an industrial scale, you can acquire a lot of gold. There's an unbelievable statistic which says that if you were to mine one tonne of the Earth's core you'd get a yield of 30 grams of gold. If you were to do the same with electronic waste, you'd get a yield of 300 grams of gold. It's quite compelling. Similarly, if you are mining for new diamonds, you'd have to shift the equivalent mass of two Statues of Liberty to get a 1.5 carat stone. We use lab-grown and recycled-antique diamonds."
Another smart business offshoot is Lylie's Gold Exchange – a modern, chic and and much fairer take on the traditional "gold for cash" transaction. You weigh your stash, request a special reusable postal pouch or PDF label and send to reclaim a Lylie credit note. "It wasn't the initial plan, but loads of customers had a lot of gold sitting at the back of drawers that wasn't being used," she said. "So it seemed like a natural move, plus we offer 7.5% above the market rate. The exchange has been one of our biggest areas of growth actually."
As for her aesthetic, Walter looks to the organic shapes of the natural world for inspiration, For example, thick gold rings, such as her Wave design, have smooth undulating curves, while her 9ct gold or silver Clara bangle has a jagged textural quality. "Little spheres which represent the world, also feature heavily in my looks which I offer in a range of metals from silver and 9ct gold to 18ct gold with or without diamonds," she said before revealing her biggest beef with the modern world. "One thing I hate more than anything is built-in obsolescence. I bought a washing machine for my apartment and it malfunctioned a week after the warranty ran out. Things like that are not only frustrating, but heartbreaking. I hope that my brand is doing something to counter this effect, whilst creating something to be cherished for a lifetime."

Continue reading for free
We hope you're enjoying The Week's refreshingly open-minded journalism.
Subscribed to The Week? Register your account with the same email as your subscription.