Vrai: taking over luxury with lab-grown diamonds
Sustainable jewellery brand is loved by Kendall Jenner and backed by Leonardo DiCaprio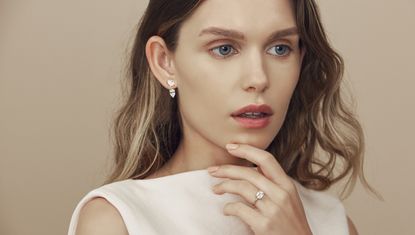 Diamonds are formed deep within the Earth's mantle, except what if they aren't? Over the past five years product development across a range of manufacturing and retail sectors has evolved in ways we could never have imagined.
We can now have cannabidiol (CBD) shots in our smoothies, wear trainers made of cactus leather and collect indestructible artworks in the form of non-fungible tokens (NFTs). As we are hopefully moving towards a more sustainable future, it stands to reason that mining for diamonds, which can create serious ecological consequences due to dramatic shifts in the land as well as pollution cause by the burning of fossil fuels, should be scaled back in favour of more eco-friendly methods of production. The world of lab-grown diamonds, therefore, seems like a viable path to pursue.
The problem is that to replicate the force by which diamonds are formed, effectively blistering volcanic reactions, requires stupendous amounts of energy. Today, most lab grown diamonds for the jewellery market are made through a process called chemical vapor deposition (CVD), which uses specialised chambers to generate extreme temperatures of around 800°C that encourage carbon vapour to form crystal layers on suspended nuclei or crystal "seeds". It's a long drawn out process since these tiny layers form gradually over time, and scaling up production to match the output of famous prestige houses that use natural diamonds is no mean feat. It's also worth remembering that as a material, diamond is known for its hardness and thermal conductivity, and is used as a valuable engineering material in everything from space-bound electronics and industrial cutting tools. The possibilities of lab-grown diamonds are therefore endless, as long as you can produce them in large enough quantities.
Subscribe to The Week
Escape your echo chamber. Get the facts behind the news, plus analysis from multiple perspectives.
SUBSCRIBE & SAVE
Sign up for The Week's Free Newsletters
From our morning news briefing to a weekly Good News Newsletter, get the best of The Week delivered directly to your inbox.
From our morning news briefing to a weekly Good News Newsletter, get the best of The Week delivered directly to your inbox.
In terms of quality, lab-grown diamonds are practically indistinguishable from mined diamonds. In fact, only gemologists can tell the difference by using high frequency lasers that examine how light passes through the stone. The problem lies, once again, with the extreme energy required to power such instruments capable of turning chemical vapour into icy wonders. In a nutshell, diamond-making machines need a lot of juice, which brings us back to the problem of environmental damage caused by the depreciation of natural resources needed to activate this operation.
Cutting-edge technology
The Diamond Foundry, which produces lab grown diamonds for a wide range of industries, including electronic and medical organisations, is at the vanguard of change with its luxury Los Angeles-founded diamond brand Vrai, already a big hit amongst millennials and Gen Z-ers as well as top fashion players. For example, Vrai recently collaborated with Givenchy to create a chunky link bracelet crafted from recycled gold and set with more than 350 diamonds. It was famously modelled by Kendall Jenner at the Met Gala in New York in September. Other famous Vrai wearers include Hailee Steinfeld, Reese Witherspoon and Camila Cabello.
The reasons for Vrai's success are manifold, but at the root of this upward trajectory is the Diamond Foundry's cutting-edge technology: not your average CVD machines but propriety plasma reactors – in effect, the Rolls-Royce of CVDs – which reach 10,000 degrees Fahrenheit and are powered by renewable hydropower. "The plasma reactors mimic the conditions that a diamond forms within the earth's mantle, reaching temperatures as hot as the outer core of the sun," said Vrai CEO Mona Akhavi. "We call them plasma reactors is because inside these chambers, atoms fuse together to create a plasma [a matter not naturally found on Earth] that deposits carbon as a thin diamond film, layer by layer."
What's more, the company, which was recently boosted by a $200m investment and counts Hollywood star and environmentalist Leonardo DiCaprio as an investor, has won acclaim as the world's first carbon-neutral lab-grown diamond producer, having reduced its greenhouse gas emissions to zero and tailored every aspect of its business, from production to shipping and transportation, to meet optimum green efficiency.
But when it comes to "teen to 30" shoppers (the main consumers of lab-grown diamonds representing 70% of the target market) great aesthetics have to match the message, meaning that innovation and a luxury look should go hand in hand with the promise of sustainability.
In this respect, Vrai has boldly gone where no other lab-grown diamond producer has gone before, by stealthily introducing opulent high jewellery items to its affordable collections thanks to a number of glamorous collaborations. Givenchy is one, but there have also been high-profile partnerships with Parisian fashion house Balmain, Apple's design guru Jony Ive, Hollywood stylists Rob Zangardi and Mariel Haenn, and most recently, the model-turned-activist Arizona Muse, whose curated collection out this month, will raise money for her charity DIRT, which promotes environmental regeneration projects around the world.
"Our mission is to showcase the beauty of our lab-grown diamonds and the potential they hold, if we can do that through our own brand and luxury fashion houses, then we are staying true to our goals," Akhavi explained.
Creating a buzz
Launching with entry level diamonds (under £500) and moving towards starrier horizons (some couture pieces are priced at more than £60,000) is somewhat unconventional given that established jewellers have traditionally gone about things the other way round. But Vrai is a thoroughly modern brand that builds on the momentum of social engagement, developing new products and projects that create an energy or "buzz" that segues with the digital universe of a highly connected demographic.
One such buzz is the extraordinary number of diamond cuts that are available – everything from traditional princess, round, cushion and oval gems to more unusual "antique" shapes such as marquise, Asscher and pear. It's this versatility of choice that underscores the company's commitment to rare craft skills such as cutting and polishing, performed by European craftspeople.
"Our cutters and polishers are fourth generation artisans from Belgium, so the amount of time, energy and craftsmanship that goes into this process is the same as that applied to luxury mined diamonds," said Akhavi. "We cut for maximum brilliance to excellent standard and above. We do have some of the best cuts on the market when it comes to lab-grown diamonds, not to mention 17 different unique shapes which some of the mined diamond companies cannot achieve. A lot of other lab diamond companies also cut for yield, so they are trying to get as much out of the rough stone as possible, which is not what we do at Vrai."
By the same token, Vrai's modern handling of traditional values appeals to younger shoppers, who have come to expect a wide choice of goods, but are naturally drawn to the ultra-innovative and the exclusive.
In case you're wondering, the four Cs – clarity, cut, colour and carat – also apply to lab-grown diamonds. Vrai has a comprehensive online guide to each of these rules and how they work together, a consideration that everyone should bear in mind when they are buying any kind of diamond, not least because understanding this quartette of components can vastly broaden your budget range.
"Every lab-grown diamond is different," said Akhavi. "It's hard to convey how complicated lab diamond production is, especially when the methods of practice used by some companies are not so environmentally friendly. We really try and educate our customers in their purchase journey, from provenance and source all the way through to cut. Understanding consumer trends and where the market is going is also key, but at the end of the day, the diamonds have to speak for themselves, and creating jewellery that is both beautiful and meaningful remains our focus."

Continue reading for free
We hope you're enjoying The Week's refreshingly open-minded journalism.
Subscribed to The Week? Register your account with the same email as your subscription.