Why sustainable fashion matters
Riley Uggla, the Founder of RiLEY Studio explains the importance of sustainability within the fashion industry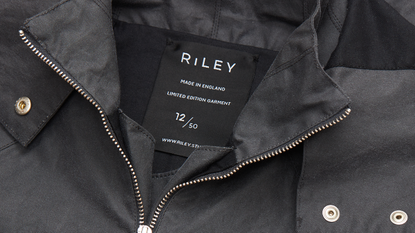 The truth is we are living through a global crisis. With Earth Overshoot Day (the date when our resource consumption for the year exceeds Earth's capacity to regenerate those resources) taking place earlier each year – it was 1 August in 2018 – we can't escape the fact that we are all contributing to an unsustainable world. Each and every one of us has an equal responsibility to protect and preserve our planet and the people that inhabit it. So why do we struggle to do so?
Single-use plastic was the critical topic of 2018, with great strides made by retailers to curtail their use. But another industry, due to its size, exploitative supply chains, environmental impact and global power, needs to make some serious changes as well: the fashion industry.
Over-production and over-consumption are both massive issues for the fashion industry, and consumers have an increasingly insatiable addiction to fast fashion. Research shows that the average person buys 60% more items of clothing than they did 15 years ago, but that we keep clothes for only half as long.
Subscribe to The Week
Escape your echo chamber. Get the facts behind the news, plus analysis from multiple perspectives.
SUBSCRIBE & SAVE
Sign up for The Week's Free Newsletters
From our morning news briefing to a weekly Good News Newsletter, get the best of The Week delivered directly to your inbox.
From our morning news briefing to a weekly Good News Newsletter, get the best of The Week delivered directly to your inbox.
RiLEY Studio sources fabrics from waste materials
In line with this, each year 60 million tonnes of clothing are produced, which could well reach 100 million by 2030. Plus, instead of two seasons a year, we are faced with 50 to 100 micro seasons.
With overproduction, naturally, comes waste. According to the Ellen MacArthur Foundation, "it is estimated that more than half of fast fashion production is disposed of in under a year".
Indeed, our throwaway culture is estimated to cost the UK economy approximately £82 million per year due to landfilling clothing and household textiles.
The temptation is to blame fashion companies alone, but change needs to happen at three levels: government, industry and society. Fast fashion companies thrive off our demand as consumers, so to address the problem we need to address our own addiction.
British designer Riley Uggla aims to produce clothes 'for life, not just a season'
According to the Business of Fashion's State of Fashion 2018 report, "a survey done in Britain found that one in three young women consider clothes 'old' after wearing them once or twice and "one in seven consider it a fashion faux-pas to be photographed in an outfit twice".
Given this, it is apparent why we are fuelling the fashion industry's overproduction, waste, and negative social impacts. From brands like Burberry who burned almost £30 million of stock in 2018 to H&M who reportedly had $4.3bn of unsold clothes in March 2018, the problem is widespread.
However, with problems there are always solutions. We as consumers need to remember that we all have a voice and we need to use it to demand immediate change, at all levels. By changing perceptions on our wardrobes and on sustainable fashion, we can collectively make steps towards a circular economy, in which we keep resources in use for as long as possible.
At RiLEY Studio, we design our clothes for life, not just a season. We're committed to working towards just such a circular economy and have focussed on up-cycling as many materials as possible, such as plastic bottles and fishing nets, to create our gender-neutral collection. While alleviating pressure on resources we hope to help restore our planet by up-cycling 'waste'.
RiLEY products are made in limited quantities from recycled and natural fabrics
Alongside other sustainable brands such as Patagonia, Everlane and Stella McCartney we are aiming to lead by example through eco-innovation, but we can't shift the current linear system to a circular one by ourselves. We all need to be part of the critical movement to create a material revolution and innovate to redesign our fashion industry.
The consumer has a significant role to play in this. We need to educate ourselves about our negative impact on the world to understand how every decision we make impacts the Earth.
It is time to slow down, think about our actions, and learn to love our clothes and our planet again.
For more, visit riley.studio

Continue reading for free
We hope you're enjoying The Week's refreshingly open-minded journalism.
Subscribed to The Week? Register your account with the same email as your subscription.