Queen's Platinum Jubilee 2022: UK events, street parties and festivals
A look at how the jubilee will be celebrated over the four-day bank holiday weekend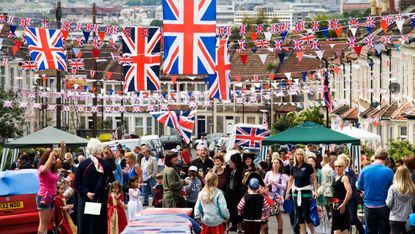 (Image credit: Loop Images Ltd/Alamy Stock Photo)
1. Recipe: Mini Coronation Chicken Pies with Pickled Walnut Chutney
When it comes to royal celebrations, there's nothing with greater heritage than coronation chicken. Originally created in 1953 for the Queen's coronation, it was believed to be inspired by jubilee chicken created for George V's silver jubilee in 1935. Opies has cleverly blended this heritage recipe with a party favourite – a mini pie.
Serves 12
Prep time: 1 hours (plus 4 hours marinating time)
Cooking time: 40 minutes
Allergens: Gluten, dairy, egg, nuts, mustard
Ingredients: for the coronation chicken pies
6 chicken thighs, bone and skin removed
1 ball of Opies Stem Ginger, finely grated
1 tsp cumin
1 tsp turmeric powder
3 tbsp korma paste
125g yoghurt
Pinch of salt
2 sheets shortcrust pastry
1 sheet puff pastry
400ml can coconut milk
2 tbsp mild curry powder
1 fresh mango, finely diced
100g fresh spinach
1 egg, beaten
1 tsp nigella seeds
For the spiced walnut chutney
Subscribe to The Week
Escape your echo chamber. Get the facts behind the news, plus analysis from multiple perspectives.
SUBSCRIBE & SAVE
Sign up for The Week's Free Newsletters
From our morning news briefing to a weekly Good News Newsletter, get the best of The Week delivered directly to your inbox.
From our morning news briefing to a weekly Good News Newsletter, get the best of The Week delivered directly to your inbox.
250g apples, peeled, cored and chopped
½ large onion, thinly sliced
75g soft brown sugar
½ tsp cayenne pepper
1 tsp mustard seeds
1 tsp salt
75ml Opies Pickled Walnuts pickling liquor
½ jar of Opies Pickled Walnuts, finely chopped
Method
Place all the chutney ingredients except the pickled walnuts into a large pan. Allow the sugar to dissolve over a low heat, bring to the boil and continue until the apples are soft and broken down. Take off the heat and stir in the pickled walnuts. Place into sterilised jars and set aside. Note: The chutney can be made in advance, or you could simply add chopped pickled walnuts to your favourite chutney for a shortcut.
In a bowl mix the chicken thighs with the ginger, cumin, turmeric powder, korma paste, yoghurt and a pinch of salt. Ensure they are well coated, cover and refrigerate for at least 4 hours.
When ready to cook, place chicken in a deep pan over a low heat and cover with coconut milk. Simmer for 30-40 minutes until the chicken is tender and falling apart. Remove with a slotted spoon and finely shred with two forks. Set aside. Add the curry powder, mango and spinach to the coconut milk and simmer until thick. Remove from the heat then add the chicken back to the sauce.
Meanwhile preheat the oven to 200C / 180C Fan / Gas 6 and grease a 12 hole muffin tin. Unravel the shortcrust pastry and cut out 12 circles around 10cm in diameter, then repeat with the puff pastry using an 8cm cutter. Line the muffin tray holes with the shortcrust pastry circles then bake blind in the oven for 5-10 minutes. Remove then add an even layer of pickled walnut chutney to the bottom of each. Top with the chicken mixture then pop the puff pastry circles on top to encase the filling. Crimp the edges with a fork then brush each pie with egg.
Sprinkle with the nigella seeds then bake for 25-30 minutes until golden and well risen.
2. Recipe: Fresh Tomato Tart with Balsamic Glaze
Mr Organic's vegan-friendly bakes can offer something for everyone to enjoy over the long weekend. This savoury tomato tart is ideal for afternoon tea celebrations.
Ingredients
1 sheet vegan-friendly puff pastry
A generous drizzle of Mr Organic Balsamic Glaze
2 tbsp toasted pine nuts
350-400g fresh cherry tomatoes
1 tbsp balsamic glaze
2 tbsp plant milk as your egg wash
For the tofu ricotta
350g silken tofu
A bunch of fresh basil
1 tsp garlic powder
1 tsp sea salt
¼ tsp pepper
Juice of 1 lemon
1 tbsp nooch
Method
Start by placing your puff pastry at room temperature for a minimum of 30 minutes, then gently unroll it without cracking the edges.
For the tofu ricotta, place all ingredients into a food processor and blend until smooth. Spread the tofu ricotta across your puff pastry sheet, leaving about 1cm of edge on all sides.
Place your tomatoes on top and spread them out across the entire sheet.
Mix the balsamic glaze with the plant milk for your egg wash and brush the edges of the pastry sheet, then transfer to a preheated oven at 200C and bake for 25-30 minutes or until the pastry edges are golden and the cherry tomatoes deliciously roasted.
Sprinkle the tart with toasted pine nuts and generously drizzle with Mr Organic Balsamic Glaze.
Enjoy hot or cold.
3. Recipe: Snowdonia Cheese Company's Platinum Jubilee Platter
British cheese and chutney maker Snowdonia Cheese Company has created a tasty platter to serve on the jubilee weekend. Designed as a Union Flag, this impressive cheeseboard includes Bouncing Berry, Truffle Trove and Rock Star – it's a colourful and delicious celebration of all things British.
Ingredients
200g Bouncing Berry
150g Rock Star
150g Truffle Trove
1 jar Rhubarb & Gin Chutney
1 jar Balsamic Caramelised Onion Chutney
1 jar Fig & Apple Chutney
8 breadsticks
6 slices of ham (or vegetarian alternative)
Handful of blueberries, strawberries, raspberries
1 red pepper, sliced
1 red onion, peeled and sliced 8 cherry tomatoes
Method
Take the cheeses out of the fridge for at least half an hour to allow them to reach room temperature.
Remove the sticky labels from the cheeses and cut the cheeses into wedges before placing them accordingly on the sharing board.
Decant the jars of chutneys into bowls and place on the sharing board.
Cut the breadsticks to size and place in a cross shape on board.
Separate and gently fold the slices of ham (or vegetarian alternative) and place them on the board.
Add the blueberries, strawberries and raspberries according to their colour, followed by the red pepper, onion and cherry tomatoes.
Serve with crackers and enjoy.
4. Recipe: Bonne Maman's Jubilee Cupcakes
These jubilee cupcakes are great fun to make with all the family and add a suitably royal presence to the afternoon tea table. Made with a rich red chocolate sponge, then topped with Bonne Maman Strawberry or Wild Blueberry Conserve, a generous swirl of vanilla cream frosting and some edible, sparkling flower mini crowns.
Ingredients
50g unsalted butter, softened
150g golden caster sugar
1 large egg
100ml buttermilk
50ml vegetable oil
1tsp vinegar
145g plain flour
1tsp bicarbonate of soda
4tsp cocoa
2tsp red food colouring paste or gel
For the frosting
300g icing sugar, sieved
50g unsalted butter, softened
125g full fat soft cheese
12 tbsp Bonne Maman Conserve, eg Strawberry & Wild Strawberry and Wild Blueberry
Method
Line a cupcake tin with 12 large cases.
Heat the oven to 180°C, 160°C fan, gas 4.
Put the butter and sugar in a bowl and beat with an electric whisk until light and fluffy. Gradually beat in the egg, buttermilk, oil and vinegar.
Add the flour, bicarb and cocoa with a large pinch of salt and beat everything together until smooth. Lastly beat in the red food colouring, adding extra if needed to produce a deep red mixture.
Spoon the mixture into the cupcake cases and bake for 15-20 minutes, or until a skewer inserted into the centre comes out clean.
Meanwhile make the frosting. With the electric whisk, gradually beat the icing sugar into the butter. Add all the soft cheese and beat together for a good 5 minutes until light and fluffy.
Pipe or spread the cold cupcakes with a ring of the frosting. Spoon the conserve into the centre and decorate with sugar crowns.
Cooks tips
Union Jack cupcake cases are available online. Food colouring gels are available in supermarkets, the paste from specialist cake shops.
To make the crowns, thinly roll out flower paste (available in major supermarkets) and cut out strips approximately 7.5cm x 5cm. Cut a zig zag pattern across one length. Roll the strip into a crown shape and seal the edge with a little water. Leave to dry and harden. Glue edible silver balls to the peaks with edible glue.
5. Recipe: Union Jack Fruit Platter
This fruit platter from Morrisons's jubilee recipe range will make a healthy and colourful centrepiece for your street party table. Other recipes from Morrisons include a Jubilee Bakewell, Ma'am's Coronation Cheese on Toast, Strawberries & Cornish Ice Cream Scone Sandwich, and Jubilee Mess.
Ingredients
1 melon, peeled and sliced
1 pineapple, peeled and sliced
2 punnets of strawberries, thinly sliced
2 punnets of raspberries, cut in half
2 punnets of blueberries, cut in half
Method
Grab an empty platter and arrange the melon on the base.
Make a cross using the strawberries, from centre top to bottom, and then from centre left to right.
Arrange the blueberries to make an arrow shape in each corner (see image).
Place the raspberries at crossways on the platter to make the pattern of the union jack.
Layer the pineapple around the outside to make a golden frame.
6. Recipe: Bakewell Tart Traybake
This fantastic traybake recipe from the Easy Peasy Baking campaign, launched by UK Flour Millers, is perfect for a street party.
Makes a 20 x 30 cm traybake – 15 bars
Ingredients
150g plain flour
150g caster sugar, split into 50g and 100g
200g unsalted butter, softened, split into 2 x 100g
150g ground almonds
1 egg
200g raspberry jam
Handful of flaked almonds
Icing sugar to dust
Equipment
Large mixing bowl
Spoon
Traybake tin, 9" x 13", lined with baking paper
Sieve/muslin (for dusting)
Knife
Method
Preheat the oven to 165°C (fan).
Put all of the plain flour and 50g of caster sugar in the mixing bowl before rubbing in 100g of unsalted butter with your finger tips. When the mixture resembles crumbs, pour it into the lined traybake tin, spread it evenly and press it down so the crumbs loosely join together . Bake the base for 15 minutes.
While the base is baking, combine the remaining 100g of butter, 100g caster sugar, ground almonds and the egg in the mixing bowl with a spoon to make the frangipane topping.
When the base has had its 15 minutes, remove it from the oven and add the jam, spreading it with the back of the spoon to make an even layer over the top, followed by all of the frangipane mix (this will be a thicker layer) and a sprinkling of flaked almonds before returning to the oven for a further 30 minutes.
When the traybake is golden on top, remove from the oven and allow to cool completely before removing from the tin. Dust the whole thing with icing sugar, slice into bars and top with more flaked almonds. Enjoy!
7. Recipe: Campari Platinum Jubilee Negroni
Campari has crafted a special edition serve in celebration of Queen Elizabeth's 70 years on the throne. The Platinum Jubilee Negroni combines the quintessential Campari and gin with the twist of Dubonnet, known to be the Queen's favourite tipple – in place of the usual sweet vermouth.
Ingredients
1 part Campari (25ml)
1 part gin (25ml)
1 part Dubonnet (25ml)
1 orange slice garnish
1 lemon peel
Method
Pour the Campari, gin and Dubonnet into the glass with ice, stir, add the garnishes, and enjoy.
8. Morrisons Clarence the Corgi Cake
If you're not in the mood for baking, but want some sweet options for a royal-themed street party, then this "Clarence the corgi" cake from Morrisons's jubilee range may just be a fitting addition. This chocolate covered swiss roll – which has a sweet edible face and boots and is decorated with red, blue and white sprinkles – costs £6 and is available in stores nationwide from 21 May.
9. The Hummingbird Bakery's Crownies
The Hummingbird Bakery have given its much loved classics a jubilee makeover with pieces of hand cut fondant in the shape of a crown with hand piped detailing or the iconic and instantly recognisable silhouette of Her Majesty's profile. The range includes a Red Velvet Jubilee Cake, Jubilee Cupcakes, and "Crownies", an indulgent frosted brownie decorated with a fondant crown.
10. Patisserie Valerie Platinum Jubilee Cake
Patisserie Valerie's regal purple and gold creation is topped with its very own crown. Enrobed in a rich, royal purple icing and featuring layers of vanilla sponge, berry cream, fresh cream and mixed berry filling, all coated with Swiss meringue buttercream, the Jubilee Cake (£44.95) comes decorated with gold flecks, golden sprinkles, vanilla macarons and a miniature gold crown for a stunning centrepiece. Available in store and online from 20 May to 12 June.
11. Gail's Bakery's Quintessentially British Picnic Hamper
Gail's Bakery has launched a delicious Picnic on the Green hamper just in time for the Queen's Platinum Jubilee. The hamper features everything you need for a quintessentially British picnic, all packaged in a handy Gail's branded tote bag. The Picnic on the Green hamper (£57) includes beetroot salad, summer greens salad, olive sourdough, baguette, Quicke's Whey Butter, CB Salami, Quicke's cheddar, bag of Madeleines, four Wildpress and four Borekitas.
12. La Fromagerie Jubilee 'Cake'
La Fromagerie is pulling out all the stops with a regal jubilee "cake" showcasing a variety of outstanding British cheeses. Ideal for sharing, and enjoyed with artisanal beers and ciders, the impressive centrepiece will feature five La Fromagerie cheeses including an Old Roan, Cote Hill Blue, Wigmore, Yarlington and a Sinodun Hill beautifully presented as an "open" cake. The indulgent tower comes complete with tasting notes and straw mats making it super simple to assemble.
13. Sandford Orchards Jubilee Ltd Edition Devon Red Cider
Devon-based cider maker Sandford Orchards has launched a new Jubilee Limited Edition Devon Red Cider. A celebration of all things British, it's available now in 500ml bottles from the Sandford Orchards website, retail outlets including Morrisons, Spar and Aldi as well as selected pubs and hospitality venues.
14. Wildjac Jubilee English Rhubarb Gin
If you're looking for a tipple to toast the Queen's Platinum Jubilee, Wye Forest-based Wildjac Homegrown Distillery has crafted a small batch limited edition gin. It is distilled with fresh English rhubarb from Augernik fruit farm – located just eight miles from Wildjac's distillery – alongside carefully selected fresh botanicals including homegrown and foraged thyme and rosemary. Offering a fresh and fruity flavour with decadent juniper notes, each sip of Jubilee Gin is rounded off with the beautiful taste of zesty citrus and thyme.

Continue reading for free
We hope you're enjoying The Week's refreshingly open-minded journalism.
Subscribed to The Week? Register your account with the same email as your subscription.